A Solo show for A. and P.G. Castiglioni

A new prototype (a camera for kids), an anthology of furniture designed from 1950 to '66 (on display at Centro Fly in Milan) and the documentation of two exhibition designs (for the RAI at the Milan Fair in 1965 and 1966) give us the opportunity to see a new "solo" retrospective of the design work by the Castiglionis. It tells us about their most recent inventions and at the same time, shows us how past inventions are not outdated.

Camera for kids, 1966
It is for kids but it's not a cheap camera posing as a luxury item as sometimes happens (with faux leather, faux stainless steel, fake meters, fake index charts, etc..).It is distinguished by a very specific and new form made possible only by the use of plastic. It is attractive - not through 'mimicry' but through fantastic allusion (to the sci-fi world ...).

The impact-resistant plastic body (measurements: base 12 cm, height 8.5 cm, depth 7 cm), consists of two shells: one is the frontal element (with lens, visor, film advancing knobs) that contains all mechanisms. The other shell is a cover that can be opened to insert film, with an indicator for the frame numbers, viewfinder, and a track for a micro-flash.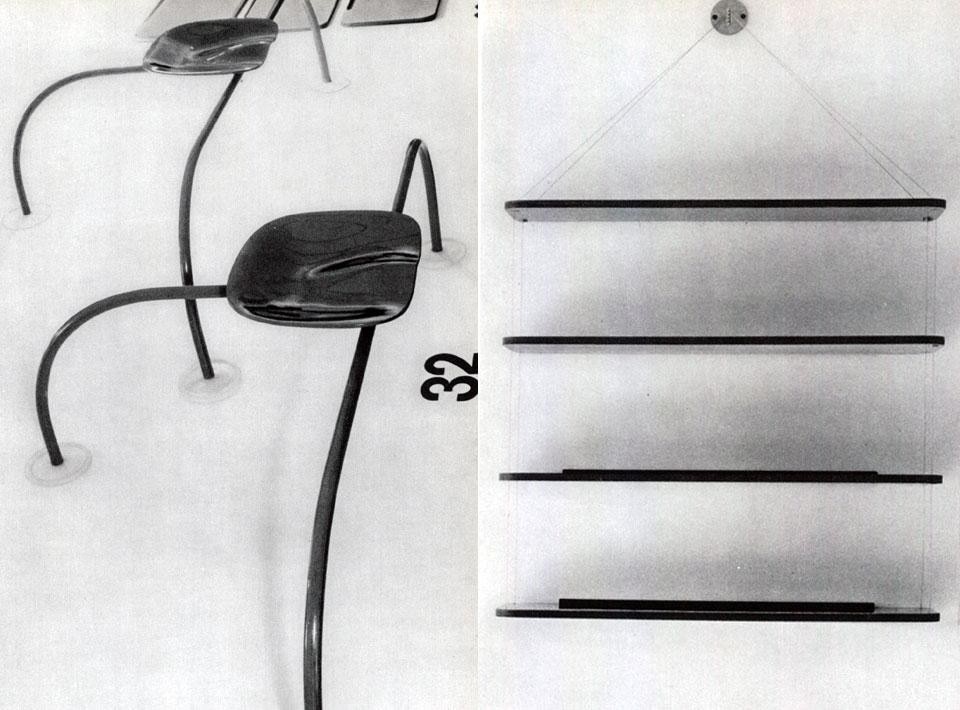 The "allunaggio" (moon-landing) seat, 1966
Presented at the Castiglionis' personal show at the Centro Fly in Milan, this is a beautiful, very light seat that takes up a lot of space. In enameled pressed metal with the three tubular steel legs, its weight is evenly distributed on the ground by means of three elastic plastic disks.

The "Rampa" cabinet on casters, 1965
Below, a view of the exhibit at the Centro Fly. The "rampa" cabinet has two fronts. One is a stair (with glass shelves) and the other is a bookcase with shelves whose depth increases towards the bottom utaking advantage of the depth of the inverted steps. Mounted on nylon casters, the cabinet can be used as a service unit near the dinner table, or, if placed in the living room, one side can hold objects (ceramics, etc..) and the other can serve as a bookshelf, bar or desk (see the folding leaf). Produced by Bernini.

The "Cacciavite (Screwdriver)" table 1966
It can be disassembled like a toy. The table (52 cm X 65) is in birch wood treated with black-pigmented paint; it has rounded corners and a recessed edge. On the lower part of the tabletop, half spheres in solid wood are inserted into a threaded hole to which the polished beechwood legs are screwed. The legs have a hexagonal section like the handles of many tools. Produced by Bernini


Display case, 1966
These are corner display cases, in circular sections, which, when juxtaposed, can form cylindrical or semi-cylindrical displays and can also be composed with rectilinear modules (as shown above).In laminboard plywood, treated with colored varnish, they have glass shelves and doors that can be flat or curved. The wood and glass parts are simply juxtaposed with one another. The case can be mounted or dismounted with only two exposed metal studs. The interior is accessible from above by removing the top glass element. Produced by Bernini.

A folding chair, 1963
Behind the famous "Arco" lamp from 1962 is a folding chair with a bentwood frame, molded plywood seat and a back upholstered in heavy felt. The design of this chair refers to the 1927 Thonet model, modifying its dimensions and finishes to adapt it for use as a dining or desk chair. Produced by Bernini.

Four wall-suspended shelves, 1960
The four shelves - in thick birch plywood, veneered with natural phenolic laminate - are supported by four metal hinges that come together at their juncture with a satin brass plate attached to the wall. Produced by Bernini

The "Sciuko" lamp 1966
A box lamp in enameled metal with a prismatic lens in pressed optical glass. A mobile chrome metal rod allows the lamp to be regulated in a desired direction and to be used as a table, wall or ceiling lamp. The ventilation lid contains a switch that is activated by turning the lid itself. Produced by Flos


A new prototype, an anthology of furniture designed from 1950 to '66 and the documentation of two exhibition designs give us the opportunity to see a new "solo" retrospective of the design work by the Castiglionis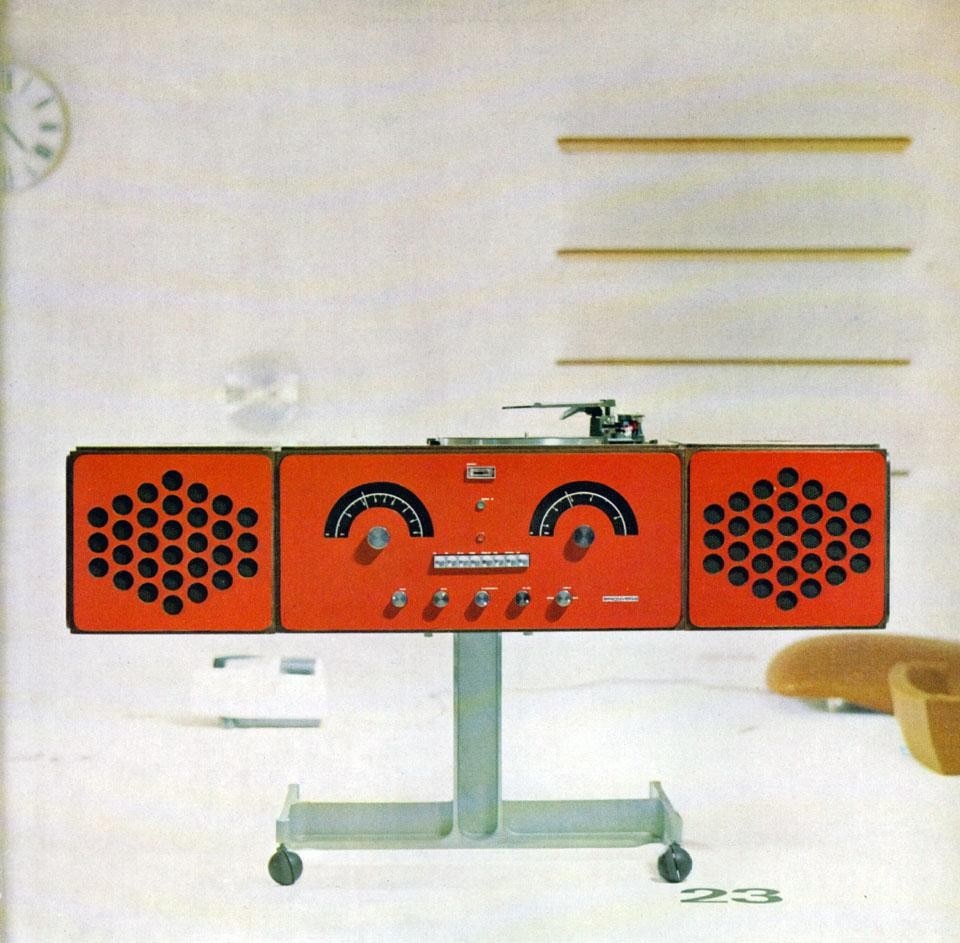 A stereo radio-turntable, 1963
The main body contains the turntable and the AM and FM receiver. Two speakers are hung on the sides, which can close the turntable unit onto the central element. The housing and speakers are in lacquered wood. The base is in cast aluminum. Produced by Brion Vega



The wall lamp "Padina", 1966
A simple reflector: the corrugated inner surface is connected on the edges with the smooth and rounded outer surface to form a casing that contains the lamp holder. The casing is made from a single sheet of machined and mirror polished aluminum. The bulb is exposed and its light is multiplied in a series of luminous concentric circles. Produced by Flos