The villa is located in a promontory of Torö, Sweden, and faces the ocean in the archipelago that surrounds Stockholm. It was designed as the winning proposal of the 1967 contest launched by the Danish airline Spies, to design a mass-produced holiday house for tourists that, travelling to Scandinavia from Spain, wouldn't want just a traditional hotel.

Designed by Swedish architect Staffan Berglund, the winning proposal's circular plan concedes extreme flexibility. The house has two levels: the kitchen is in the inferior level, and at the center of the cupola directly above it, a futuristic device opens to the superior level, allowing the dinner table to rise up to the dining room on the upper level, where the chairs are fixed to the ground. Thanks to this mechanical device, the modest dining space in Villa Spies worked as a versatile space, turning the house into a space seemingly twice as large.

For years ignored by the mainstream media, and never published in the prestigious Swedish architecture Arkitektur, the villa made its way onto the pages of Domus in 1973, and has recently been revisited by Mikael Askergen in a monograph published in 1996.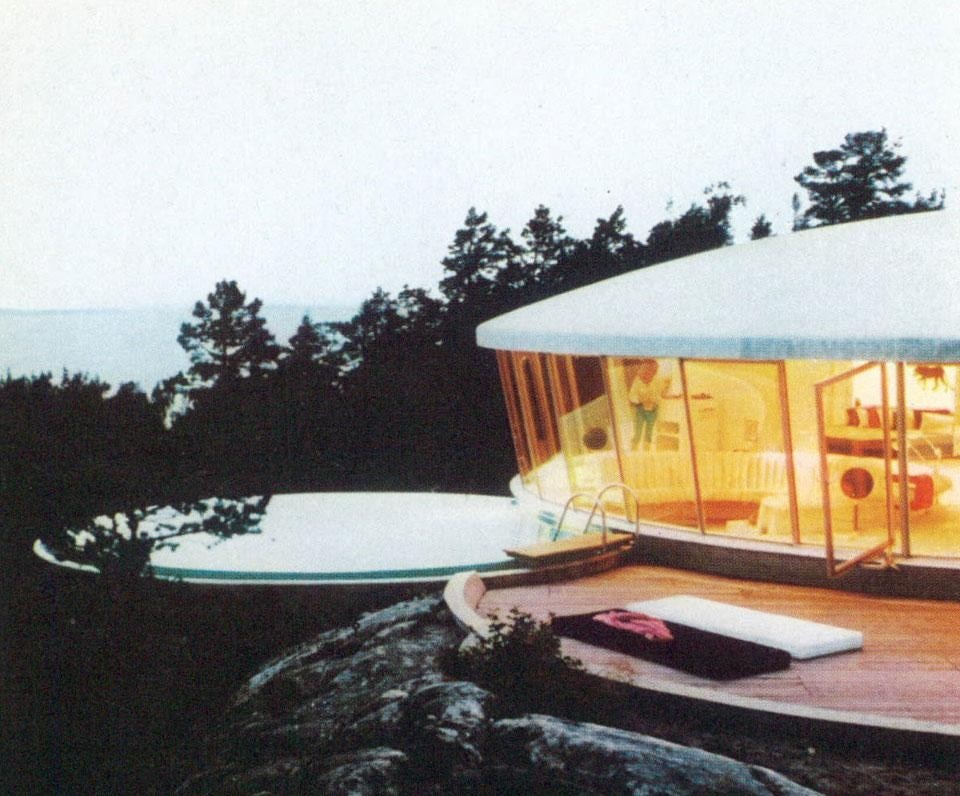 Originally published in Domus 526/September 1973
Hollywood in Svezia (Hollywood in Sweden)

The owner of this house, located in an island in the Stockholm archipelago, does business in aircraft (his own) and vacations (other people's). He is the "king" of Danish charter-travel and wished to have a home in "air" style for his own holidays.

The interior design is by Jan Dranger and Johan Huldt, of Stockholm. The upper floor is one large free silting-room space. Large isolated containers with folding doors conceal a double bed and services.

The centrai area of the floor rises to produce a dining-room space with an already prepared table in the middle (it comes up already prepared, from the floor below where the kitchen is located).