Waiting for the museums, galleries and spaces dedicated to the contemporary arts to come back to life, whose scheduling are slowly reopening to the public, we are pleased to note the appearance here and there of interesting hybrid exhibition experiments, as much in terms of content (interdisciplinary) as in terms of format: physical, in person but fixed number of visits; paper, in the guise of a limited-edition portfolio; and digital, with a dedicated website. One of these is undoubtedly the photographic exhibition "Ombre, strappi e presenze. Il magazzino di Freak Andò attraverso l'obiettivo di sei autori" (Shadows, tears and presences. Freak Andò's warehouse through the lens of six authors), curated by Valerio Borgonuovo and hosted both in the evocative settings of the design, antiques and modernity homonym shop-atelier in Bologna, and in the virtual space of the web. The 60 shots in the exhibition, in different formats, are above all the result of personal incursions by six "variously" Emilian authors, far apart in terms of training, experience and attitude, into the historic Freak Andò warehouse in the Bolognese countryside, in an attempt to provide an interpretation of its uniqueness but to describe the irreducibility in photographs of this very special place too.
Gino Bosa, artist, Ennio D'Altri, photographer, Corrado Fanti, professor of philosophy, Andrea Maioli, journalist, Joe Nemeth, merchant and Maurizio Marzadori, collector and landlord, measure themselves with this 2,000 sq. "bazar", a blessing and a curse for researchers, merchants, set designers, architects, where more than a hundred authors including Hoffmann, Wagner, Basile, Mucchi, Zanuso, Albini, Sottsass, and many others are housed in "a daily treasure hunt to find, through advertisements, trademarks, geographical analyses and oral memories, the identity of hitherto anonymous factories and designers whose creativity has drawn on the culture and taste of their time", as Marzadori explains. On this basis, the exhibition, set up in the former 16th-century cloister, designed by Giovanni Brensa da Como, in Via delle Moline in the centre of Bologna, and since 1996 home to the Freak Andò shop following careful restoration work promoted by Marzadori himself, looks, in the words of Valerio Borgonuovo, "as a disorienting Chinese box".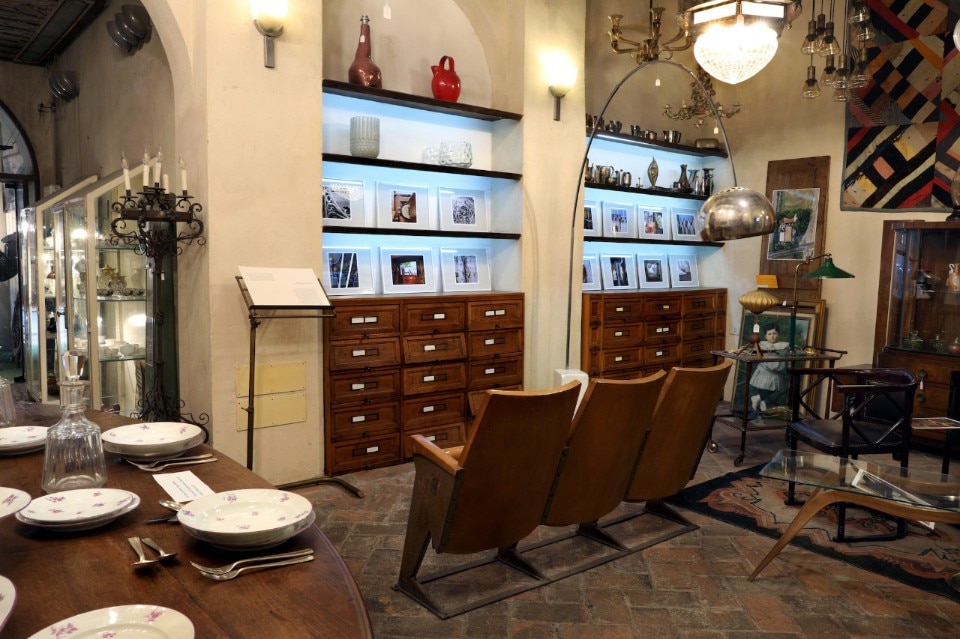 A productive short-circuit is triggered among the photographic representation of the warehouse, the historical architecture of the cloister that houses it and the furnishings and objects which the photographs sometimes interact with in an extravagant way. The extraordinary eclecticism of this shop-exhibition space is thus supported: it is possible to move from a Renaissance sideboard with 16th-century caryatids to a throne by Mario Ceroli from "Mobile nella valle" series, from Denis Santachiara's humidifier lamp to Gastone Rinaldi's cinema armchairs, from the Lips Vago bookcase to a console table by Giovanni Michelucci, to rare or not-for-sale objects such as Futurist parasols, toys and children's furniture belonging to Maurizio Marzadori's private collection of children's design. A collection first and foremost of children's furniture for the home and school, and then of toys, teaching materials, magazines, furnishings and clothes from the end of the 19th century to the 1970s, which together trace the history of design for children and tell the story of the social, cultural and educational changes of an Italian century.
A unique private collection boasting several thousands of pieces by authors and companies such as: Giò Ponti, Giuseppe Terragni, Bruno Munari, Antonio Rubino, Giuseppe Pagano (born Pogatschanig), Alessandro Marcucci, Cova, Helen Konig-Lenci, the Opera Nazionale Balilla, and Maria Montessori, to name a few. Hosted in prestigious Italian and international institutions such as the MoMA in New York and the Triennale di Milano, this collection is now looking for a permanent home where it can be curated, exhibited, used and disseminated according to a path of training, research and experimentation on children's design and childhood. "Ombre, strappi e presenze. Il magazzino di Freak Andò attraverso l'obiettivo di sei autori" aims, therefore, at promoting in a new way an extraordinary heritage that connects material culture, architecture, design and skilful collecting.