I had never tried an electric scooter until I received one on trial three weeks ago. Before that moment my experience was limited to just a couple of episodes: the "analogue" Decathlon scooter that I won at the end-of-the-year lottery in secondary school and that I used for two summers until my ankles said stop, and that night in the Giambellino neighborhood when it ran me over, in its most modern version. The impact on the asphalt spoke to me of a powerful vehicle, to the point that when I recovered from the shock I immediately wanted to try it. It's seriously fun to drive: you get on the platform, give yourself a push with your foot and push the turbo button with your thumb. Electric scooters are curious to see, as well as hoverboards and segways and in general all those micro-transports with which people move fast but not too much, strictly without moving a muscle and consuming a lot of electricity (and lithium batteries).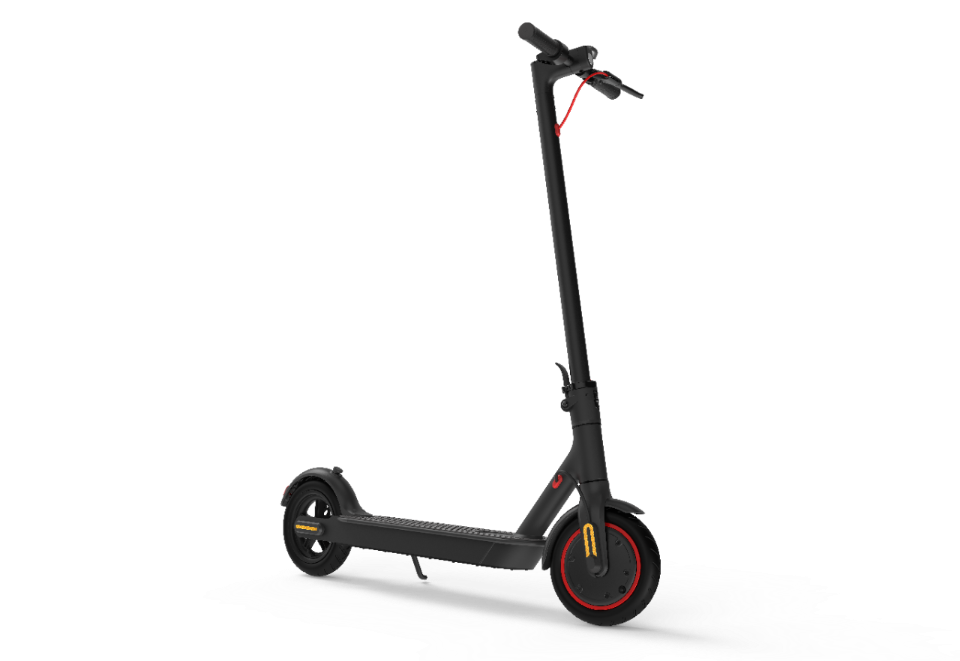 When I picked up "my" first Xiaomi Mi Electric Scooter PRO I found myself in front of a compact object, clean in shape, with the brake on the left handlebar and a Ferrari red electric wire in contrast to the black satin aluminium body, an inevitable reference to the Batmobile – a warranty – and integrated lights whose rear is activated by braking. The small black bell and retractable stand are the only analog components. It is well made and it's no coincidence that in 2017 it won a RedDot Award in the Best of the Best category, an IF Design Award and a Good Design Award for its minimalist and manageable design by the Zhou Tuo trio, Li Ningning, Zhao Ziran of Xiaomi that guarantees a speed of 25-30 km/h over a radius of 30 km and the sustain of a maximum weight of 150 kg. We are therefore talking about a true design object that although it has been on the market for four years already, is now experiencing its moment of glory and accessibility in Italy thanks to the Bonus Bikes and Electric scooters 2020 of the post-covid relaunch government decree.
What is it like to drive a Xiaomi Pro in Milan? Fun and dangerous. It's fun because in a very short time you can reach the whole city and the speed of 25 km/h (allowed by law) allows you to enjoy the context with a light breeze on your face, without getting impatient, especially on the shorter paths; you don't sweat – in fact you don't move at all – and you feel like an urban explorer. When using it the scooter is easy to handle, agile, the lights work perfectly, the three "eco", "D" and "S" driving modes adapt to everyone's needs (I've driven almost exclusively in "S", the turbo mode: we're still talking about just 25 km/h) and the battery lasts three days with moderate usage and reaches 30 km with a single charge.
When you're around, passers-by recognize it and want to know more: the greengrocer, the bargoers, the teenagers on the Navigli and even the cashier at the grocery store asked me questions: "I want one, how is it? Is it fast? How much does it weigh? How long does the battery last?" Not only episodes of admiration, but often antipathy from angry old people, impatient cyclists and incredulous car drivers ("but is it legal?!"). One thing is clear: electric scooter goers on the road are almost invisible and it often happens that those who reverse, open a door or simply cross pedestrian crossings, do not see them. And this, on the driving experience, casts a threatening shadow.
Who designed the Xiaomi Mi PRO certainly had in mind linear urban landscapes made of long streets of compact and safe asphalt. Or large sidewalks, on which it is forbidden to go, at least in Italy. The lack of suspensions makes even a difference in height of just 1 cm a big problem, not to mention cobblestones, uneven asphalt, tram lines and steps on bike paths. For most Italian and European historic centers, therefore, it is therefore off-limits. The feeling of uncertainty is such that after the first spontaneous rides in sandals and hair in the wind between the ring roads of Porta Romana and Lodi, I had to wear sneakers, helmet and bicycle gloves at the following exits. Practical, therefore, only on bike paths or short safe stretches with little traffic, or at night. It is in fact at night that the Xiaomi PRO reveals itself in all its splendor. A round trip from piazzale Cuoco to Darsena in less than half an hour.
A full charge takes five hours (that's quite something). Two other negative notes are: the impossibility of tying or securing it and its 14 kg of weight. Once folded, there is no grip to drag it easily, so you always have to hope that someone helps you moving through doors and gates. In addition, you have to be careful when you raise your arm to point the direction you are taking because, unlike bikes, here you get very unbalanced and riding with one hand requires some experience.
After a really exciting first week where the discomforts took a back seat in favor of the adrenaline of electric mobility, all the negative aspects then arrived. This caused me to close the Amazon shop page on the category of electric scooters (even those with suspensions and seats that reach 70 km/h), and to think back to my old pedal bike with chain and padlock. Let's see if I will miss the scooter.