For his second haute couture collection, Demna Gvasalia, creative director of Balenciaga, turned to an unexpected collaborator with the applied science division of the car manufacturer Mercedes-Benz.
Together they developed a prototype of helmet-masks that completely cover the face in ink, aerodynamic and anti-fog. These unique headgears, worn in all the first 38 looks of the collection, are a "functional" reworking of the masks already worn by the models during the Resort 2023 fashion show, where dresses designed in collaboration with Adidas were accompanied by tight-fitting latex masks.
The same theme, but in a different guise, returned during the Valentino models' descent down the Spanish Steps in Rome. Here, some figures boasted red feather headgear that hid the features of the visage, magnifying the silhouette. But if the preference for masking the face with masks and improbable accessories is part of last winter's must-haves – the balaclava has become the gen-z's favourite second-skin garment in just a few months – the mask also brings back important references in high fashion.
Pop culture and cinema have long positioned the mask as an object of nightmares, holed up in the attic of some sexually transgressive serial killer. Jean Paul Gaultier and Riccardo Tisci used anonymous sex slaves on catwalks for their shock image factor, making them parade in black leather, buckles, zips and latex. Thierry Mugler was one of the earliest proponents of BDSM attire, littering his hour-long catwalk shows with full-body latex, whips, canes and thigh-high boots.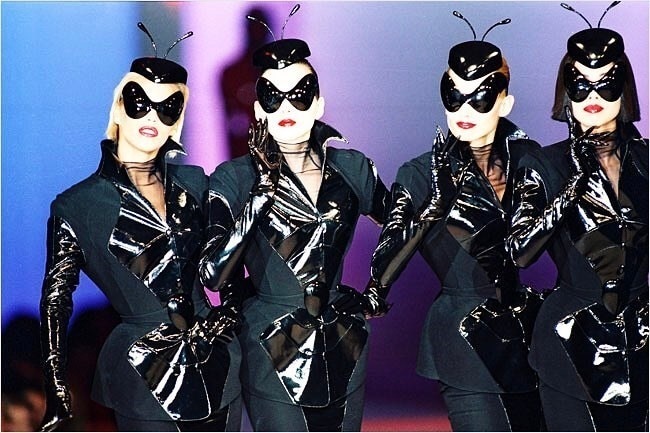 More recently Maison Margela, too, presented as an essential part of its AW13 collection bejewelled masks, the same ones that graced Kanye West's Yeezus tour. In the pop music sphere, decades before Daft Punk emerged as global stars, for example in the late Sixties with The Residents, it was clear that keeping the identity of the protagonists concealed creates curiosity and new fans.
Thus, by plundering the kind of extreme imagery found in vintage S&M magazines, fashion is popularising in some cases devices that embodied horror moments in the past, managing to give them a new identity and sense of personality.