Ini Archibong, an American of Nigerian origin, born and raised in Pasadena, with a thing for the pursuit of beauty inspired by his personal expressive mysticism, has been defined an "artist of the future-present". He affirms for the first time in many years we have reached the point where the world seems to be looking at the history of us all in an inclusive way. That is why we cannot continue to talk about history or culture (the past, present or future one) without considering the great contribution made by the so-called African diaspora.
The pavilion commissioned for the next edition of the London Design Biennale, directed by Es Devlin - from 1 to 27 June, held at historic Somerset House - is dedicated to this very subject. The pavilion intends to pay tribute and credit to the contributions made over time by the African community and celebrate its extraordinary impact through "our views, our achievements and our voices", he adds.
This structure speaks the "language of its content", and tells a story that was left out for a long time; a pavilion inspired by the harmonious and sinuous forms of nature, including that of the Triton's trumpet shell, which will be alive with a full programme of meetings, performances, talks and educational projects on the theme, under the supervision of a committee of global leaders including Robert Battle, Artistic Director of Alvin Ailey American Dance Theater, Franklin Sirmans, Director of the Perez Art Museum in Miami and Monetta White, Director of the Museum of the African Diaspora in San Francisco.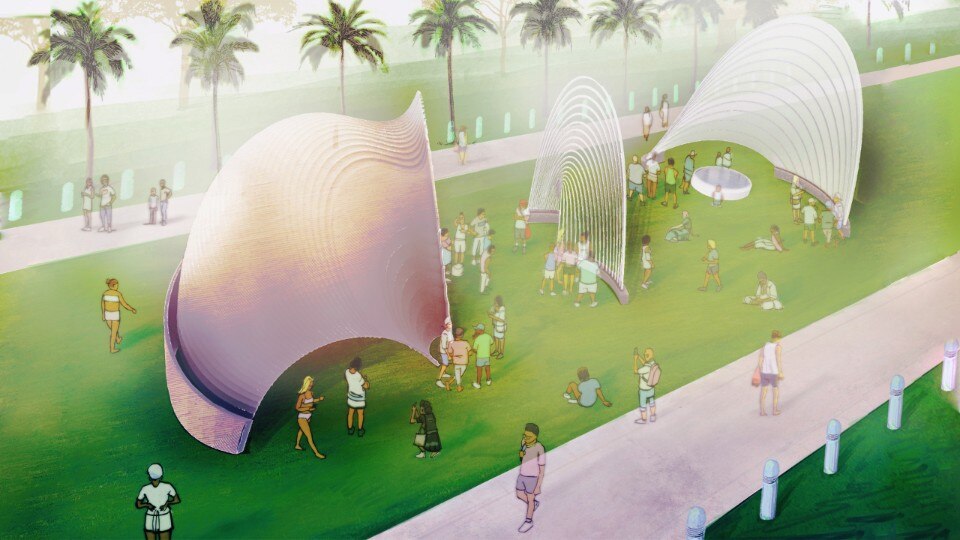 Not only the software but also the hardware is a joint effort: the architecture was realised in partnership with Tamara N. Houston of ICON MANN and work direction by Zena Howard, of Perkins + Will. Archibong likes plurality, teamwork that winds strongly towards a single direction, bringing things together. His concept of the beautiful, the healthy, the good, the positive is closer to a certain form of applied spirituality than to a perfect tangible form of matter – which, by the way, he handles impeccably.
Ini Archibong's language is holistic and all-encompassing, it uses sensory coordinates to communicate multiple perspectives of vision and thought, whatever the type of object/project he is working on: a chair for Knoll, a table for Sé Collection or Bernhardt Design, a wristwatch for Hermes, a brand that can best convey that particular idea of the sublime and magic that for Archibong is the reason he loves to reimagine reality. Domus met Archibong to find out more.
What was your dream as a child?
I wanted to be a superhero, also because I thought I wasn't really that professionally driven to something specific. I come from a Nigerian family, they are practical people, maybe they wanted me to become layer, a doctor or working in a bank. I was good at sports and at creativity too, but I never thought it could be my job, I thought it could become just a hobby and I thought I'd end up to become a doctor or an engineer.
So, at the beginning you didn't know you wanted to do this job?
No. I was studying business and I dropped for something more related to creativity even if I did not know at the time what it would be exactly, as I was doing many things such as painting, composing music and things like that. But then I found my way at 24 starting my current direction.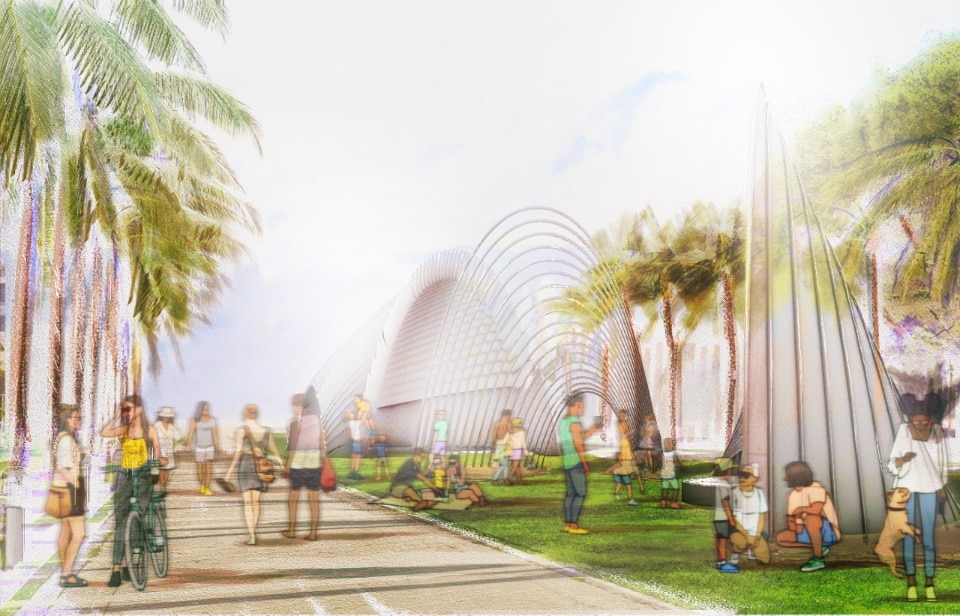 Thinking about the African Diaspora Pavilion, what is the role of the designer/architect within his society nowadays, and what is the related responsibility to conceive a public space with such a strong and dense meaning?
I guess there should be engagement in society. But I also think that the creative, like designers and architects, sometimes missed the perspective of people. I think we should have an understanding of the effects of the spaces we design: they should be more powerful for a healthy society. Designers and architects occupy a special place within society, they have to be concerned and carry people in mind. Me myself, I feel quite involved, or at least I try my best. I would like to help people have a better experience in daily life. It is important to create a space and give it to people in order to let them experience the message you want to pass. The space is dedicated to those that want to make a change. 
It is important to create a space and give it to people in order to let them experience the message you want to pass. The space is dedicated to those that want to make a change.
I was reading your narrative about the shells; what is  your relationship with nature?
It is pretty strong and relevant to me. I'm definitely happier when I'm surrounded by trees and when I'm next to any source of water. This connection is important, the majority of my inspiration comes from nature. Not to mimic nature thought, not to replicate its shapes, but to pass some energy, possibly. As I'm just translating things into my work, I would like to translate in my objects the same magic that nature has shown us. All the artificial forms that are under our eyes, that we see, they have been already created by nature.
On regards of the Black Lives Matter movement, how would it be possible to reach some sort of "reparation" today? And, according to your opinion, could you indicate a peaceful tool to fight disparity, in case it exists?
We should have talked about these topics already since a long time. Rights are not political, they are natural. I'm a human being, not a political being. The Biennale is a place where we can create, express and establish our presence. I'm aware of who I am. I have Nigerian origins, and I am American. My friends, they only know that they are black and that they are American, in a "non political" way.
Could you pls explain the difference between craftmanship and design in your own words?
When objects are crafted, imperfection is there. Hand-made work is pretty much recognizable. I did a glass mask in Murano, well-crafted but cannot be compared to a chair I made for Knoll. The chair is well industrialized. What they have in common is that they do belong from an artistic intuition. The big difference is that with hand-craft pieces, there is more space for the universe to inject its magic for an innovative, unique outcome. Within an industrial product I have to do everything myself in advance, as it is coming to be the same forever. And of course, the latter has more consideration about how the material is combined and also the financial, economical aspects.
Just three words to describe the life you are leading now.
How is life in Neuchâtel, Switzerland, where I live now? I live in solitude, I live a pretty solitary life with or without the pandemic, with positive ideas on purpose. And I work a lot. I like peacefulness as I'm always very busy.
Opening Image: Ini Archibong. Photo Julian Anderson