Of the 78 million tons of plastic packaging produced each year globally, only 14 per cent is recycled. Lightweight and buoyant, the plastic that escapes collection – some nine million tons a year – spills into the oceans. A more conscientious recycling process would be beneficial, but it's not a long-term solution. Industrially, the production of ever-thinner bottles and containers continues. Still, plastic remains a de facto material created from non-renewable resources, oil or natural gas, and most of it will never see a second life.

But the dialogue about its replacement becomes even more problematic when it comes to the food market. Despite the growing battle against single-use products (at least until the beginning of Covid which saw, absurdly, a massive return to this type of packaging), plastic protects food from pressure, moisture, light and bacteria that accelerate putrefaction, while its characteristic transparency allows consumers to see what they're buying.
Valdís Steinarsdóttir, BIoplastic Skin
Valdís Steinarsdóttir, BIoplastic Skin
Valdís Steinarsdóttir, BIoplastic Skin
Valdís Steinarsdóttir, BIoplastic Skin
Valdís Steinarsdóttir, BIoplastic Skin
Valdís Steinarsdóttir, Just Bones
Valdís Steinarsdóttir, Just Bones
Valdís Steinarsdóttir, Just Bones
Designers and researchers, however, are increasingly challenging the limits of these issues. After the numerous studies carried out to replace leather of animal origin with eco-leather generated from mycelium – the vegetative apparatus of fungi and formed by a network of filaments – it is now the turn of animal waste.

Icelandic designer Valdís Steinarsdóttir, for example, is transforming the by-products of the meat industry into containers made of bones and a bioplastic material for packaging. The Just Bones project is dedicated to creating containers made from the dust of animal bones, while Bioplastic Skin transforms animal skin into packaging for the meat of the same creature. Both materials dissolve in hot water and biodegrade in a few weeks.

"Meat consumption and overuse of plastic are reaching a tipping point and it is clear that society needs to rethink its consumerist model," says the designer. "With this project, it is hoped that it will open a platform for discussion and debate."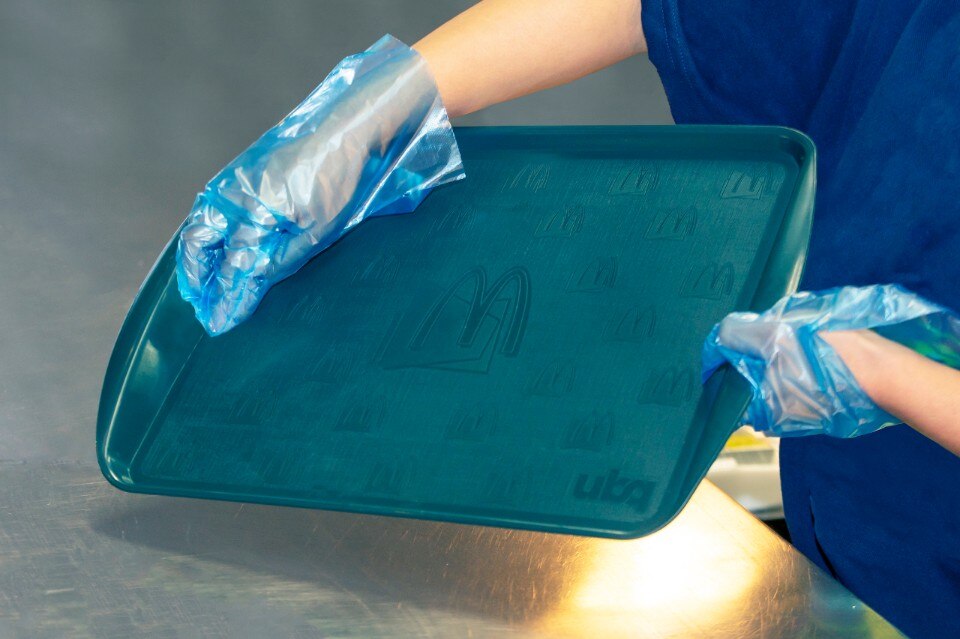 For a revolution to be such, however, it can't just come from young creatives, but also, paradoxically, by those big companies who have always contributed to the production of disposable waste. Arcos Dorados, specifically, is the largest independent McDonald's franchise in the world, which manages the chain's restaurants in Latin America and the Caribbean. The company's stated commitment to a positive impact on the environment is now marked by its decision to replace customers' plastic trays in the lounges with a more sustainable version, made from organic waste materials.

The move is part of a plastic reduction program that began in 2018. Since then, a total of 1,300 tons of single-use plastics have been removed from restaurants. However, the new trays represent the first step in a partnership between Arcos Dorados and UBQ, an Israeli company that specializes in converting waste that resides in thermoplastics. To use organic waste as an essential part in the production of thermoplastics, the waste is divided into its basic natural components, such as cellulose, lignin, sugars and fiber, for the development of a raw material compatible with machines and manufacturing industry standards.

In this first phase, 7,200 trays have been distributed in 30 McDonald's restaurants located in 20 Brazilian capitals. The initiative will gradually be extended to other network units throughout the country, and to this end, 11,000 additional units.
Of course, when the world's largest producer of beef is talking about environmental causes, it immediately raises the question of whether this is yet another attempt at corporate greenwashing. Looking at this initiative, in fact, the obvious question that comes to our mind is: where do these 11,000 plastic trays that are to be replaced with organic trays end up? Will they be recycled, at least in part, or will they themselves, in a few months, pollute the environment?

Opening image: Courtesy Arcos Dorados/UBQ