We met Aldo Cibic during a retrospective of his work titled "Aesthetics of Vitality: the shape of happiness" hosted at the hotel he designed in Milan's via Savona. The architect and designer told us about how Memphis formed his outlook on life, and making the decision to split his life and work between Milan and Shanghai.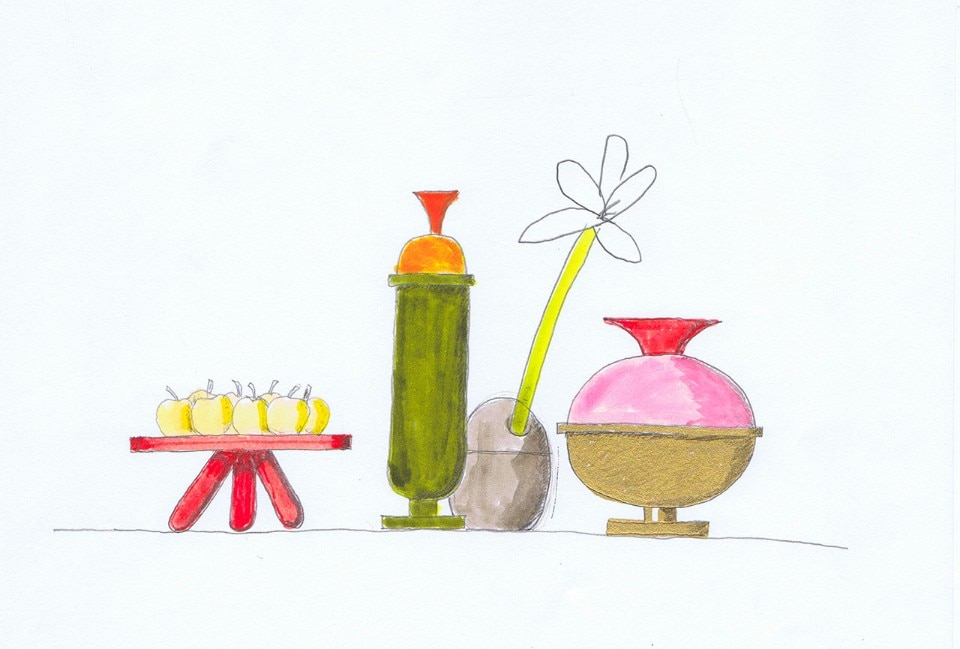 Cibic has a long history with Domus, he has been working at the studio of Ettore Sottsass at the time when Alessandro Mendini commissioned the graphic design of the magazine to the Milanese studio. Just before his death, Mendini selected Cibic and his practice for inclusion in Domus' 100+ best architecture firms 2019. "I was happy to be included in the 100+ best architecture firms 2019 supplement: I was chosen by Mendini," says Cibic. "I learnt that on the day he died and I wasn't able to thank him. He was a great man – the only person to 'out' himself by saying who he'd chosen."
He sees Domus' decision to appoint Winy Maas as current guest editor for 2019 as a sign of the magazine continuing to look forward and outward: "I think that choosing someone from the Netherlands for the 10x10x10 project was a great idea. They [Maas and his team] seem to me to have a more decisive attitude towards the times we're living in. Their focus is action, and that's what interests me now."
Aldo Cibic, Ellissima, schizzo
Aldo Cibic, Pocket Landscape, Anfiteatro
Aldo Cibic, Pocket Landscape
Aldo Cibic, Pocket Landscape
Aldo Cibic, TableJoy, Paola C.
Aldo Cibic, TableJoy, Paola C.
Aldo Cibic, TableJoy, Paola C.
Aldo, Cibic, 1x1 Limited Edition
Aldo Cibic, Andy, Sandy and Luis, courtesy Memphis Srl
Aldo Cibic, Foxy, Paola C.
Aldo Cibic, Happy Carpets, Party Zoo Red

Aldo Cibic, Lou Collection, Venini
Aldo Cibic, Otto Sofa, Pianca

Aldo Cibic, Piggy, Paola C.
Aldo Cibic, Trio, Ghidini, 1961
Aldo Cibic, Villa La Rotonda, Il Gioco della Villa, Cisa

What are you working on at the moment?
I live partly in Italy and partly in China. I'm currently working on both the poetic side of design and on its social aspect. Italy no longer has the capacity for vision and action. China is the only place in the world with the critical mass to generate a model that allows you to experiment socially.
China is the only place in the world with the critical mass to generate a model
You dealt with this aspect of design in your first self-produced project, the Standard collection (1991). How did that work evolve?
Standard was a project that sits halfway between De Padova and IKEA. Later on, I created "New Stories, New Design" for the ninth Venice Architecture Biennale (2004), in the Italian pavilion by Mirko Zardini. The focus of the exhibition was the design of services, which we started talking about at Domus in 1995. They emerged in 2007 in the form of the businesses that we know now – such as Uber and AirBnb. In the exhibition we investigated both how such a company worked and, on the other hand, what a community was and what the dynamics of life were that characterised it.
What are the challenges of the future for architecture and design?
Architecture and design today must have the intelligence, the curiosity and the humility to decide how they should combine and tackle critical issues – the environment, technology and society, which in the end are intertwined. We need to look to our future. Otherwise, we risk our work becoming mannered. I see that happening today with Milan Design Week: there's no sign of life – the only things I saw move were the animations on the invitations!
Much of what we see today reproduces a Memphis aesthetic. What do you think of it?
Memphis today would no longer be Memphis – it would be something else. As Greta Thunberg, the young Swedish activist, says, "it's not a problem of hope but of action". If we want to act, we must act. We have to develop ways to bring ourselves together if we are to be effective. We've become corrupted by formalism. We announce grand themes but don't understand what hope means, what the message of a product is. We need to be more courageous, more radical. I don't say this because I think that's what I am, but because that's what I would like to be.
Do you think that there was this courage in the Memphis era?
What the movement – and Sottsass and Mendini – taught me was an attitude towards life: the attitude of someone who does not believe in a discipline as such but sees a much broader horizon. For example, Sottsass didn't just train as a draughtsman. In fact, if one looks at the drawings and works produced at the beginning of his career, they tell the story that allowed him to generate something interesting. What one does is the result of a journey, in an almost spiritual or anthropological sense (prior to the professional one, Ed.).

We've become corrupted by formalism. We need to be more courageous, more radical
I was just today listening to an interview in which Sottsass was attacking marketing as an expression of the hyper-competitiveness of what was then the contemporary world. I was wondering what changes you have seen in the system that revolves around design.
Since the 1990s, it's all been marketing – it's marketing that makes a designer today. The system is hyper-productive: I see the same pieces made by different designers, manufactured by different companies, which often end up doing the same thing. If institutions and society have become hostages to marketing today, that's the product of the absence of vision, the absence of a future – a result of looking back, not forwards.
How can we take this system on?
It's been my good fortune – or my destiny – not to have been part of this system, and what you can see in this retrospective shows this: almost none of these pieces are on the market. Unfortunately, I never enjoyed financial rewards from them, that's really not a part of my story! The exhibition offers a personal insight into objects that I've made and that I love. For me, it's a way of explaining the genesis of my objects.
The exhibition offers a personal insight into objects that I've made and that I love
Where do you see positive signs?
There's a movement in Shanghai that has an intensity that recalls the 1980s in Milan. There's an interest in the social world and a huge movement of ideas, of people who want to act. Today, Milan is a cosy club. They don't engage with the world but compare themselves to each other a little too much. Mendini was perhaps the last interesting person of this type. He had a broader vision and wasn't too self-absorbed. It didn't matter to him if you were famous – what mattered was the quality of the design. I have the feeling now that appearances count for a lot.
Opening image: Aldo Cibic, Pocket Landscape, Anfiteatro, sketch