In the very heart of Belleville – a lively working-class Parisian district – we meet Matali Crasset in her studio-home, a refurbished former print-works overlooking a lush green courtyard shared with neighbours.
Matali has lived here for 12 years and her choice of where to live and work is no random one. The themes of communal and shared space are close to her heart and increasingly bring professional opportunities. The issue of "collective living" and the new, contemporary spatial solutions Crasset developed after painstaking, personal research are key to her latest designs.

Her Maison des Petits at the 104 Centquatre arts centre in Paris is a welcoming and creative space for parents and children featuring playful, brightly coloured and arboreal furnishings; and her Maisons Sylvestres, simple, lightweight timber houses built in the woods near the Meuse in Lorraine, constitute a visionary design for sustainable public tourism linked to art and the local area – little "œuvres d'art à habiter" set in nature.
Now, her latest works for CROUS, a university body providing services for students, have just opened – in September 2013 – on university campuses in Toulouse and Orléans. Mini R and Mini M are two innovative spatial eating and shopping concepts for university students in France. The names themselves clearly convey the concept: a mini restaurant and a mini shop-market built on campus – but they are more than that. These are not simply eateries and grocery stores. Mini R offers rapid service for quick but good-quality lunches in convivial and informal surroundings.
"I studied alternatives – adds Matali Crasset – for those wanting to sit down for an hour's lunchtime and others with less time who need a short, informal but good-quality break based on a concept far removed from that of fast food."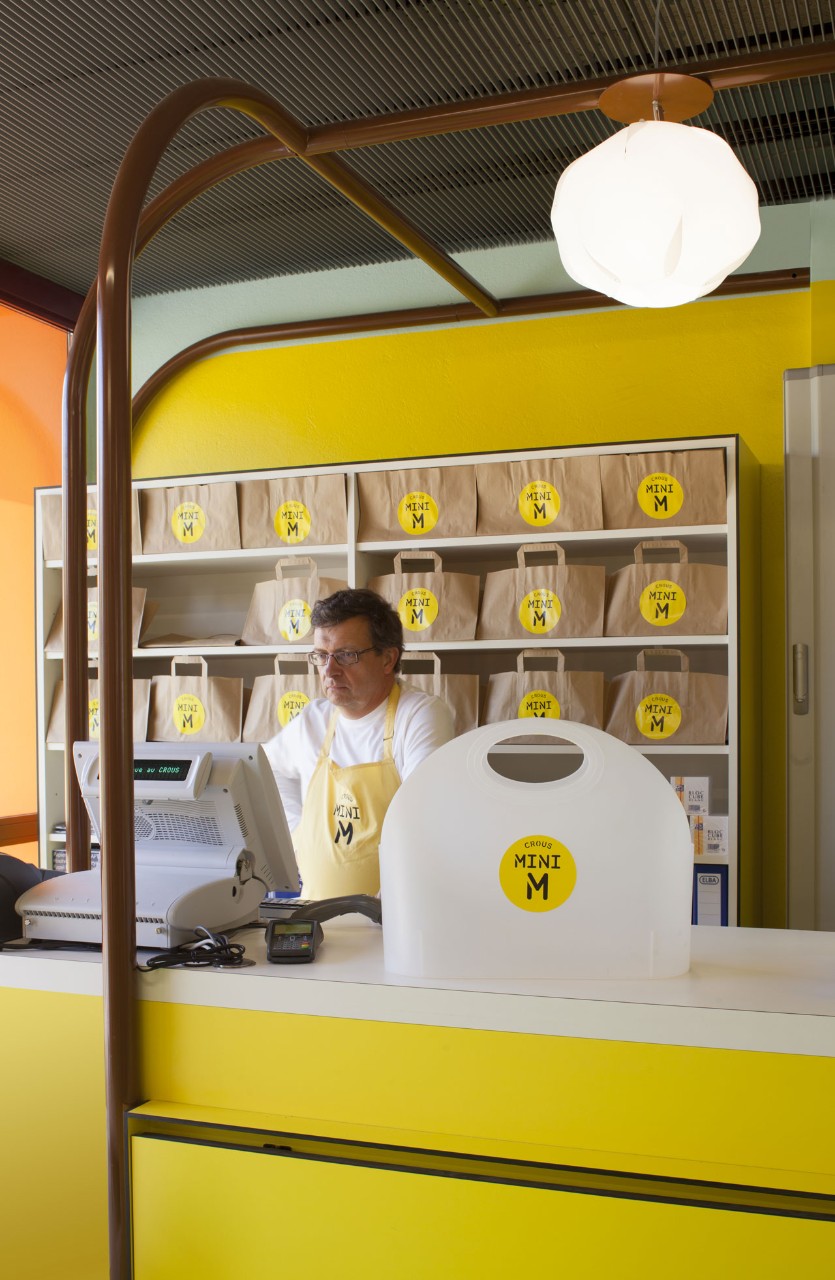 Similarly, Mini M is a mini-market that gives students the chance to do a well-balanced shop of excellent fresh products – all without having to leave their campuses, which are normally away from the city centre and lack nearby shops. Most importantly, it does so at a very low cost. The products sold at the Mini M are inexpensive and students must be able to buy a complete meal at the Mini R for € 3.15. This was a crucial factor for Crasset, who is convinced of the collective and social significance of this project, "Especially so now that French universities are being privatised and CROUS promotes the social and democratic values we need in our schools."
CROUS – a regional division of CNOUS – is the French university body that provides university students with excellent support services, from bursaries to accommodation. An enthusiastic Matali Crasset shares its values: democratic excellence for a good diet, fast ways to eat and buy healthy food, and high quality at low prices, which seem to shape the principles, borrowed from the national motto, "qualité, rapidité, égalité" that CROUS has been promoting for decades.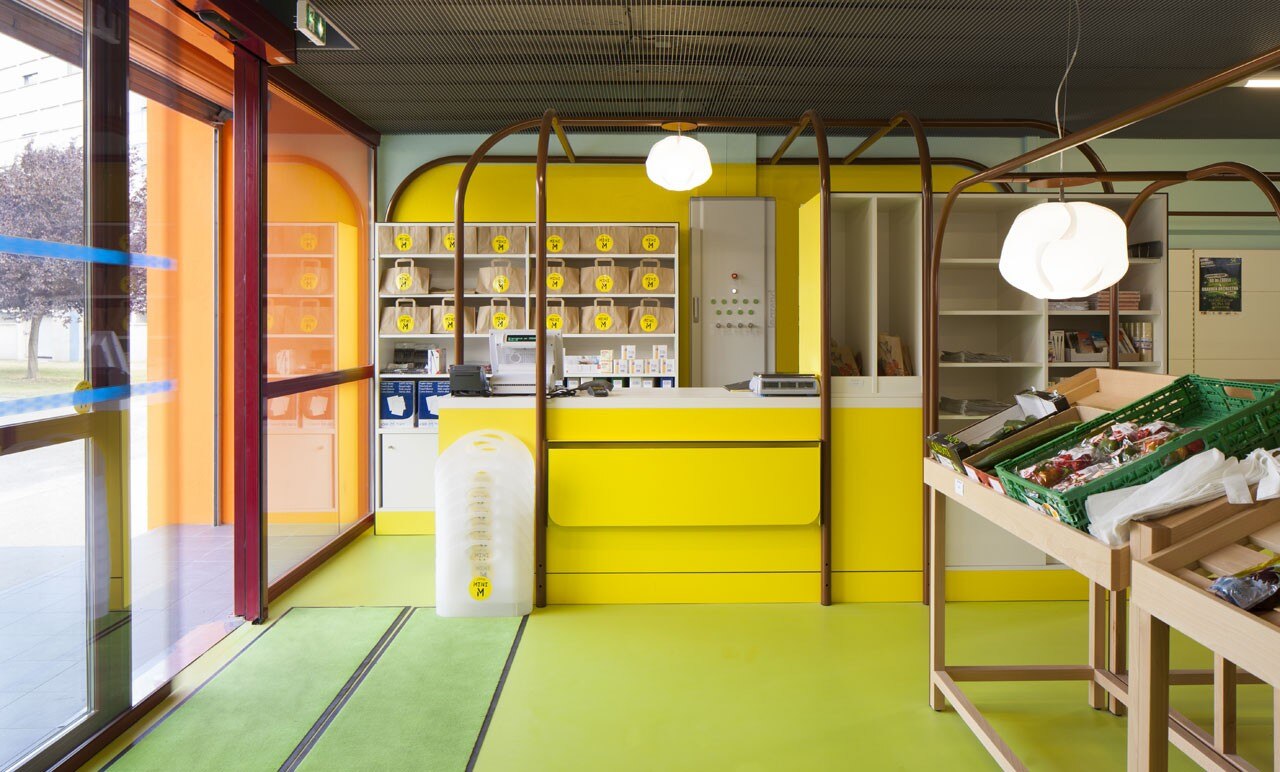 Matali Crasset analysed the student-lunch ritual and young people's new eating habits, adapted them to CROUS' requirements – short waiting times, flexible opening hours and multifunctional spaces – and translated them into a new, young and contemporary scenario. Whether fresh salad or a pasta dish, lunch should be eaten in a relaxing and convivial environment, in the company of fellow students or reading a book. The spaces and furnishings of the Mini R Global in Orléans are filled with light and dynamic colours with vibrant turquoise tables and orange or acid green seating offering several options: from maxi-tables to informal seating for coffee and outdoor tables. The graphic design and signage, designed by David Tanguy of Praline and coordinated with the project to adopt its informal and direct stylistic code, are in net contrast to the obsolete university canteens, dull concrete faculty buildings and ultra-commercial appearance of many fast-food chains.
The Mini M recently opened in Toulouse sells fresh, natural produce. A simple and basic construction with an orange and apple-green facade, it contains airy spaces designed in the colours of bright yellow and pale green. Products are arranged on modern light-coloured wooden stands and displays with stylised white and turquoise canopies, visually reminiscent of traditional French market stalls.
Commenting on the joie de vivre expressed by the cheerful and infectious colours of her designs, Crasset smiles and says, "Not using colour means you have some sort of fear of life because colour and happiness are closely linked." She simply seems to use it naturally and appropriately in her designs – which are most certainly not slave to convention.