His approach to street photography is poetic, like a documentary filmmaker who thirsts for humanity in a world that "has nothing to do with reality, but is infinitely more interesting". Dreamlike and rebellious by nature, constantly in search of light elements between tradition and nonconformism, Doisneau tells the universe as he would like it to be through pictures that become poetry. Rebellious and solitary children who have just conquered a fleeting freedom from the hyper-vigilant gaze of their parents are playing in the grey neighborhoods of the Parisian suburbs. And then glimpses of the French countryside, meetings with artists in cafés, the world of fashion. Visual cues that allow the spectator to travel freely, or that give keys to understand these places, so that everyone can share their own story: "I don't usually give out advice or recipes, but you must let the person looking at the photograph go some of the way to finishing it. You should offer them a seed that will grow and open up their minds."
143 works all coming from the Atelier Robert Doisneau are on display in the rooms of Palazzo Pallavicini until September 20, 2020 in Bologna. The exhibition is the result of an ambitious 1986 project by Francine Deroudille and her sister Annette - daughters of the artist - who selected from 450 thousand negatives, produced in over 60 years of activity, in a wonderful autobiographical story: "The project was both simple and ambitious: to summarize in a few pictures the over 60 years of our father's photographic work. My sister and I selected the first pictures from the trunk of the vintage prints. The choice was instinctive and quick, dictated by the desire to collect fundamental photographs and mix them with lesser known shots, which would testify to our father's phototropism towards the beauties of the most ordinary everyday life. Without wanting to, we told the story of his life".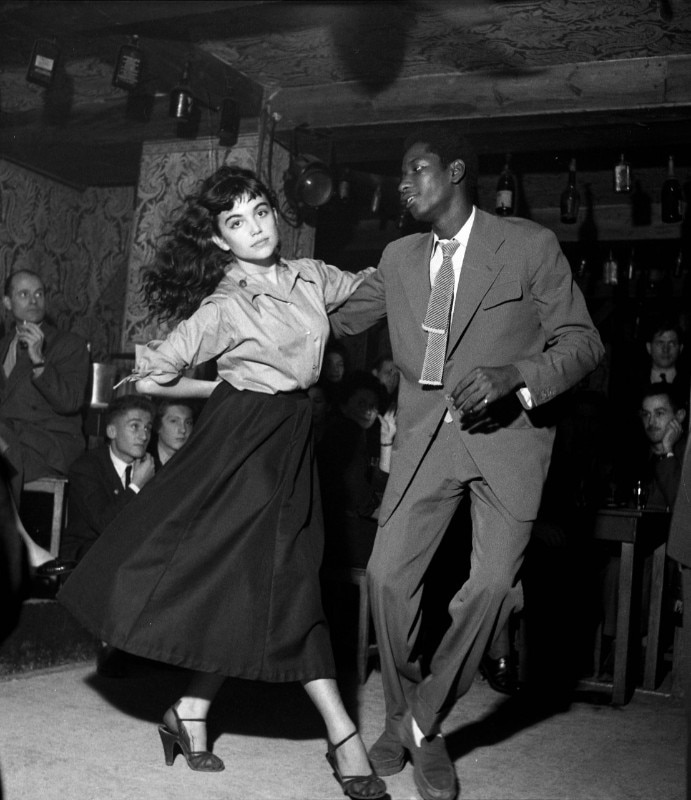 In his work, Doisneau rejected all the already established criteria that somehow "stain" the emotion. What about in his private life? What kind of father was he?
He rejected, in his work as well as in his private, everyday life, rules that seemed absurd to him, even though he had clear ideas. He wanted fantasy to be strongly present at all times. Even though he did nothing at all in the name of creative fertility. On the contrary, he was a very strict and responsible person. He had a reassuring attitude stemming from his attachment to fundamental values: love for work, attention to others, loyalty to those around him. We felt safe with him, we had a lot of fun, and this reinforced our behavioral solidity in different contexts. At home, he was exactly the same person he was at work, he had the same qualities, which were apparently very contradictory: creativity, freedom and independence. He put constant commitment and attention into his activity. His benevolence was known to all, everyone described him as a kind man, humorous and imaginative. That kindness and indulgence for others could have made us forget the meditative nature and the irreducible spirit of independence that characterized him. He hated nothing but authority, had a deep sense of derision and always encouraged disobedience.
How did he fuel his creativity?
To answer that question, I'll take a step back. Perhaps what he did was a kind of revenge on the early years of his life, which were not easy at all. He was a child during the 1914 war, a period particularly hard and tragic, as we all know. His mother died when he was only 7 years old, and the environment in which he was living was so harsh that he felt suffocated. So, he began to take pictures, he met artists, musicians, painters, he let his imagination run wild. For him, it was like discovering the promised land. From that moment on, creativity started running through his veins: even the simplest of works had to allow him to express himself, albeit in the most modest way. He never gave in to constraints, he always protected his imagination. And always in the name of an endearing and light joy.
Photography is the art of illusion. What's important is to share a way that can help us bear the real. To re-enchant it, sometimes, whether we see the observation of a melancholic reality or the testimony of an irrepressible joy of living, depends on our history
What aspects of his personality do you now recognize as your own?
I notice that in the laboratory, my sister and I unconsciously do everything we have seen him do. It takes a lot of effort and dedication to make the workshop run smoothly, but I have the constant impression that a good dose of joy is essential to work well. Our father is with us in this, and in many other things. There is always a great sense of commitment in the air, but also an absolute detachment from what I call the "spirit of seriousness". Like my father, I can't stand amateurs, just as I can't stand people who take themselves too seriously. Work a lot, and have fun just as much, this as a founding principle of life.

How important is the art of re-inventing the real? 
Photography is the art of illusion. What's important is to share a way that can help us bear the real. To re-enchant it, sometimes, whether we see the observation of a melancholic reality or the testimony of an irrepressible joy of living, depends on our history. To each his glasses. My father worked for all his life to offer us a bearable image of ourselves, happy to give us a moment of grace and friendship. I cannot help but listen to him as he tells us, using the words of his friend Jacques Prévert: "we should try to be happy, if only to set an example".
This exhibition is so rich in elements that it has become an autobiographical story: how did the Atelier project come about?
What I like most about my father's work is that there is as much autobiography in his photos as fiction. Of each one you could tell an anecdote, also because he took pictures in environments very close to his everyday life, with people he knew, therefore linked to his own story. Pieces of life that become stories, together with the desire to tell his imaginary world. "The world I was trying to show was a world where I would have felt good, where people would be kind, where I would find the tenderness I want to receive. My photos were proof that this world can exist," he told Frank Horvat in 1990. So, it wasn't a matter of describing the real, but of inventing a slightly different outline. This is the "lie-slash-trut" I love the most.
 
What was the photograph he loved the most?
There is a photo, in the rooms of Palazzo Pallavicini, which he always intended as a self-portrait: it is The Butterfly Child. A little boy who seems to be flying away on a black, muddy and dark background, between Saint Denis and Aubervilliers back in 1945. I believe that the picture of this little boy reminded him of his childhood 25 years earlier, in Gentilly.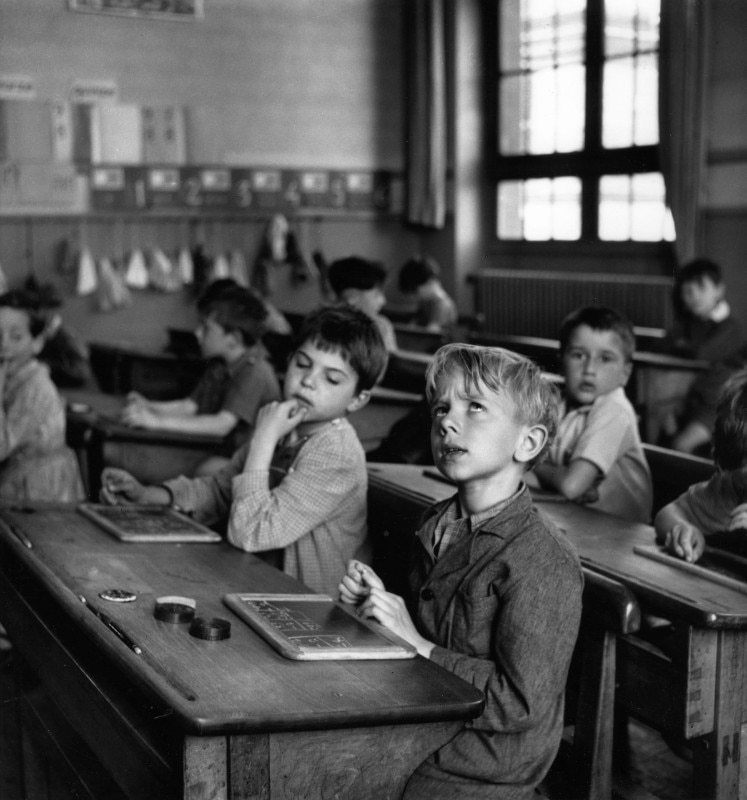 And the person he photographed that he most frequently and fondly remembered?
The characters in my father's photos are like members of my family. I have never met Mademoiselle Anita, whom my father photographed in 1951 at Cabaret La Boule Rouge, in the Bastille district. Yet she is someone who has been with us for so long, and I have the feeling that I know her very well. I find this aspect of photography really interesting, this presence that is created in our lives by the way we look at the people portrayed in the photographs. Where is the fake, where is the real?  There is a very strong and constant theatrical dimension.
Was he interested in other forms of art as well?
Literature, first of all. He loved the written word. Some of his greatest friendships were with writers. Blaise Cendrars, Jacques Prévert, Daniel Pennac, with whom he had an incredible complicity. He was also quite talented for writing, an art he practiced a lot in the last years of his life. His photos are somehow narratives, stories. He was much more interested in this dimension of photography than in plastic composition. His artistic behavior voluntarily turned his back on any formal refinement, and allowed the unexpected to intervene as a leading actor. He rejected exoticism, as well as the photography of a committed reportage, which seemed to him a brutal and sometimes theatrical accusation. "Form is the essence brought to the surface," said Victor Hugo. For my father, what mattered most was the essence. The form was at the service of the narrative, of the content.

How will the Atelier evolve?
The workshop is constantly evolving, also according to the requests we receive. In recent years, the sector that has developed the most is that of travelling exhibitions. And my dream is to have enough time to continue to create new opportunities, further enriching a memory that is as alive as it is important.