"We are concerned not merely with the technical problem of securing and maintaining peace, but also with the important task of education and enlightenment. If we want to resist the powers which threaten to suppress intellectual and individual freedom we must keep clearly before us what is at stake, and what we owe to that freedom which our ancestors have won for us after hard struggles. Without such freedom there would have been no Shakespeare, no Newton, no Faraday, no Pasteur [...] It is only men who are free who create the inventions and intellectual works which to us moderns make life worthwhile."
Albert Einstein
Peace. A much-desired condition in these times and Einstein was probably right: freedom of thought, expression, belief, and religion produces genius, and with genius comes wonder.
Centuries and centuries of history in which wars have been a metronome, marking the years, the kings, emperors, popes, and people.
In 1576, Jacopo Robusti – better known as Tintoretto – painted an extraordinary work. It symbolizes the idea of peace or better said the desire for peace: Minerva Sending Away Mars from Peace and Prosperity.
Along with three other canvases, the painting was created for the Atrium Square Salon of the Doge's Palace in Venice. All of them are related to the concept of unity and concord. However, the Venetian master chose to create a powerful synthesis in this work that explained, in allegorical terms, the benefits of peace and the solutions to achieve it.
Minerva, the Roman goddess of wisdom, heroic virtue, and just war, is placed at the center of the scene. She turns towards Mars, the god of war, trying to repel him with a firm, decisive gesture. Minerva rests on Peace with one hand, and Peace turns towards Concord.
All the figures are connected through their hands, like a chain, forming a consecutio temporum that articulates events, binds them, and unbinds them, highlighting how everything is extremely contrasting yet consequential. It is a scenic dance that reads, from right to left and from left to right, the story. It seeks solutions and highlights their benefits.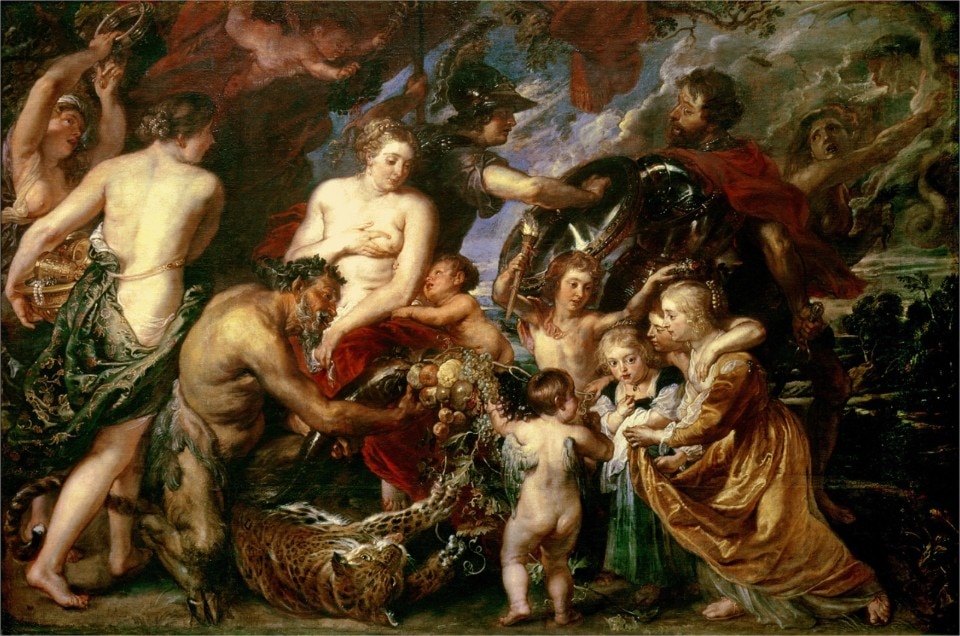 The same concept is somewhat argued by Peter Paul Rubens in 1630 through the painting Minerva Protecting Peace from Mars. This work arose from a diplomatic mission to request peace between Spain and England, which King Charles I received as a gift. At the center of the painting this time we find Peace; a beautiful woman with exposed breasts bestowing her gifts and prosperity. Behind her, we still find Minerva, who also pushes Mars away in this work. The scene is richer, filled with characters, emphasizing the benefits of the triumph of peace.
'Peace comes of communication', Ezra Pound wrote. Who knows if these works can become an example, given that they are already symbols. 
Opening image: Tintoretto, Minerva Sending Away Mars from Peace and Prosperity, 1576 - 1577