"After a disaster like this, the most important thing is to preserve human life," said Eric Falt, UNESCO's regional director for the Maghreb. Several UNESCO World Heritage sites have been severely damaged by the recent earthquake that hit Morocco on Friday, September 8th. Estimates put the number of victims at nearly 3000, and the damage is extensive. From the Medina of Marrakech to the Tinmal Mosque – considered one of the country's most important architectural landmarks – no building has remained unscathed.
In the late 19th and early 20th centuries, Morocco was a country dreamed of, desired, and painted by many artists. It had an oriental atmosphere that captivated and amazed. New architectures and customs, different from those in Europe, vibrant clothing with lightweight fabrics, and garments adorned with rich geometric patterns.
Eugène Delacroix, the French artist famous for his paintings of social denunciation, painted a Jewish wedding in Morocco in 1841. It captures a moment of celebration, where the architecture of a typical Moroccan dwelling serves as a pictorial and perspective device to frame the many and varied figures in motion. The prevailing colors are red, white, and green, merging and constructing the artwork almost monochromatically, emphasizing only the most neutral shades.
The shadows, falling from above, accentuate the movements of the depicted figures, drawing attention to the bride at the bottom left. The viewer becomes involved in the scene thanks to the other foreground figures, depicted from behind, participating in the moment as mere observers. Delacroix chooses to place a group of musicians right in the center of the artwork, as if the music could emanate from there. The carpets, wall decorations, headgear, musical instruments – everything is in the Middle Eastern fashion.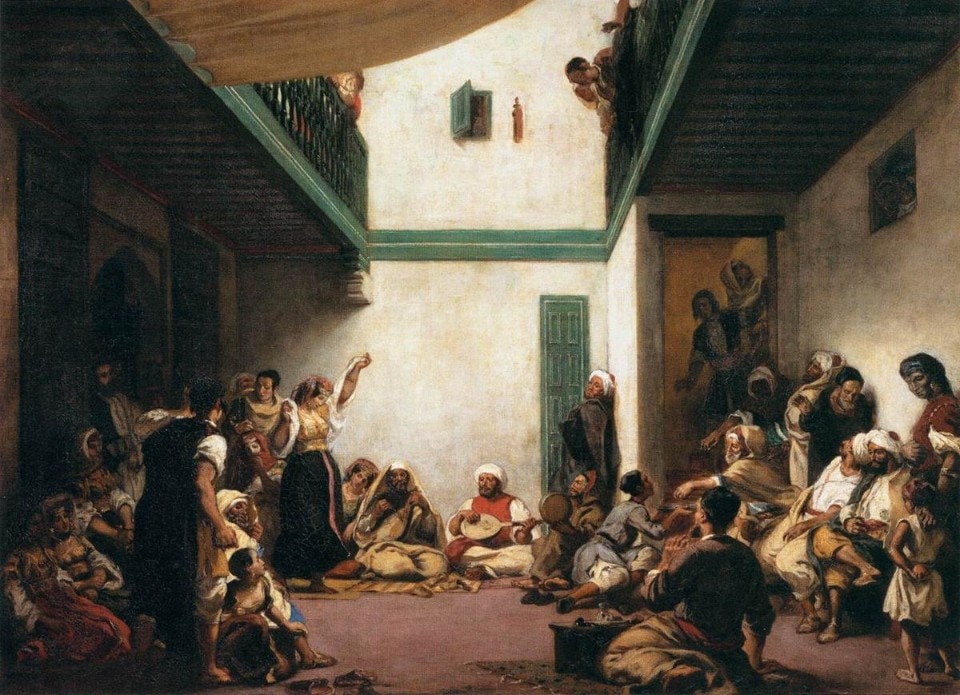 Zinaida Serebriakova, a Ukrainian artist active in the first half of the 20th century, chose to depict a street in Marrakech. Again, the colors are subdued, almost ethereal, except for the more defined and black lines that geometricize the figures, objects, and architecture. A delicate pink, perhaps altered by the strong sunlight, transforms into blue when it meets the shadows. Everything appears calm, almost static, as if posed. No exertion, no noise, only women walking completely covered, except for a slit for their eyes. The decorations on the architecture, even though they have vibrant colors like green, deep blue, and red, struggle to stand out; the sun is so strong that it illuminates and lightens everything. Figures come and go on the streets of a timeless and enchanting city.
Falt continued, "We also have to plan immediately for the second phase, which includes rebuilding schools and cultural property affected by the earthquake." A land full of charm and beauty struck to the heart, still hiding victims among its rubble. A land that will soon return to enlighten and captivate the many tourists and artists.
Opening image: Zinaida Serebriakova, Street in Marrakech, 1932