It was March 17, 1805, when Napoleon Bonaparte proclaimed the Kingdom of Italy.
The Italian Republic became a kingdom – all under the blessing of Pope Pius VII.
Bonaparte conquered the Belpaese and its wonders. The political power of his every gesture claimed glory and power. Obviously, there were many Italian and international artists who were fascinated by his figure. Among them, Andrea Appiani who chose to portray the emperor on the day of his coronation in Milan Cathedral, again in 1805.
Solemn, stern, haughty and somewhat disdainful, in a three-quarter pose, Napoleon is portrayed as the King of Italy. Andrea Appiani created a majestic, authoritative work in which Napoleon appears as much king as man, a man of power, but without an unroyal pose, but a more regal one. The coronation ceremony took place on May 26, 1805, a few days after the declaration of the Kingdom of Italy, and another artist paid tribute to that moment: Gaetano Monti.
In 1811 Gaetano Monti – born in Ravenna – was commissioned to realize a sculpture to be placed on the Simplon Gate – Milan's Arch of Peace. Its realization was put on hold with the fall of Napoleon in 1814.  It resumed later in 1826 at the behest of Emperor Francis I of Austria.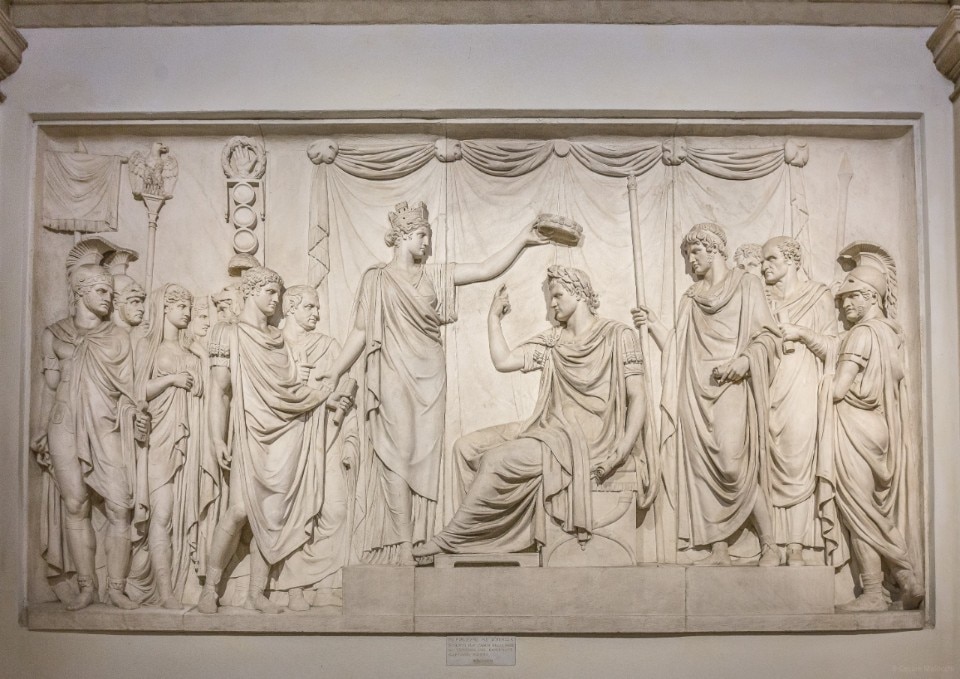 Preserved today at the Brera Art Gallery, the marble relief depicts Napoleon as an ancient emperor. Before him there is a woman wearing a crown with towers symbolizing the Italian Republic. The woman points with her right hand to the people while with her left hand she holds the Iron Crown, an element that legitimizes Napoleon's coronation. "God has given me a crown. Nobody can touch it," Bonaparte said then.
It was March 17, 1805. It is March 17, 2023. A new century, a different art. A republic in crisis, a Europe in crisis. More wars and power struggles, more slaughter of innocents caused by the selfishness of a single man in charge.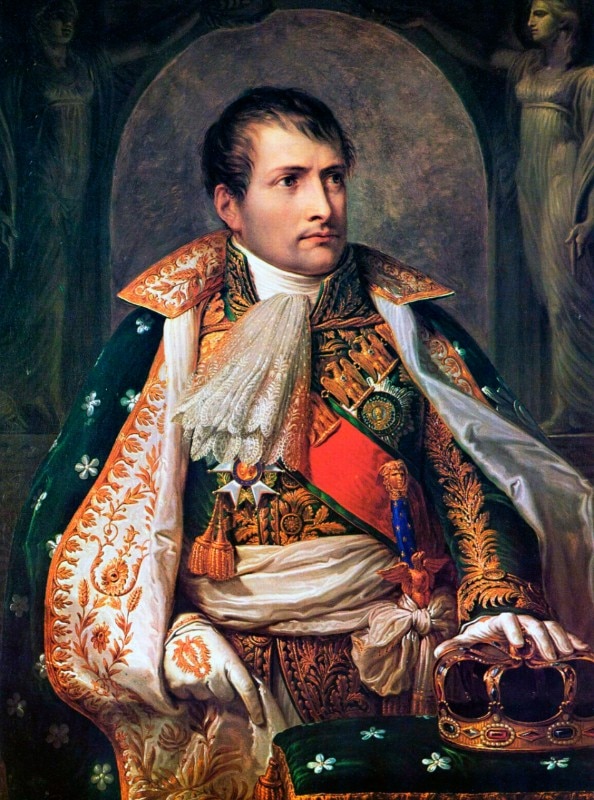 Emmanuel De Las Cases quoted these words of Napoleon: "Suddenly a dog leaped out from under the cloak of a corpse. He came running toward us and then, almost immediately afterward ran back to his dead master, howling piteously. He licked the soldier's unfeeling face, then ran back to us – repeating this several times. He was seeking both help and revenge. I don't know whether it was the mood of the moment, or the place, or the time, or the action in itself, or what – at any rate, it's a fact that nothing I saw on any other battlefield ever produced a like impression on me. I stopped involuntarily to contemplate this spectacle. This man, I said to myself, has friends, perhaps. He may have some at the camp, in his company – and here he lies, abandoned by all except his dog. What a lesson nature was teaching us through an animal.
What a strange thing is man! How mysterious are the workings of his sensibility! I had commanded in battles that were to decide the fate of a whole army, and had felt no emotion. I had watched the execution of manoeuvres that were bound to cost the lives of many among us, and my eyes had remained dry. And suddenly I was shaken, turned inside out, by a dog howling in pain! What is certain is that at that moment I would have been more yielding to a pleading enemy: I understood better the gesture of Achilles returning Hector's body to the weeping of Priam" (From The Memorial of Saint Helena).
Opening image: Napoleon Bonaparte, King of Italy, portrait by Andrea Appiani. Photo from wikimedia commons