This article was originally published on Domus 1055, March 2021
For centuries houses were designed and built by men. Women lived in them, spending innumerable hours within the walls of these buildings, which provided shelter but also proved to be prisons. They tended, cleaned, cooked and waited as the men came and went at will. "For women have sat indoors all these millions of years, so that by this time the very walls are permeated by their creative force," wrote Virginia Woolf in her famous essay A Room of One's Own (1929). In it, and ahead of the times, she claimed that the ability to make something out of all that creative female energy required financial independence and a private space that could preserve concentration: "a woman must have money and a room of her own if she is to write fiction."
One of the greatest and most prolific artists of the 20th century, Louise Bourgeois did not have a room all to herself in the physical sense, or at least not at the start of her long career. Rather, the space of her creative autonomy was demarcated by time: it started when her husband and three (male) children left home for the office or school, and it ended upon their return.
This potentially infinite mental space had limited production potential. Indeed, during that time Bourgeois set down on paper sculptures that she might produce once she had a studio to work in. These were symbolic self- portraits in which the artist portrayed herself – and in doing so epitomised the myriad of women in similar conditions – as a naked body trapped from the waist up in a miniature house. This series, titled Femme Maison (i.e. "housewife", or literally "woman house") and created between 1945 and 1947, features simple yet compelling portrayals of the sense of oppression and frustration – but in some ways also of protection – generated by the bounded context within which the action and gaze of the wife-mother moves. The relentless nature of her lonely domestic chores may prevent the housewife from seeing the rest of the world, but others can see her, unknowingly exposed and therefore vulnerable.
Viewed again today in light of the repeated lockdowns imposed worldwide to contain the Covid-19 pandemic, these images seem to be allegories of the profound isolation experienced by women, trapped in a domestic captivity in which the abuse has intensified.
So archetypical is the image created by Bourgeois with regard to the link between living space and gender stereotypes that it has been reprised, with varying degrees of awareness, by several female artists. In the late 1980s, the American Laurie Simmons produced a photograph titled Walking House, in which the woman is not even named but reduced to a pair of sensual legs elevated on high heels. The rest of the body is literally boxed inside a model of a house with a garden, the iconic American dream house, which the woman, in the manner of a sandwich man, appears to be carrying around like an advert. The perfect housewife, who is also sexually available, goes around self-promoting herself using a patriarchal-style marketing strategy.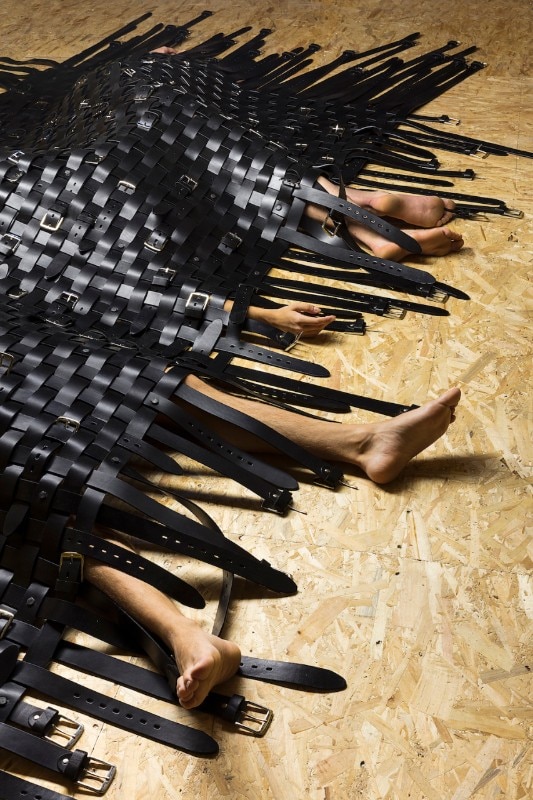 Less ambiguous is the version created by Monica Bonvicini in her Hausfrau Swinging (1997) video-performance in which we see a naked woman banging her head – contained within a model of a house – against a wall. More than 20 years later in 2019, Bonvicini
created a monumental installation, in the equally imposing OGR Torino ex-industrial complex, consisting in the timber frame of a two-storey dwelling. What emerges from the darkness of the exhibition space is a ground zero of domestic architecture: a potential house, or what is left of one, a spectre of domesticity. It comes naturally to project a whole series of personal recollections and collective memories onto those walls that do not yet exist, or that exist no more, as well as conditionings, also of gender, and expectations that domestic spaces have influenced for years.
Titled As Walls Keep Shifting, in terms of form Bonvicini's intervention operates on the boundary between sculpture and architecture, similarly to the practice of the British artist Rachel Whiteread. However, while Bonvicini emptied a building, Whiteread set an inverse process in motion. With House, the public work that first brought her to fame in 1993, Whiteread gave solid form to the space inside the architectural shell, that "void" within which people move and objects are contained. Having heard of the imminent destruction of a terraced house overlooking an East London street, the artist obtained permission from the authorities to fill it with liquid concrete so that, once the walls were removed, the interior of the house became a solid mass imprinted with its window frames, cornices and fireplaces, along with traces of private stories that became collective upon public display. Despite being demolished a few months later, this anti-monument gave sculptural solidity (and dignity) to the atmosphere of domestic life and to the energy of the people – women in particular – who had lived and breathed there.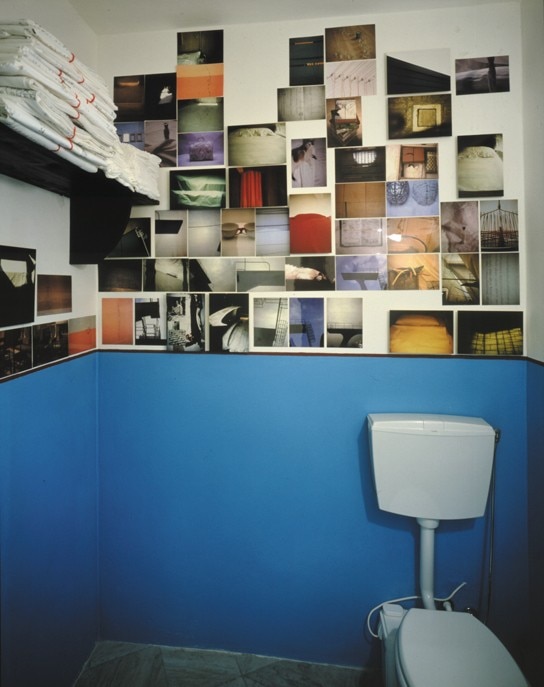 Bringing private and anonymous stories into the collective dimension, this piece sees a paradoxical analogy in the autobiographical work Everyone I Have Ever Slept With 1963-1995 by Tracey Emin, who appeared on the same scene around the same time as Whiteread. Indeed, they are both members of the Young British Artists group. Emin lined a camping tent – the modern version of the hut and primordial living space – with the names of all the people she had slept with up to that moment in her life, not necessarily having had sex with them.
With this work, which had an intentionally allusive title, she shattered female mysticism, "speaking" of sex like a man and parading the names of the people with whom she had been intimate. For women, the house-tent-hut was no longer a cage but a place of emancipation. The personal became political. This technique is reminiscent of the militant approach of Judy Chicago and Miriam Schapiro, who in 1972 toppled the patriarchal living model by creating Womanhouse. After mustering a combative bunch of feminist artists, they turned every room in a dilapidated Hollywood mansion into an installation. One example was Eggs to Breasts, in which the kitchen was decorated with a myriad of small sculptures lining the ceiling and walls. Those highest up resembled fried eggs, but as they neared the floor the forms gradually looked more like sagging breasts. It was a blatant criticism of the nursemaid role assigned to women by biology and reiterated by society.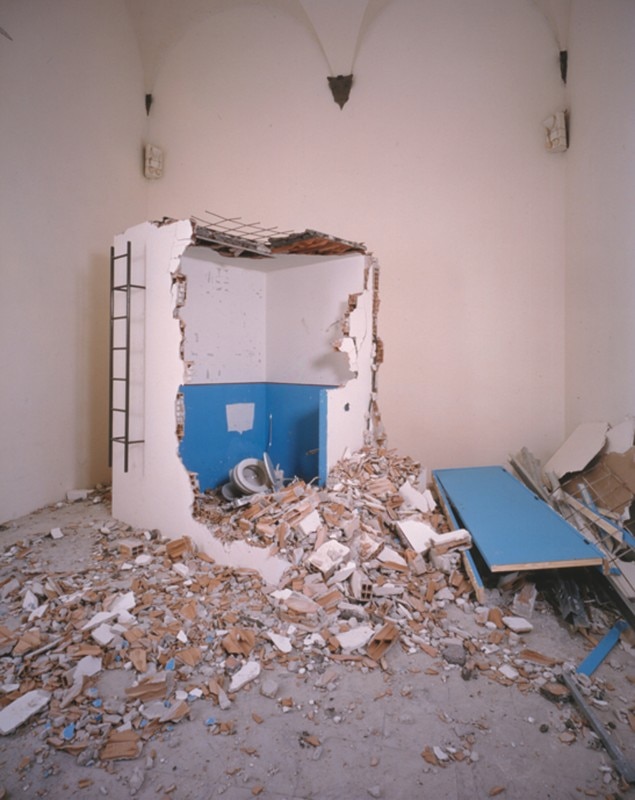 In those vital years of change, Womanhouse showed the public that the domestic landscape could be crucial in the process of deconstructing gender stereotypes. From a place of subordination and submission, the house became an outpost of creative, as well as social, liberation.
Still today, life inside houses can sway between these two dimensions of constraint and potential, a dualism accentuated by all the lockdowns that have inflicted serious psychological hardship
on many women, and just as many men, who were unable to deconstruct their household perimeter by, for example, making recourse to their imagination and creativity. Others have managed to construct architecture inside the architecture, a mental space within the domestic walls.
"It's not you who shuts me in but I who shuts you out" is how Letizia Cariello summed up this reversed perspective back in 2011 when she created the installation Io, Caterina inside Palazzo delle Papesse in Siena. The artist laid claim to a self-managed destiny in her self-sufficient living unit, as implemented by the 14th-century saint partly via domestic self-isolation, but shifting it onto a secular plane.
This cell of freedom exemplifies all those places in which we deliberately choose a solitude that undermines all attempted external conditioning and thereby achieves the maximum inner freedom. It is a strategy to which not only saints and mystics but also intellectuals and everyday women of all times have resorted. This inviolable space exists first inside us and then in the space we inhabit, one in which we can (and must?) plan our autonomy before laying claim to it.
Opening image: Monica Bonvicini, As Walls Keep Shifting, installation view at OGR Torino, 2019. Courtesy of OGR Torino and Galleria Raffaella Cortese Milano