JaguArt is both like a road show and a talent show – in the noblest sense of the term. Artissima and Jaguar Land Rover have worked together on a project that started last year, is now at its turning point with the announcement of the ten finalists, and is aimed at giving visibility to young contemporary art talents from all over Italy and to as many galleries. "The collaboration with Jaguar is a source of great satisfaction for us, not only because of the nature of the project, which aims to promote 10 young artists in 10 Italian cities with the support of 10 first-class art galleries, but also because, despite the pandemic, we have managed to work together and adjust to the context," explains Ilaria Bonacossa, who's director of the Turin fair. "I think that art, and in particular contemporary art, has entered the collective imagination as something interesting and enjoyable. JaguArt has also given Artissima, which by its very nature is open to research and innovation, the opportunity to experiment with new ways of promoting young artists", and to try out a brand new exhibition space – the car dealership, which Bonacossa defines as "monumental and modern, similar to the white cubes of the art galleries in the big cities", and which is perfect for hosting contemporary art, adding that "making the work of 5 young artists dialogue with highly seductive objects with perfect functional design like Jaguar cars was a challenge".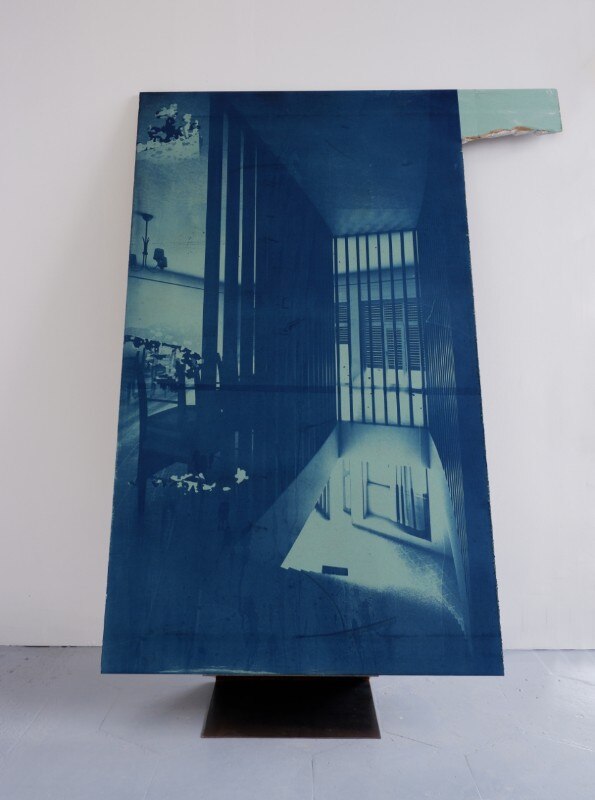 "His work fascinates me". This is what Bonacossa says about Matteo Pizzolante, born in 1989, and the first artist to stand on the JaguArt podium with Silent Sun, a series of cyanotype photos printed on transparent PVC and laid on metal supports. False photographs that more or less faithfully reproduce situations reconstructed by the artist through his own memories and processed through a mix of analogue and digital techniques. "In his ability to combine the virtual with the analogue, digital reconstructions with personal memories, I see a timely metaphor for our current experience," Bonacossa continues. "His 'non-photographs' are both mysterious and seductive in the way they create impossible but still real spaces".
The presentation of the 2020 finalists was also an opportunity to meet Matteo Pizzolante for a chat, which started with his particular approach and how it is made. "The first phase of the work consists of a 3D reconstruction of the places I've been to in the past: remembering how they were, I reconstruct them completely by making renderings," the artist says. "From this project, I took some views and print them with the analogue technique of cyanotype. After digitally reconstructing the spaces, I print the negatives and then use them to print the images. The interesting thing I have recently started to do is to print directly onto drywall". 
How does this link your work to the space?
By printing very large images directly onto drywall, the works become part of the space. I have been thinking a lot about this lately: I thought I would like to work together with an architect. While an architect designs more or less neutral spaces that will be filled by people, mine is a reverse process: the images already have a past. It would be a question of thinking about space on the basis of images, thus overturning the usual way of designing things.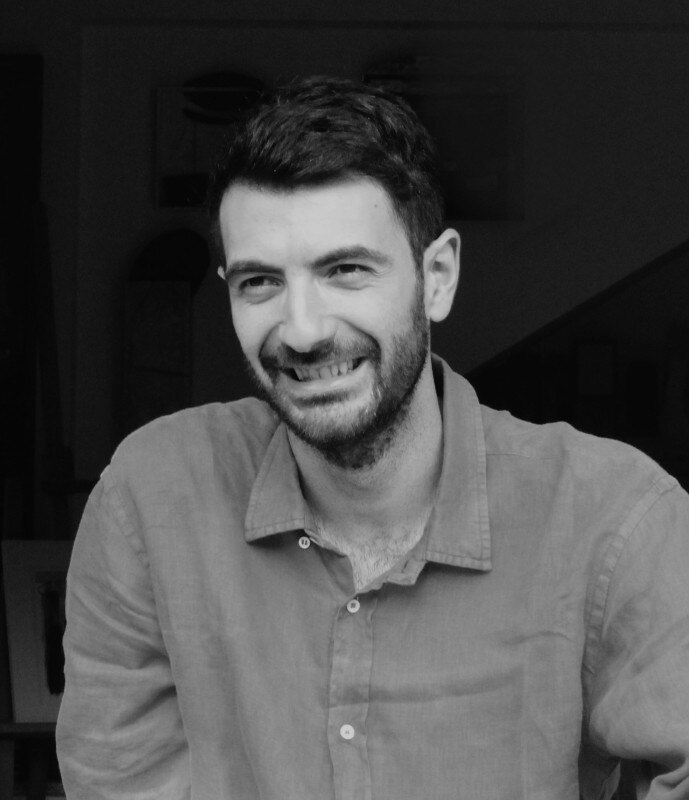 When it comes to the creation of a work, what does the complexity of all these steps between analogue and digital offer you?
I always start working with digital, but then I turn it into something physical. The hybridisation of digital and analogue creates evanescent images, mental projections. But at the same time, they have a physical presence, they are part of the space. And then, the programs I use are normally used to show how the environments will be, while I do the exact opposite: I reconstruct what has been. The idea of printing on drywall closes the circle: you print spaces on something that will become space in itself.
What programs do you use for designing your works?
I use 3D Studio Max, Autocad and all the 3D programs used in architectural modelling.
Has your concept of memory-intimacy (always present in your work) changed since this year's events?
Not much, because the issues are still here. From a practical point of view, however, I have been doing a lot more interviews and articles, and I have found myself reflecting on what I was doing when I was writing about my work. It was useful because I had more time to work, I felt less anxious to create new things for exhibitions, it served as an introspective moment. It wasn't my research that changed, but rather the amount of time and the attention I dedicated to it. Also, I am happy to have found a new studio: now that everything has slowed down it's the perfect time to work.
What does it mean to win an award as relevant as JaguArt's at a time like this?
The project had a lot of media coverage; communication-wise, the JaguArt organisers did a great job, and did everything they could to make the exhibition visible. I received a lot of visibility, so I received a great amount of feedback anyway.
How was your year, work-wise?
Personally, I haven't been less productive, nor have I been involved in less initiatives. The only significant difference is that fewer people are selling. However, it has also been a significant change; before there were too many exhibitions and events. Now there is less quantity and perhaps more quality. That's the impression I got: I saw fewer things, but I enjoyed them more.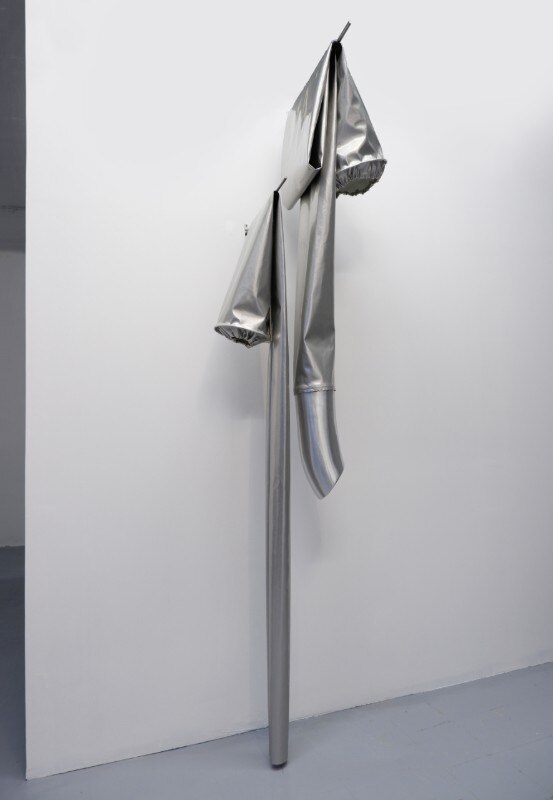 What is the situation of young artists in Italy today?
It is a complex question. As far as galleries are concerned, it is difficult for them to start new collaborations at the moment; they will probably continue to work with the artists they already have. From a practical point of view, artists in Italy always struggle to be recognised, even from a legal point of view, which is another reason why their situation is so complicated. On the other hand, this moment can be useful to look for new work methods and opportunities. The pandemic was also a way to reinvent oneself and look for new ways to exhibit one's work, not to disappear, while waiting for everything to go back to normal.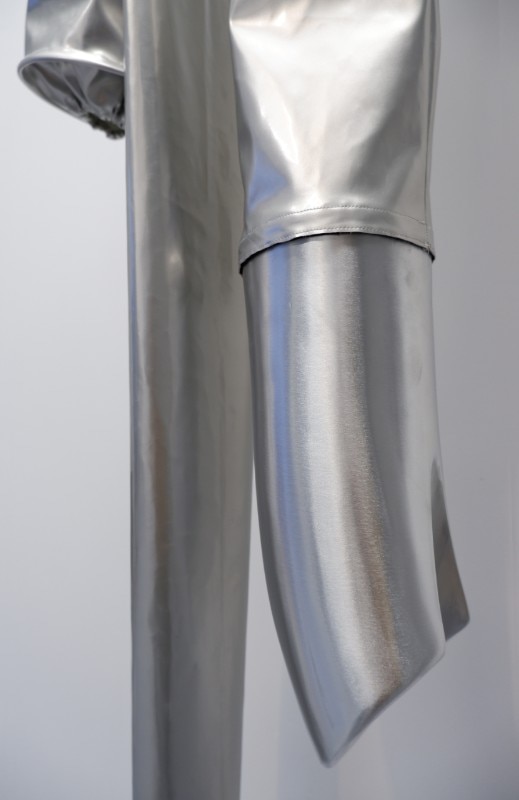 Would you let art into car dealerships, thus turning them into exhibition spaces?
Car dealerships are actually difficult spaces. Cars have a very strong presence. But, on the other hand, behind these places lies a world of technique and intelligence applied to design, which partly refers to my field of interest, and for this reason I'm fascinated by it.
Jaguart finalists are: Matteo Pizzolante, winner of the Milano leg, Luca Arboccò (Torino), Francesco Tagliavia (Catania), Camilla Gurgone (Roma), Boris Contarin (Venezia), Stefano Giuri (Firenze), Marco-Augusto Basso (Genova), Teresa Gargiulo (Napoli), Camilla Riscassi (Bologna) e Federica Francesconi (Brescia).
Opening image: Matteo Pizzolante, Silent sun. All the artworks images: courtesy of Matteo Pizzolante.