How many times have we looked at those colorful doodles on the walls and street furniture and wondered what they meant? And how many times have we dreamt of becoming romantic vandals, leaving our mark in the world and becoming famous and finally gaining some social significance (before the likes on social media democratized everything)?
I am saying "we", but I am very well aware of what I'm talking about: the signatures of graffiti artists, also called the tags of graffiti writers. I can walk downtown and easily understand which group or crew was there and more or less when. Here's a fresh tag from tonight left by some beginner, or "hey, this famous American artist must have come on vacation in Italy lately!", or a tag on top of another, which is a clear declaration of war between two or more tribes.
For an "insider", tags are like hieroglyphics that talk about a life unknown to the outsiders, a daily life made of illegality, close relationships with a small group of friends, the crew, and discreetly seasoned with drugs and the music that young people like. I don't think these things have changed.

But today in Milan, which together with Rome is a historic city for Italian writing, the situation seems to have changed. The city is no longer bursting with tags, there are no longer the big, more or less historical crews organizing daily "tag tours", but mainly some shy kid here and there who goes out to make three signatures more to prove to himself that he can do it, or expecting something good in the immediate future, rather than focus on creating something well done.
Why this change? How come these colourful and illegible doodles are no longer covering the urban landscape?

On the one hand, cities have become more well-kept and gentrified, and infrastructure and urban furniture have improved. If we consider post-Expo Milan, this change is even more remarkable, it remains visible even now that the times of Dumbo (the most famous tag writer in Milan) are over. On the other hand, the penalties are heavier, and they are applied in their entirety: now, the complaints for soiling start automatically. and no longer work like years ago, where everything ended with the policemen turning a blind eye, or simply plea bargaining before a JP and having to do some community service.
In addition, nowadays there are hundreds of cameras on every street corner, anyone with a device at hand can film an infraction, while investigators and policemen are more aware of this phenomenon, and have more means to fight it.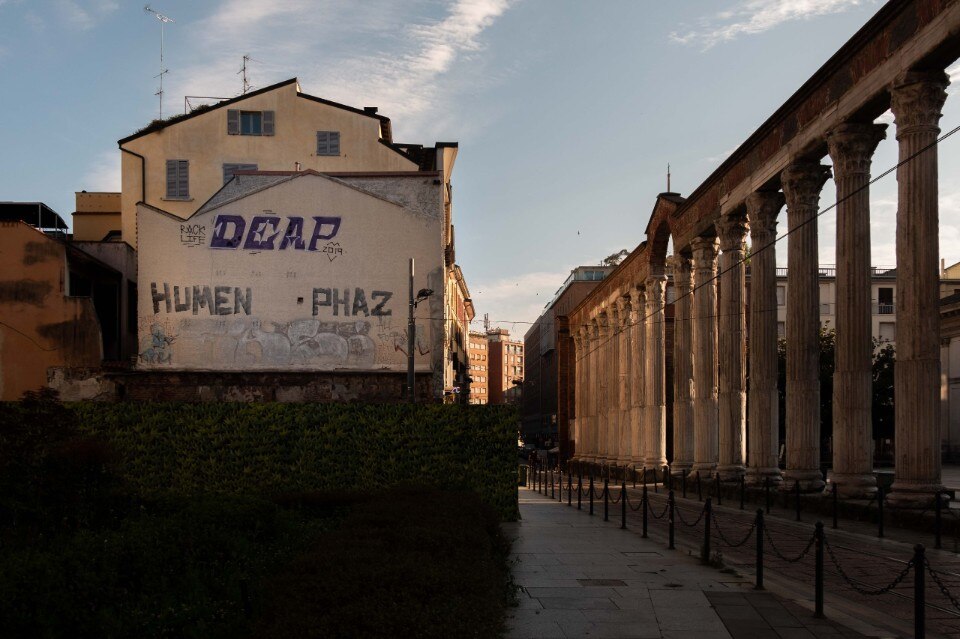 I remember seventeen years ago, when I was doing some stencils with a friend, and the DIGOS (General Investigations and Special Operations Division) stopped us. We had tagged old the old town, Brera, all the way to the Università Statale where we did something that looked like a real piece of street art. Painting on the street illegally is like a drug, you start shyly and at the end of the session you're so high on endorphins that you're not afraid of anything anymore…
That's what tricks you. We came up with an unbelievable story, showing our best sad puppy eyes: we are art students, we downloaded these two images from the internet, we don't know anything about these things!
Is it possible for a 28-year-old and a 23-year-old to be still in college? We didn't believe it either. Our tags were everywhere in the city, and the investigators complained about how popular and recidivist they were. The didn't realize that they had just caught Arsenio and Lupin, but maybe they were expecting us to be totally different and they didn't recognize us. Or maybe they simply didn't want to take us to the police station and waste the night filling forms and complaints. The fact is that they let us go, but while we were walking away with our tail between our legs, I will never forget the ambiguous look of the DIGOS guys.

I made a quick survey on my Facebook for all my old retired graffiti writers friends. The results showed that they were actually feeling that the tag phenomenon is declining, except in some provincial cities that are quite isolated from the rest. Perhaps, the flourishing of walls and advertising and murals of "street art", turned tags into some kind of street furniture. In Rome, a city that is a symbol of an endemic decay, it seems that tagging in the centre of the city continues without problems.
In big European cities like Berlin and Paris — surprise! — we have an apparent recovery, perhaps pushed also by new generations of immigrants and children of immigrants, subjected to social tension and ghettoized in the suburbs. Fifteen years ago, these cities were experiencing the maximum of repression and urbanization and the phenomenon was in decline, and in fact many northern European writers came to paint trains and walls in Italy and Spain, as if to demonstrate how the celebrated Milanese miracle is probably only 15 years behind the northern European average.

On average, graffiti artists over 35 are considered elderly, they concentrate on legal pieces or pieces made during barbecues on birthdays, they even take children with them. Or they avoid the risk of tagging and concentrate on trains, even if there is an aggravating circumstance of damage instead of soiling.
The generational change has not really taken place, thanks to a series of conditions. Certainly the repression has had its effect: now, if you do a big tag, they come and pick you up at home and in an instant they also accuse you of terrorism and being part of an armed gang. Certainly street art and the fable that the activity on the street can create an outlet for an artistic career more or less Basquiat-style can be pretty attractive, but even more are those who quit quickly when it becomes clear that two drawings in the street and four signatures around are not enough to enter the contemporary art scene.
In fact, even more than repression and gerontocracy, and even less than the myth "street art=good VS graffiti=bad", the difference is made by social networks.
Avoiding the usual controversy between boomers and Gen Z, what my friends noticed was a completely different attitude towards the phenomenon, as if to say that the easy click, the sharing and creation of memes and the endorphins created by these new media could destroy a subculture more than years of repression and all the promises of a brilliant future as a cursed artist.
But that's another story...

Gionata Gesi Ozmo lives between Milan and Paris. He has developed an artistic language that has led him to exhibit from illegal underground contexts to the most important Italian museums (PAC, Museo del 900, MACRO, Palazzo Reale). He has painted murals and exhibited all over the world.  
Opening image: photo Giovanni Candida/WallsOfMilano