On March 6, Coronavirus quarantine was starting, slightly, to shut museums down. In Modena, Geumhyung Jeong (1980, Seul, South Corea) was opening her first Italian, institutional monographic show. Her remotely controlled mechanical robots are now locked there. They are built with visual and structural characteristics similar to previous models, but with a wider variety of movements thanks to a design that, increasing their flexibility, also controls the strange appearance of certain parts of their bodies. The sculptures are currently placed on a series of modular worktops that transform the rooms of the Palazzina dei Giardini into a unifying stage.
Which kind of meaning does the title Upgrade in Progress represent in front of your practice? Which kind of aspects does it draw?
The meaning of the title Upgrade in Progress for me is related to the fact that these series of making Homemade RC Toy will be continued. I saw a lot of potentials and possibilities of variations to repeat the same story but differently. This is like a beginning of a long story and the title is like an announcement that this long-term process has begun. My plan was to add a bit more of complex movements and the abilities for doing more precise tasks, but, just a little bit more, slowly, one by one, time to time, like adding one new function this time, and another thing next time. In fact, this could be also a desire of upgrading myself to gain advanced skills and knowledges for making things step by step, learning by doing. And, I also think the whole process and efforts for upgrading – prototyping models and testing, occurring errors and solving problems – are already performative.
Which kind of definition of movement does your prosthetic artworks offer? Have you ever felt surprised revising in them human actions/gestures?
If you can see the movement of Homemade RC Toy, the limbs of the bodies attached through the wheels are out of my control. Their motions are limited and they can only be moved by the wheels' movements/directions. I can control the directions of the wheels but not the limbs on the wheels. The uncontrollability of the limbs creates unexpected movements and postures. Somehow, their uncontrolled non-human body movements look so human. Their limbs are not having any functions or usefulness. They just move because the wheels are moving. It becomes a pure movement, like a dance. Sometimes, these limbs make the robots difficult to move and look fragile. And the fragility creates the character. It could bring an emotion that feels like they need a care.
During the last five years, how your learning-by-doing knowledge has been nurtured and how your do-it-yourself improvement has been fed? Why is important that you, by yourself, could compose your robots?
For my productions, I usually start collecting information and surveying the topic and the objects I am interested of. The knowledge gained from the research can guide me find the way of approaching the idea. Sometimes the process of learning itself becomes a part of the content of the show. Moreover, I have played my role as a collector who buys things and modifies them to interact with them. My interests are about using objects or machines not too far from how they are designed, in order to be used but slightly differently. For instance: the excavator in Oil Pressure Vibrator (2008), the gym machines in Fitness Guide (2011), the medical dummy in CPR Practice (2013), assistive devices in Rehab Training (2015) and skin products in Spa & Beauty (2017). The process of finding exactly right things for what I was looking for was and is important. Sometimes it requires education or certification, just to be able to recognize the items to select and to know how to use them. The relationship with the objects begins with getting to learn about it. Building the robot by myself is another level of awareness, instead of buying the ready-made products. But in fact, it is also not so different as long as I assemble the materials that I bought from shops searching what I need to buy in order to make what I want to. It is like you were used to buy vacuum cleaner or massage machine to do what you want to do with them, and now you are buying motors, wheels, cables, batteries and other connecting parts to build the machines as you planned. Maybe it means that you understand a little bit more about the mechanism how it works inside of the machine's body. When I say my practice is like building a relationship with objects or machines, the relationship with them starts earlier than the actual physical interaction on the stage. I didn't plan it this way from the beginning, but it feels like there is a story that continues from my earliest to my most recent works. The story is of a person who repeatedly tried to be friend with many different things, from everyday items to speciality equipments, buying more advanced and expensive ones. Then, finally and slowly, she started to construct a machine in the form of a body for herself.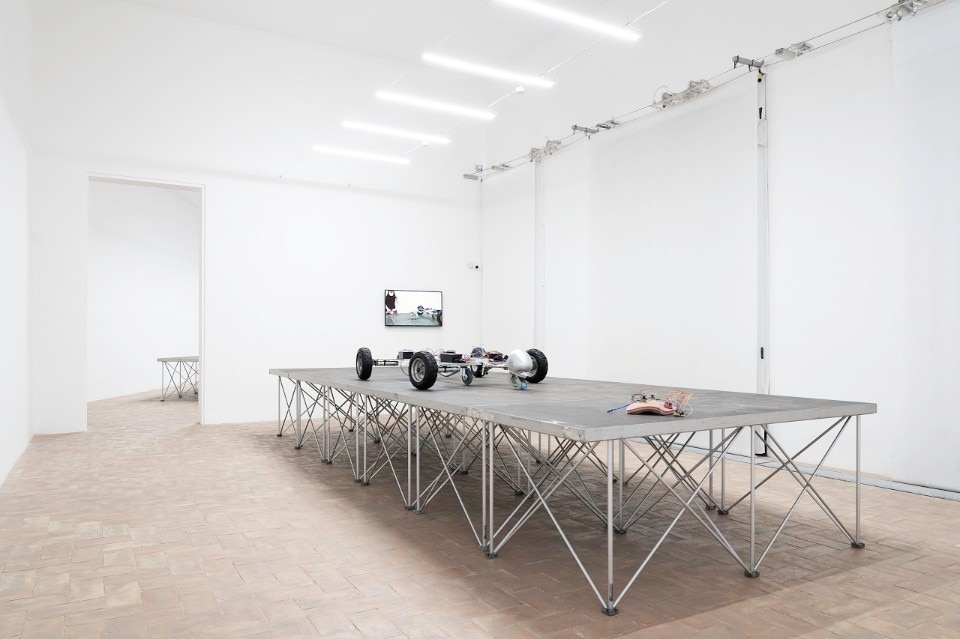 Those kind of lookalike bodies, what should they teach us about being clumsy, ungraceful, unstable and non-perfect? Shall we project our human uncertainty on your mechanisms? Or, on the other side, do they look like clumsy, ungraceful, unstable and non-perfect?
Effectively, it was not in my plans to be like that and I wish I made them perfect, as much as I could possibly do. But at the same time, there are some parts that I don't want to even really try to make looking perfect, like industrial products. And I also realize that they look more alive when they move in a clumsy way. As I said earlier, it could bring an emotion that feels like they need a care or a person to support them when they don't do things very well. Maybe it could make the viewers to have a hope to see them having better jobs. Maybe it could be like the feeling you want to cheer or help when you see someone trying to do something but not doing very well, or it may upset you and you don't want to see the frustrating movement. And their "being clumsy, ungraceful, unstable and non-perfect", completed with the mannequin arms and legs that I put on the machine, – to look like a human body – are made because the limbs hanged on the wheels actually interrupt the machine to move smoother. They create the character of the robot but sometimes I question myself: why do I want to keep the limbs? And I also see some visitors reacting strongly in front of the mannequin parts, instead of looking at the parts I built with aluminium. Maybe it can evoke again the long history of why we like machines like us.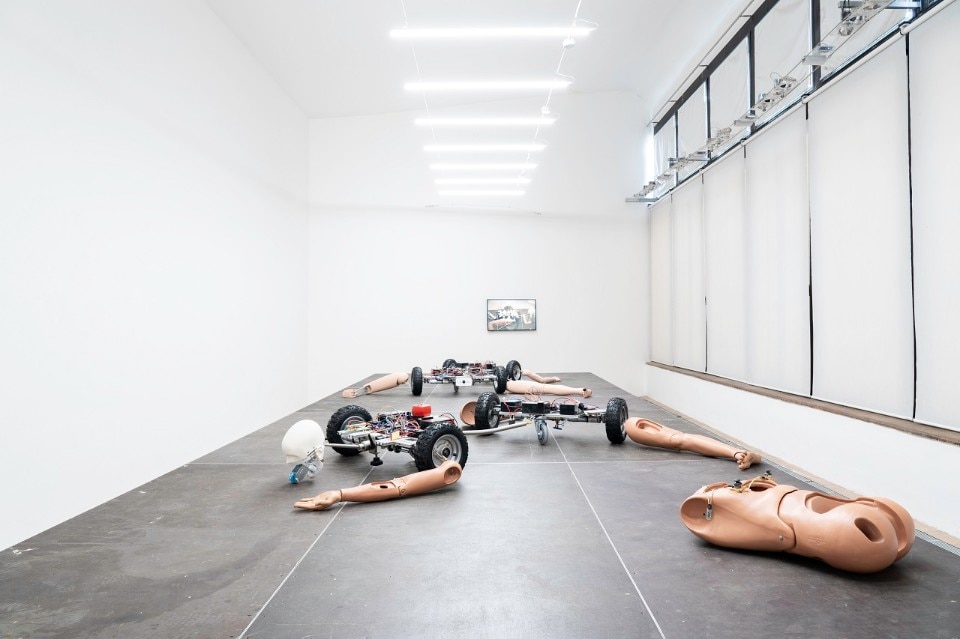 How does the systems you projected are interacting with Palazzina dei Giardini's architecture, in Modena? 
Palazzina dei Giardini's architectures are the important parts of this installation. They formulate the structure of the installation. I tried to find a way to develop the works in a suitable way for the specific architecture, hoping to generate an interesting narrative from the spirit of   space. The structure of the architecture consists of a total five rooms: the four rooms spread out from the central room in two different directions – two rooms at the left side and the other two rooms at the right side – It looks like a pair of wings of the central room. The installations start from the central room and extend to other four rooms in a progressive way. After learning about the basic assembly of the robots at the central room, the visitors could move to the next sections in other rooms, entering from the smaller room to the larger room, crossing into the other two rooms at the opposite side. The demonstration videos and the testing models on the stage/table in the rooms introduce what is being in progress, and what kind of the missions and the tasks are added in each room.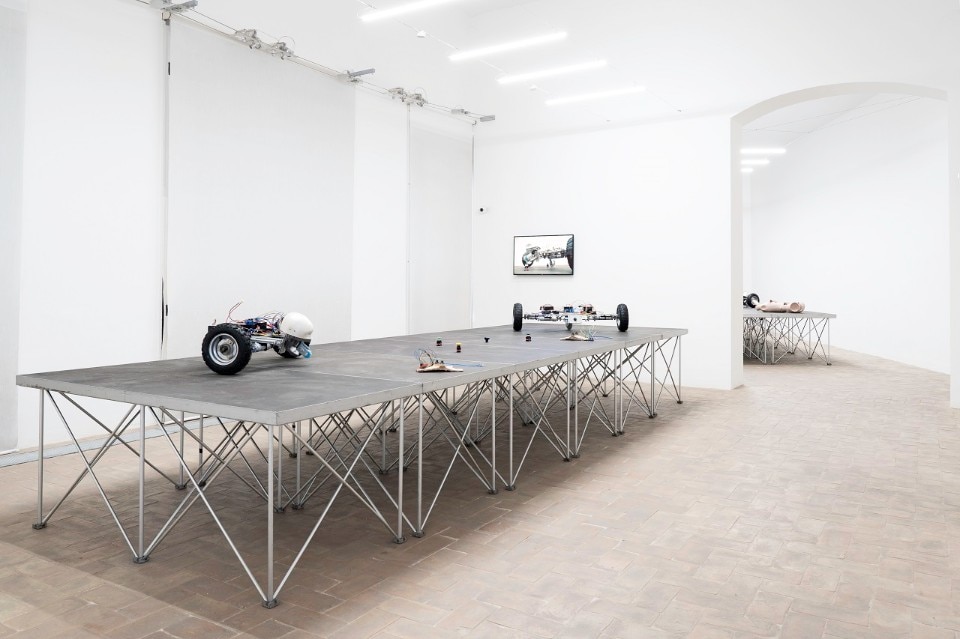 In your opinion, digital technologies, or androids could, one day, replace integrally the human presence?
Sometimes, we tend to say something like "Technologies VS Humans", as if they could compete with each other, or as if the technologies could come from elsewhere, or, as if we were afraid of technologies. And at the same time, we are often disappointed when we realized the technologies are not good enough yet unlike what we imagine. And I just see there are a lot of works by humans lying behind the digital technologies, made to develop or maintain. I guess it is all about humans.
Could you please explain your further programs and solo shows?
I don't have yet any confirmed schedule for solo shows in the future, but as I said this is going to be a long-term project, I would aim to process these upgrading series for a while.
Title:

Geumhyung Jeong. Upgrading in progress

Exhibition dates:

From March 6 to June 2, 2020

Curated by:

Diana Baldon

Venue:

FMAV - Palazzina dei Giardini

Address:

Corso Cavour, 2, 41121 Modena