The six-acre expansion of the Sydney and Walda Besthoff Sculpture Garden at the New Orleans Museum of Art (NOMA) opened to the public in mid-May. The New Orleans Museum of Art, founded in 1910 by Isaac Delgado, houses nearly 40,000 art objects encompassing 5,000 years of world art. Works from the permanent collection, along with continuously changing special exhibitions, are on view in the museum's 46 galleries.
The adjoining Sydney and Walda Besthoff Sculpture Garden features works by over 60 artists, including several of the 20th century's master sculptors. With environmental impact at the forefront of planning, the sculpture garden expansion emphasizes the distinctive character of the Louisiana landscape while incorporating architectural elements such as the first canal link bridge of its kind in the United States, an outdoor amphitheatre and stage, a sculpture pavilion and an outdoor learning environment, alongside 26 new large-scale sculptures. The diverse character of the vegetation and lagoon setting offers many opportunities for commissioned works, and for visitors to experience sculpture. Contemporary 21st century sculptures inspired by the space will be located in the open lawn, under tree canopies, across open water, on cypress islands, and within understory planting, all connected by pedestrian bridges designed to complement the landscape.
A new gallery located in the expanded sculpture garden, offers exhibition space for indoor sculpture and other works from NOMA's collection that complement the garden's installations. The expansion, which started in December 2017, builds on the success of the museum's existing five-acre Besthoff Sculpture Garden, widely regarded as one of the top sculpture gardens in the world.
Artists featured in the expansion include Larry Bell, Tony Cragg, Johan Creten, Katharina Fritsch, Frank Gehry, Jeppe Hein, Georg Herold, Thomas Houseago, Shirazeh Houshiary, Baltasar Lobo, Robert Longo, Gerold Miller, Beverly Pepper, Pedro Reyes, George Rickey, Ursula van Rydingsvard, Sean Scully, Yinka Shonibare, Frank Stella, Hank Willis Thomas, Bernar Venet, and Fred Wilson. A work by Ugo Rondinone will be installed in the garden in late 2019. Two new works have been commissioned for the site: a 60-foot-long mosaic wall by artist Teresita Fernández, and a glass bridge by Elyn Zimmerman.
Il New Orleans Museum of Art diventa più verde
Left: Bernar Venet, 11 Acute Unequal Angles, 2016
Middle: Larry Bell, Pacific Red VI, 2016-17
Right: Hank Willis Thomas, History of the Conquest, 2017


Il New Orleans Museum of Art diventa più verde
Left: Tony Cragg, Sinbad, 2000
Middle: Katharina Fritsch, Schädel/ Skull, 2018
Right: Yinka Shonibare, Wind Sculpture V, 2013
Il New Orleans Museum of Art diventa più verde
Pedestrian Walkway
Left: Katharina Fritsch, Schädel/ Skull, 2018
Background: Fred Wilson, The Mete of the Muse, 2006
Il New Orleans Museum of Art diventa più verde
Canal Link Bridge
Middle: Frank Stella, Alu Truss Star, 2016
Sculpture Pavilion


Il New Orleans Museum of Art diventa più verde
Georg Herold, Liver of Love, 2013
Il New Orleans Museum of Art diventa più verde
Teresita Fernandez Viñales (Mayombe Mississippi), 2019
Il New Orleans Museum of Art diventa più verde
Sculpture Pavilion
Left: Frank Stella, Alu Truss Star, 2016


Il New Orleans Museum of Art diventa più verde
Amphitheater
Left: Pedro Reyes, Epicurus, 2017
Il New Orleans Museum of Art diventa più verde
Left: Maya Lin, Folding the Mississippi (1938), 2019
Middle: Nick Cave, Soundsuites, 2011
Right: John Chamberlain, Inka Dinka Dew, 1991
Il New Orleans Museum of Art diventa più verde
Elyn Zimmerman, Mississippi Meanders, 2019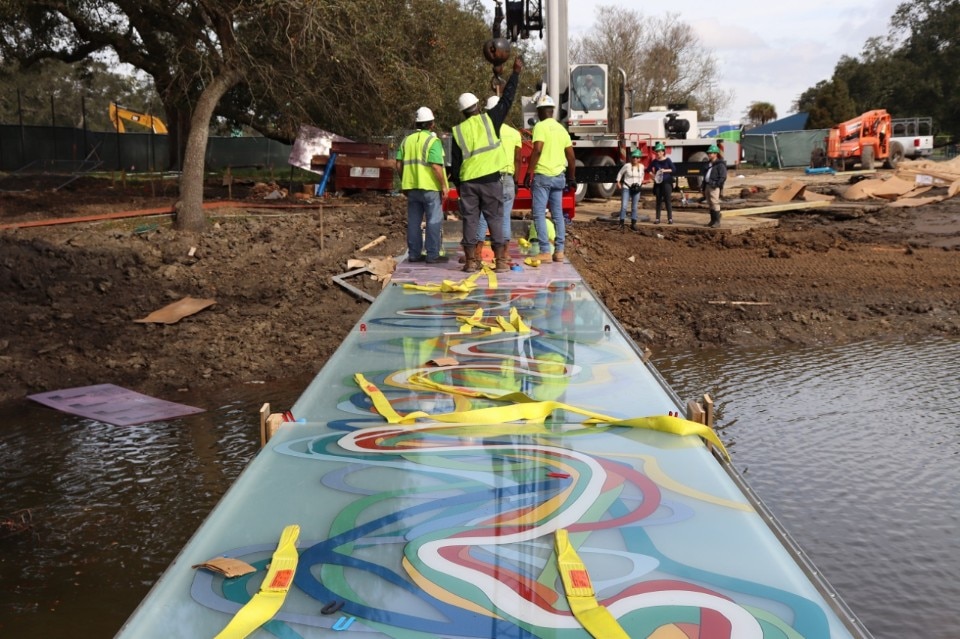 Il New Orleans Museum of Art diventa più verde
Elyn Zimmerman Glass Bridge, Photo Credit Ann Horton
Il New Orleans Museum of Art diventa più verde
Katharina Fritsch, Schädel/Skull, 2017 © 2019 Katharina Fritsch / Artists Rights Society, New York. Photography by Ivo Faber
Il New Orleans Museum of Art diventa più verde
Robert Longo (American, b. 1953), Speed of Grace, 1982-1983, Cast bronze, 83 x 28 x 47 ½ in.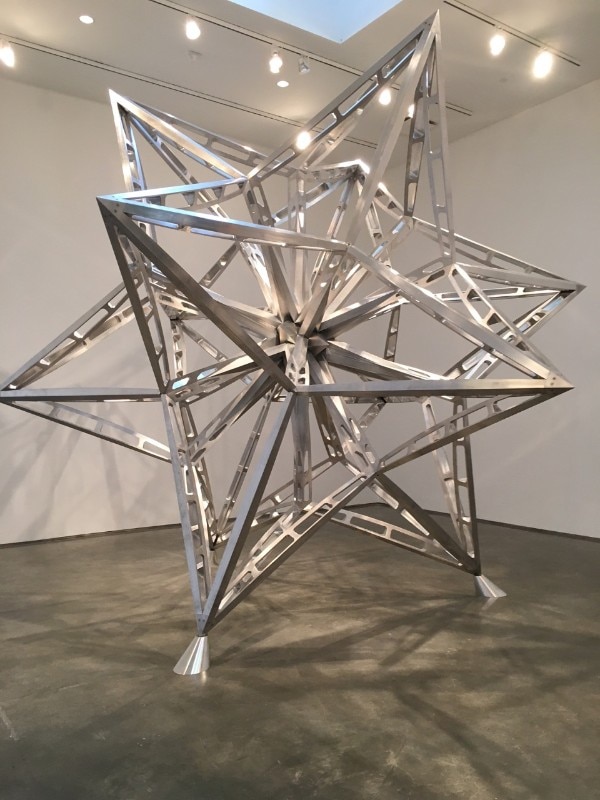 Il New Orleans Museum of Art diventa più verde
Frank Stella (American, b. 1936), Alu Truss Star, 2016, Milled aluminum, 168 x 168 x 168 in.,

Il New Orleans Museum of Art diventa più verde
Johan Creten (Flemish, b. 1963), Massu II, 2015, Bronze, lost wax casting, bronze pedestal, 166 ½ x 11 ½ x 11 ½ inches (423 x 29 x 29 cm)

Il New Orleans Museum of Art diventa più verde
Yinka Shonibare (British-Nigerian, b. 1962), Wind Sculpture V, 2013, Steel armature and cast fiberglass resin, 240 x 133 5/16 x 31 3/16 in

The Besthoff Sculpture Garden expansion offers a lush, green space that allows NOMA to celebrate art, and broaden the museum's opportunities to engage with the community in an inviting and environmentally sustainable way.
NOMA, in collaboration with lanscape architects Reed-Hilderbrand and architects Lee Ledbetter & Associates, has ensured that the expansion incorporates indigenous vegetation of the region as a setting for the experience of sculpture and the performing arts. Hundreds of trees, palmettos, and shrubs have been added to the site, aligning with the historical fabric of the landscape. The lagoon system, a central element of the sculpture garden expansion, is intended to perform vital functions for the larger park ecosystem. NOMA will maintain the health and resiliency of the landscape by employing the best water and soil management practices, and preserve the heritage live oaks and extend the adjacent live oak canopy through the garden. These state-of-the-art strategies set the bar for water quality improvements and re-oxygenation efforts throughout the park, while serving as a prototype for similar projects.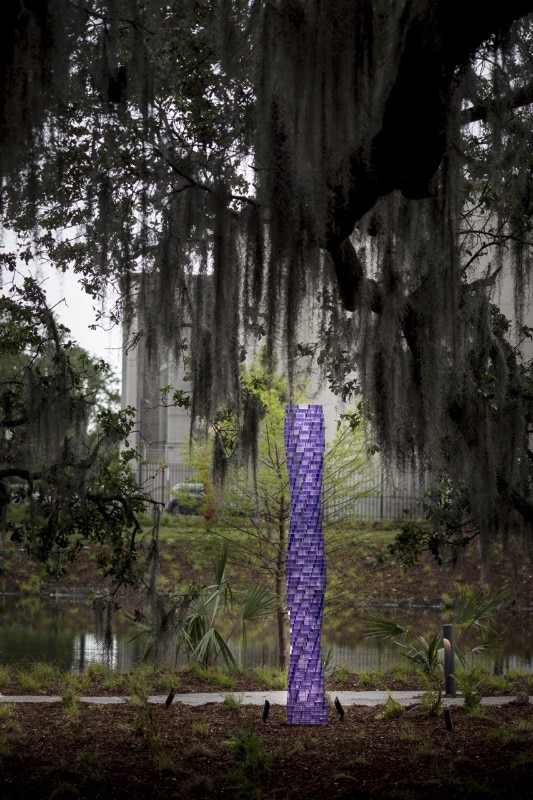 In collaboration with landscape design partners Reed Hilderbrand, NOMA has designed a sculpture garden with water as its focus. The existing lagoon within the perimeters of the sculpture garden is reshaped to emphasize the expanse of open water, and revitalized to capture, clean and aerate water as a healthy and sustainable resource. Reshaping and stabilizing the lagoon shoreline increases capacity, improves water quality, and reduces loads on the municipal drainage system. An integrated water management strategy diverts storm water pipes to capture sediments before reaching the lagoon and introduces emergent vegetation to mitigate pollutants. Set within the garden, a weir allows for changes in water level to address flooding potential and re-oxygenate the system as it flows through the garden.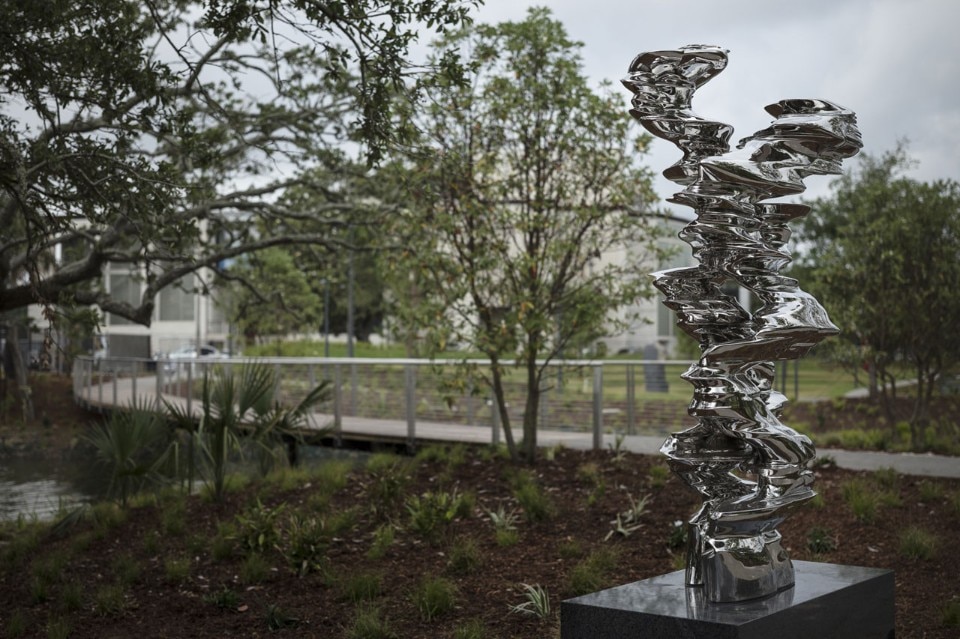 Among the others, it is possible to admire Johan Creten's scuplture Massu II. His work explores the relationship between the body and its environment, often employing organic materials and forms to deal with issues of gender, sexuality, religion, fantasy and desire. Massu II brings together the interests and imagery that have defined the Flemish sculptor's career. This monumental work calls forth iconic forms from tree trunks to religious totems and architectural columns. Moreover, Gerold Miller's Verstärker 28, a tall, geometric sculpture executed in polished steel takes the form of a mirrored column that reflects and refracts its immediate surroundings, appearing both structurally solid and immaterial at once. The work's German title can be loosely translated as "amplifier", a term associated with processes of intensification and repetition.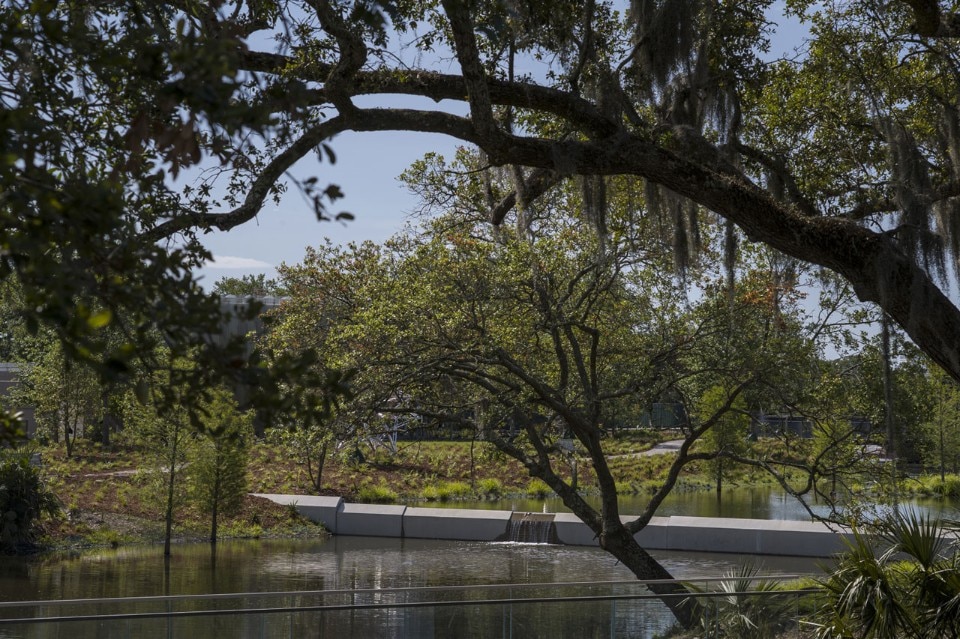 Epicurious by Pedro Reyes is an original sculptural commission for the Sydney and Walda Besthoff Sculpture Garden. The work is part of Reyes' exploration of what he calls "social sculpture:" works that, like his installations and performances, reference issues of social justice and theories of political philosophy and collective practice. Moreover, Coloured Stacked Frames by Sean Scully represents a shift in his practice, as each stacked component, finished with a sleek coat of automobile paint, in shades such as mustard, cobalt and brick red.
Alu Truss Star by Frank Stella appears as a forged from milled aluminium with a shining metallic surface. In spite of its grandeur, the piece is eloquent and ethereal in appearance. Comprised of several large overlapping stars enfolded into a single three-dimensional structure, it contains both protruding and receding elements that allow viewers to engage dynamically with questions of interior and exterior, surface and depth. Moreover, even Skull (2017) introduces one of several variations on the form of the human skull in Katharina Fritsch's sculptural oeuvre. With its grinning teeth and gaping eye sockets, the skull extends a theme that has been ubiquitous throughout much of art history: the tradition of the vanitas or memento mori. These are visual reminders of mortality as expressed through symbols that lay bare the inevitable passage of time: bones, clocks, candles, sand hourglasses and rotting fruit or flowers.
Venue:

New Orleans Museum of Art

Opening dates:

May 15, 2019

Address:

One Collins C. Diboll Circle, City Park, New Orleans, Louisiana 70124