For better or worse, New York City had undergone a significant urban renewal in the past decade; especially with the development of new public spaces. The pedestrianization of Broadway and Time Square has been joined by a recent surge in waterfront park projects; that now contour vast stretches of Manhattan's perimeter. In many ways, the precipice of this movement was the High Line, a former elevated rail track adapted into a linear park. Though inspired by the pre-existing Promenade Plantée in Paris, The High Line has become the benchmark for a wide array of public projects throughout the United States. 

Opened in four phases from 2009 to 2018, the greenway rises above street level; cuts through city blocks and former warehouse buildings. Much like the industrial neighborhood it once served, the rail trail park plays host to a rich arts programme. While a densely packed gallery district below drives the art world, The High Line takes a more cultural approach. Since it first opened, public installation and performance pieces have occupied the unconventional setting. These works often challenge the park's physical constraints and make use of its strategically-designed break-out spaces: cantilevered amphitheaters, perched balconies, terraced lawns, and wild-grass gardens; all of which blending-in with a continuous hardscape that runs along Manhattan's West Side from Gansevoort Street in Greenwich Village to 34th Street in Hells Kitchen.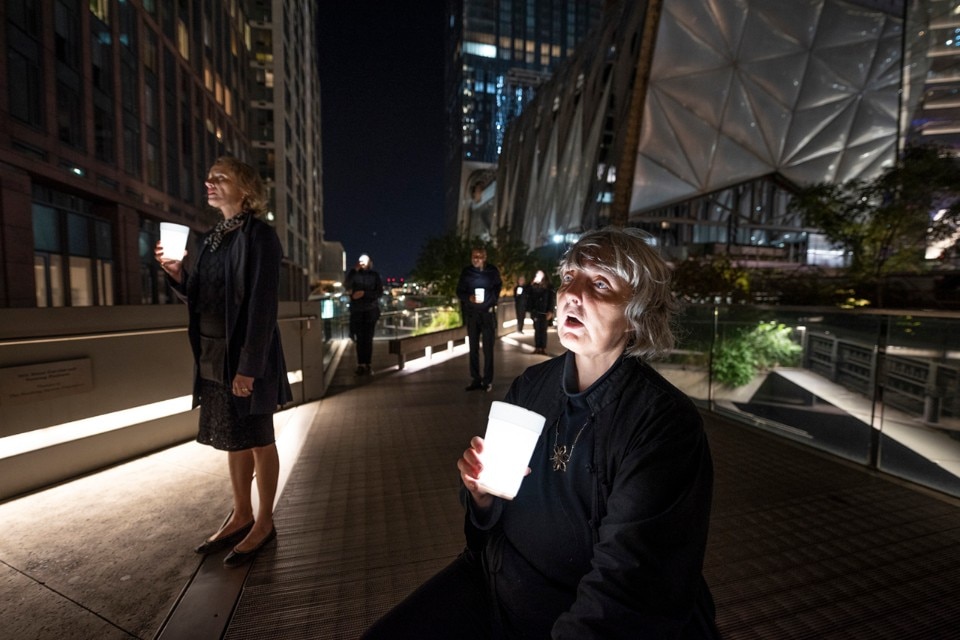 Yet no project has been as ambitious as The Mile Long Opera. The formidable performance piece brought together a 1,000 singer along the entire length of the greenway for six consecutive evening (3-8 October). Created by Liz Diller—principal of Diller Scofidio + Renfro, the architecture firm who designed the park—and Pulitzer Prize winning composer David Lang, the piece challenged the conventions of opera by bringing the format out of its traditional context and making it free to the public. As an extensive community engagement initiative, the project was developed as a partnership between The High Line and numerous cultural organization including Peoplmovr; a communications and engagement strategy practice, centering equity and inclusion in community development and audience engagement.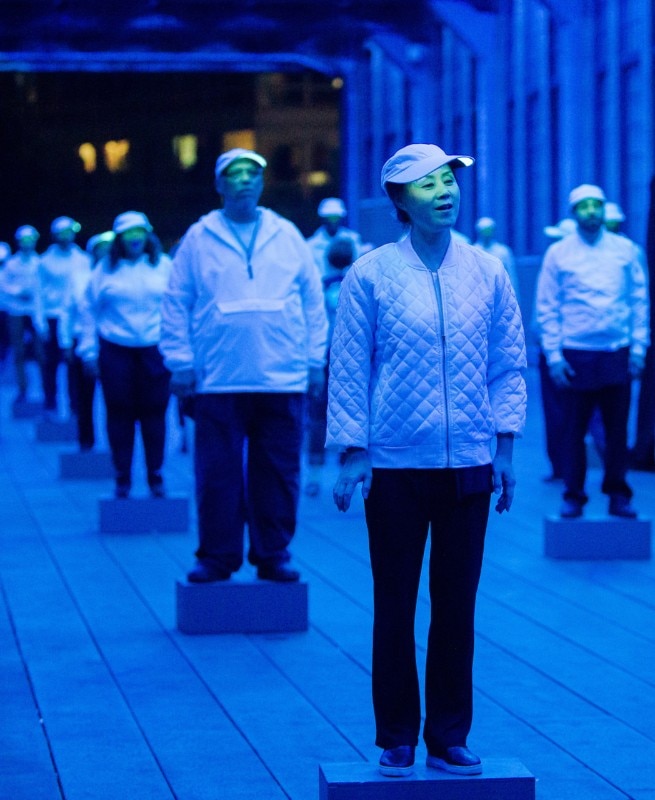 Hailing from over 35 community choirs that meet throughout all five boroughs of New York City, the singers themselves represented a wide range of backgrounds, ages, skill levels, and performance styles. Different groups were clustered in plaza-like areas while others lined narrower parts of the path. Some were even placed under an elevated walkway. All repeatedly sang or recited a series of micro stories conceived by renowned poets Anne Carson and Claudia Rankine. Carson wrote a libretto and Rankine a spoken text based on an ethnographic investigation of what 7pm (19:00hrs) means to different New Yorkers. They chose this time of day as it most commonly denotes a period of transition; from day to night and for most people, from one activity to another.

This vantage presented an opportunity for creative reflection about the speed of change of the contemporary city and the stories of its inhabitants. The city was both the protagonist and backdrop for a collective experience celebrating our diversity.
These passages were pieced together from first-hand interviews with hundreds of residents; revealing diverse experiences and perspectives but also a few universal characteristics of life in New York; how most urban dwellers eat in front of the T.V. or how the 2019 shut down of The city's L metro line will cause an extreme transit crisis. "I stepped into the 7 o'clock world and reached out to a random array of people who described their dining tables. Rankine described. "Writing into their descriptions brought them into relation with each other, myself, and Carson's text. Their lives are various and each table exists on a street I've walked or never been. The writing became a series of encounters—sites of personal theater. The tables formed landscapes that are invitations to eat, to gather, to work, to ponder, to rest, to wish, to share—or in other words, to live." Walking the full 1.54 miles (2.33 km) of The High Line, audience members were able to intimately interact with the performers and pick up on different aspects of the stories they told to form their own experience.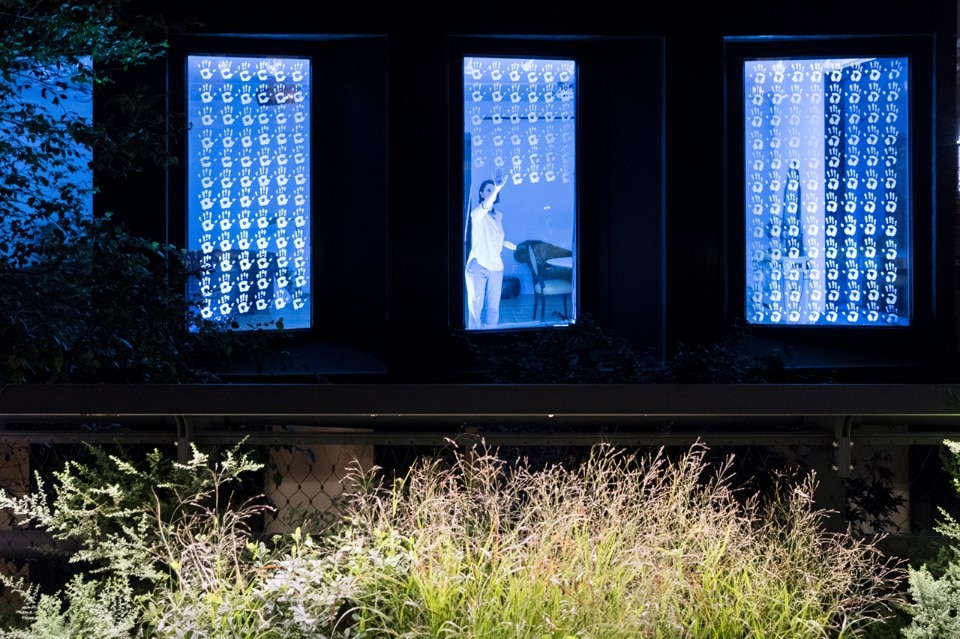 The High Line formed the perfect stage for The Mile Long Opera. "After working on the design of the park for over a decade and witnessing the rapid transformation of the surrounding area, I thought a lot about the life cycle of the city—its decay and rebirth—full of opportunities and contradictions," Diller reflected. 

Co-directing and choreographing the piece with Diller, Lyndsey Peisinger added: "We wanted to work with the existing elements of the High Line and a minimal ammount of lighting gear and costuming elements, not only because the site offers so much already, but also because we were restricted in terms of what we could set up along the site. Unlike a traditional theatre setting, The High Line remained a park, and only transformed as a stage setting during evening performances." 

A champion of multidisciplinary and durational performance methodologies, Peisinger tapped Carlos Soto as the costume designer. Both have collaborated with leading avant garde director Robert Wilson and performance artist Marina Abramovic, whose influences were apparent throughout thes work. Soto worked with lighting designer John Torres to create simple yet captivating costumes; wearable light pieces such as LED-illuminated baseball caps and transparent bags. 

Though performances of the Mile Long Opera have now ended, the project's main sponsor Target has created a series of 360° Videos, Linked Here.
Performance:

Mile Long Opera

Created by:

Liz Diller; David Lang

Venue:

High Line

City:

New York

Dates :

3rd - 8th October 2018