"Our art isn't useful in the sense that we make functional objects. We didn't use light because we wanted to light up a room." Lonneke Gordijn and Ralph Nauta, aka Studio Drift, are talking about "Coded Nature", a retrospective that opened on 25 April at the Stedelijk Museum in Amsterdam. On display are the complete works of the duo of Dutch designers/artists/performers. Starting out as designers, graduating from the Eindhoven Design Academy, very liberal and creative, Montessorian in spirit, they made chairs in the finest tradition. (On display in the exhibition, see the photo gallery, 2008.) Over the years, the two have developed an eclectic identity. ("They're no longer designers, but they have the technical precision and attention to detail of designers", says curator Ingeborg de Roode). They create installations using high technology. Their concern is not so much with utility as "offering emotions": the broader, more aesthetic usefulness of depersonalisation. Their installations are experiences.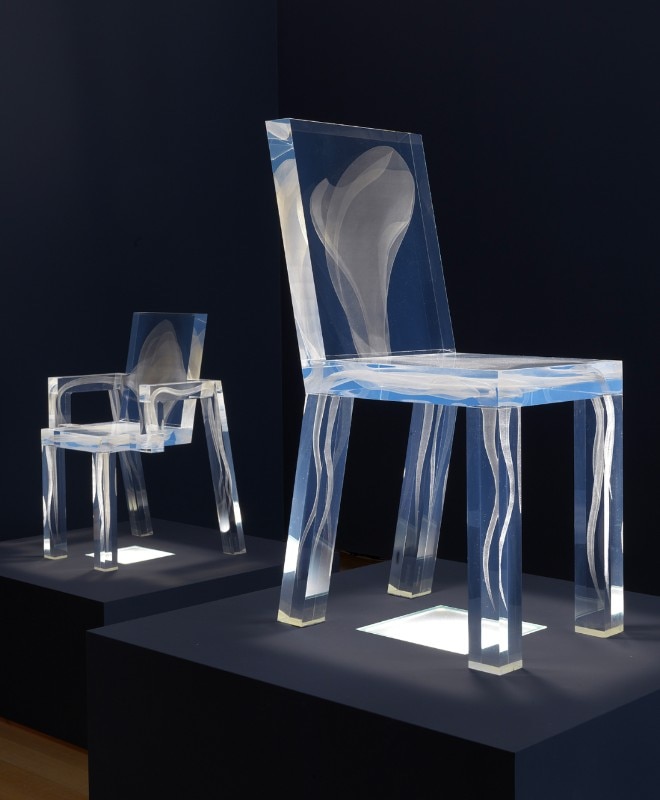 Suspended between the precision of design and techne, studying relations between people, nature and technology, Studio Drift offers its own view of the world. Positivist, devoted to the good part of technology (seen as a  pharmakon). Ralph Nauta says as much when he talks about social media. The Cambridge Analytica scandal, the company that exploited Facebook to access over 50 million profiles of American users, happened just yesterday. We all felt we were vulnerable, impoverished by loss of a fundamental right that makes us free: secrecy.  (See also John Franzen, Purity). This case generally reflects how difficult it is to be positive about technology. Ralph Nauta replies that we need to be critical and see the good. "We have to go back to the beginning of social media, the first steps. The ultimate goal is great technology, bringing people together." From this vision comes Drifter, displayed in the largest gallery.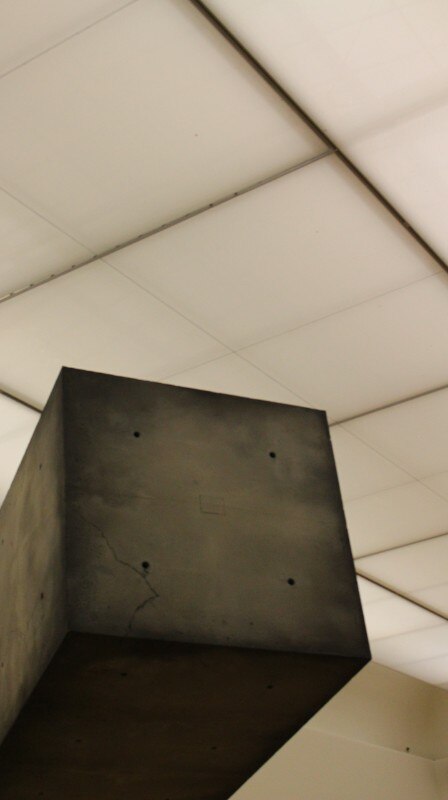 Futuristic because invented 500 years ago, but metaphysical in appearance, if you see it installed on a green meadow (in the video). It consists of a concrete cube measuring 2 x 2 x 4 metres, exhibited for the first time at the Armory show in New York, which floats in the air. "What's very important in our work is that you really have the physical experience. You could easily animate that and put it on Instagram. That's reality versus the digital world," explains Lonneke Gordijn.  In the room next door a video shows it grouped and installed with other cubes in a Celtic landscape, sometimes urban, sometimes fabulous. The inspiration comes from Thomas More's Utopia of 1516: "It describes concrete cubes. At the time it wasn't possible, while now it is. That was the start, imagining a world as it is now, made up of concrete blocks."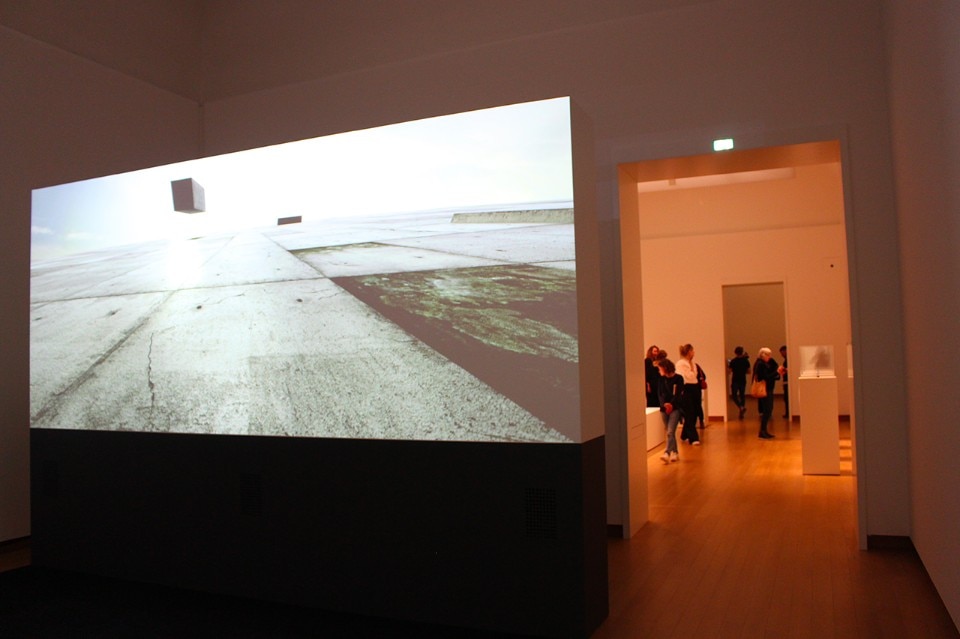 This trust in the possible, making possible what is not possible (as the curator says), opens up the imagination and life to new horizons. Their two personalities are blended in their work: Lonneke's, more interested in the natural world (see Meadow, 2018) and Ralph Nauta's, strongly inspired by sci-fi. "By talking to each other, we found out that these worlds were not so far apart from each other, and we started influencing each other. Walking through the show, you can actually see the relationship between these worlds," says Ralph Nauta.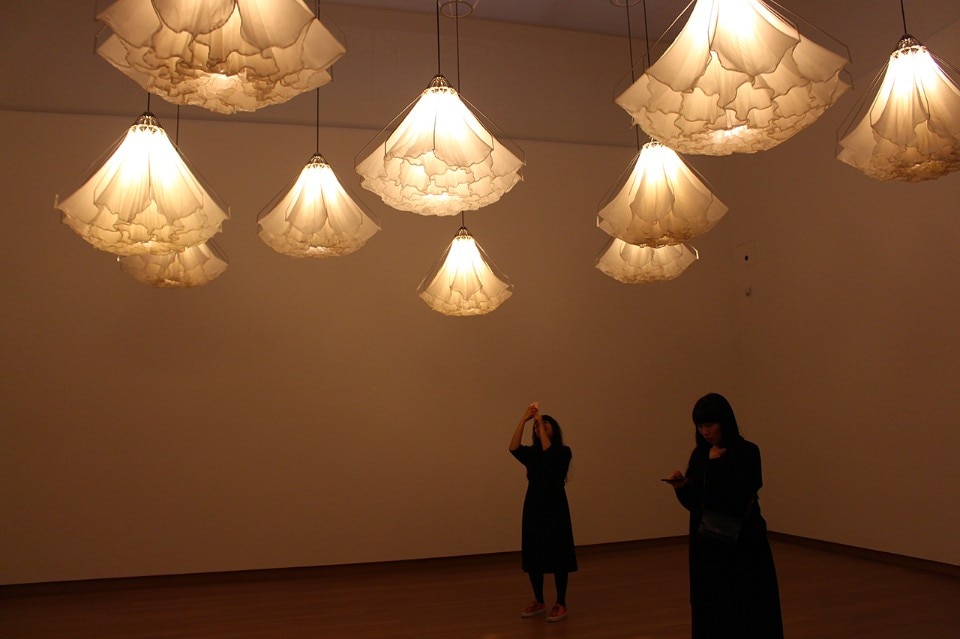 Also interesting are humanity and social structures translated into cubes. This appears not just in Drifter, but in the outstanding last room titled "Materialism" (2018), where the video interview is held. Here reality is materialised into cubes that are the number of components needed to create an object: a bottle of water, a chair, a Volkswagen Beetle, an LED light. "Those blocks you see very often in our work are how we human beings try to organise our  life and our world and how we build."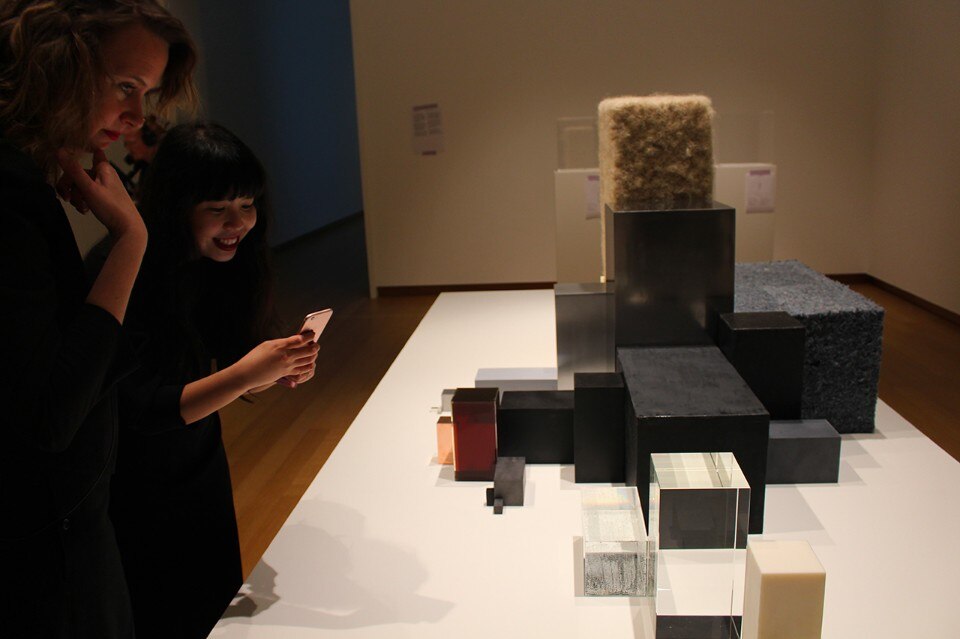 Each installation is designed specifically for the place where it is set. "I don't think our creations are a way to escape reality. I rather think that we can have an influence on how our reality is."  There is also the largest internal exhibition of "Fragile Future", a swarm of LEDs designed with precision and slowness to depict a dandelion flower. Then Concrete Storm (2017) features augmented reality technology and the Tree of Ténéré . Flowers welcome visitors at the entrance to the stairs in Meadow. Yes, it's true that there is no functional utility in all this, but the experience of the exhibition itself offers a return to childhood (or the sauvage devoid of memory and structure, in my interpretation). "The function of our work," explains Lonneke, "is to create experiences and to make people connect with their emotions rather than their intellect". Ralph Nauta concludes: "Once you experience it and you engage with it, you forget who you are, you forget your personality and you open up and actually experience it almost as a child. And that's our goal, what happens."  Though it's not useful or functional like a brightly lit room, we visitors will experience this exhibition as a return to being the children that (perhaps) we never were. 
Title:

Studio Drift: Coded Nature

Curator:

Ingeborg de Roode

Museum:

Stedelijk

Opening dates:

25 April - 26 August 2018

Address:

Museumplein 10, 1071 DJ Amsterdam