Yellow, turn right. Green, turn left. Visitors go into the Carsten Höller exhibition (entitled "Doubt") through two parallel and virtually identical entrances, one facing the other. First, they step into what looks like a huge cathode-ray tube shaped like a Y, made of mirrors and a mass of flashing bulbs (Y, 2003).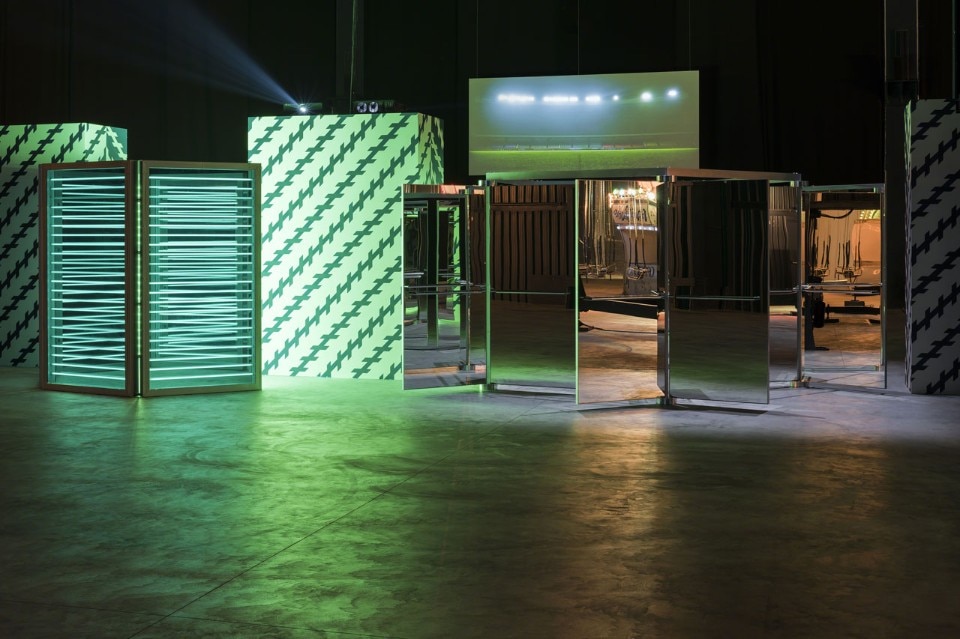 Then, come to a fork, they have to decide towards which of the two dazzling walls eaten away by the neon lights of Division Walls (2016) they wish to turn. The decision can range from the analytical to the emotional.
"I'm going left", says my friend without hesitation. Not even time to blink and I see her getting smaller and smaller as she disappears behind the green wall. I stand still for a moment, torn by this elementary dilemma – left or right? Green or yellow? – and slightly stunned by the inebriating pounding of the lights and a stinging neck pain I have been carrying around since I woke up. "I know now how Thomas must have felt before Mary Magdalen's unflinching belief", I think, while those behind me have clearly lost their patience at having the passage blocked by my impasse and walk around me, grunting their overly cautious "Excuse me, excuse me…".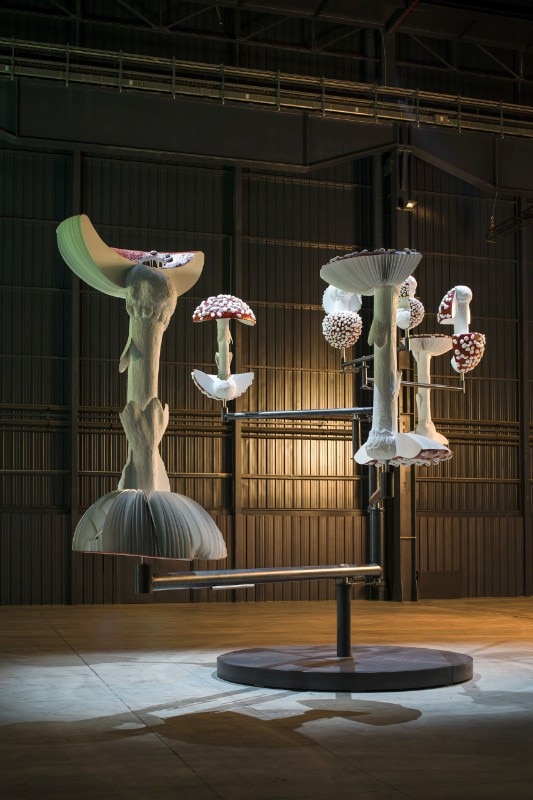 Eventually, just to get out of the way, I opt for yellow (latching onto the memory of a canary carried in a cage by a little girl on that morning's tram) and join the queue of people heading quickly in that direction. I focus my gaze on the neck of the man in front of me and stare at it as long as possible, until I can't see it anymore because, once around the yellow wall, everyone is plunged into darkness. Nothing is visible to the naked eye. Some find their way with the torch on their mobile phones and eager steps become more guarded. We are about to start feeling our way forward when we gradually realise that we are in a corridor with numerous tilts and turns (Decisions Corridor, 2015). Discordant noises – breathing and small shrieks – hit the eardrums while phosphenes swarm across the eyelids like falling stars. The pupils dilate and the heartbeat races. Before we have time to fall into a complex focal seizure and call for help, we are out – to the huge relief of the cerebral cortex.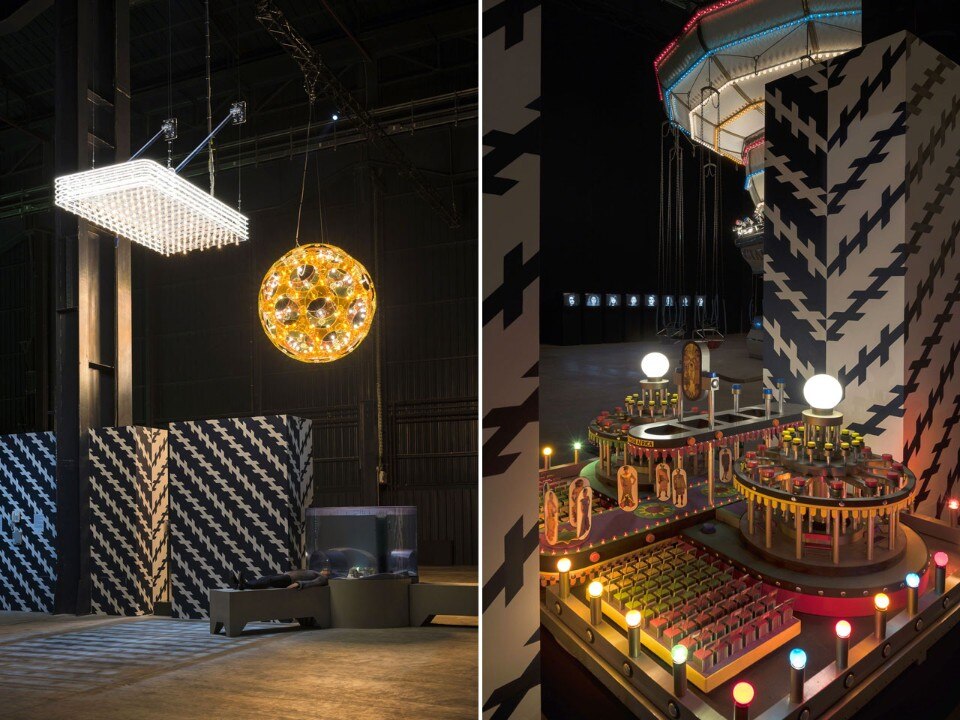 My focus regained, before me I see the huge nave of the HangarBicocca as if split in two by a hypnotic motif of intersecting black lines painted on white walls (Zöllner Stripes, 2011-present). The same works appear on this side and that, as if doubled up or reflected. Depending on the route chosen – green or yellow – you encounter first one, passing through the nave in one direction, and then the other, returning in the other direction, and experience a sense of "déjà or jamais vu". Suspended on high are the two great globes of Yellow/Orange Double Sphere (2016), their frantic flashing making some demands on the inner ear and undermining a normal sense of balance. At the end of the nave, I catch sight of the tall and solitary Double Carousel (2011), tattooed with the names "Ciapa Ciapa" and "Regina del volo". Seemingly immobile, those approaching are greatly surprised to see them rotate, albeit very slowly. "Would you like to get on?", is the refrain of a carousel assistant, holding out an outlandish pair of glasses (Upside-Down Goggles, 1994/2011) that seem to reverse normal binocular vision.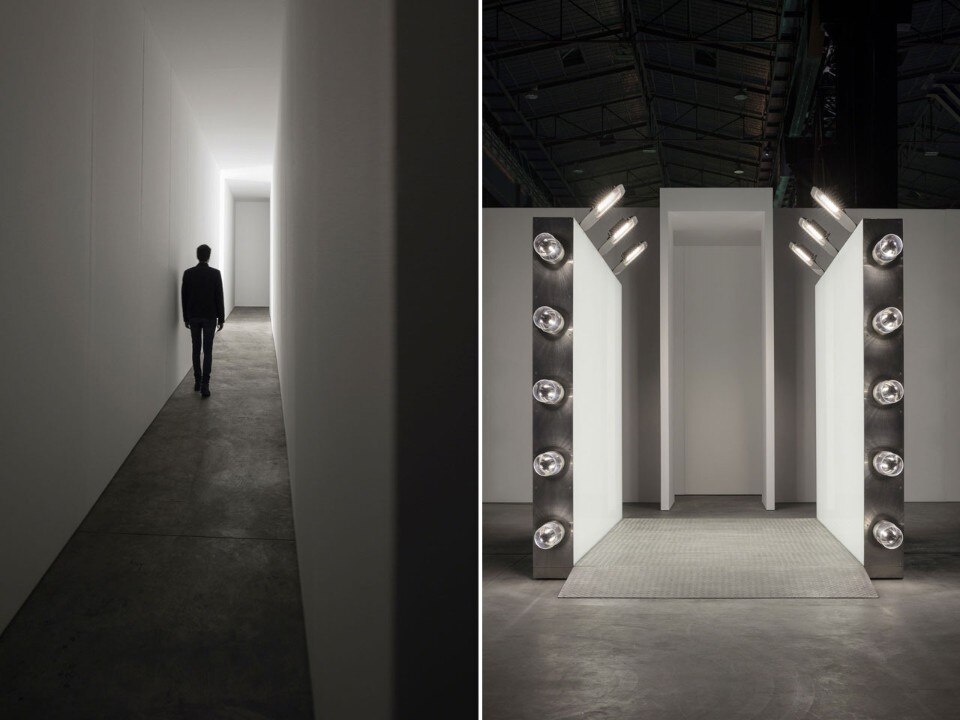 I refuse the offer with a firm hand gesture and stand watching as others going round and round, their legs dangling. Carsten Höller's words spring to mind: "I realised I was watching visitors to my exhibitions through the same eyes as I used to look at the skaters in the Pieter Bruegel pictures my father showed me when I was a child." It is well-known that, in his most familiar works, the artist (with a degree in plant pathology, as is greatly stressed when talking about his work) resorts to funfair devices (slides, carousels, flying machines) to explore our, mostly dissatisfied, expectations of things and events, drawing on childhood memories or encouraging states of altered perception – although the two often go hand in hand. One example of this is Flying Mushrooms (2015); the revolving lynchpin of this exhibition is a carousel of seven hyperbolic Amanita muscaria mushrooms (the hugely poisonous and hallucinogenic vermillion-red mushroom of fairy tales; the leg, cap and gills have been longitudinally dissected and reassembled upside-down). When activated by simply pushing the mechanical arms, they fly like planets in concentric orbits.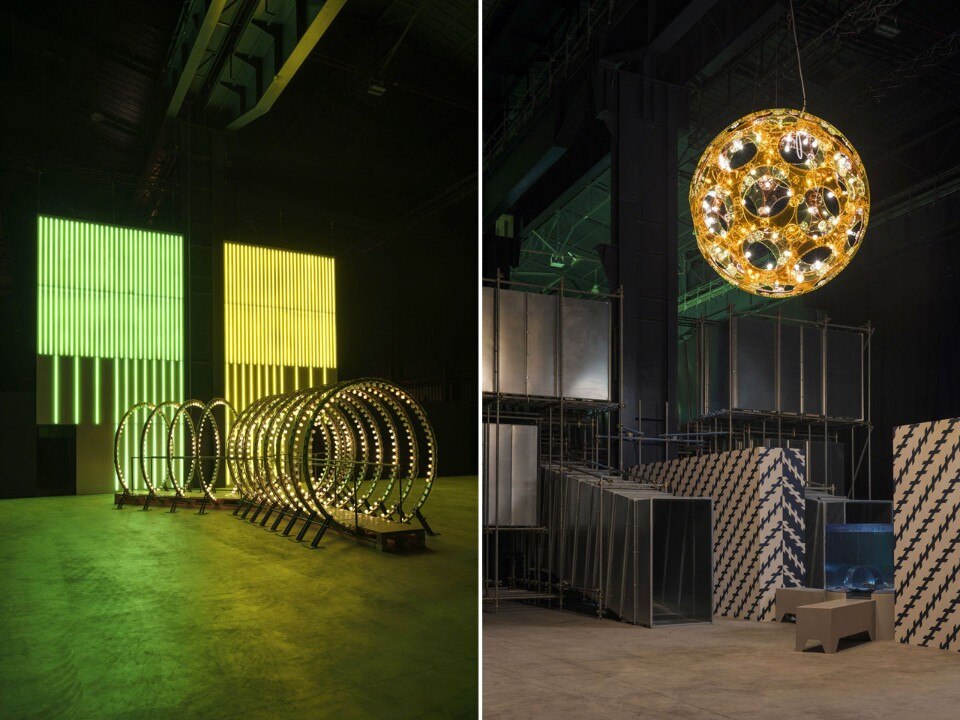 Suddenly I hear a familiar voice calling my name and raise my eyes to the ceiling, where I see my friend from earlier on high, trussed up in a cumbersome harness and hanging like a sack of potatoes as she is turned in circles by a flying machine (Two Flying Machines, 2015) for a bird's eye view. I respond to her greeting and move away as simply looking up had made me more than slightly dizzy. I agree, however, to place my head inside one of the openings in a round three-person tank (Aquarium, 1996) and feel as if I am lying on seabed with hordes of little Balantiocheilus melanopterus fish waving their silver fins above my head. I lie there for a few minutes, nearly falling asleep, until someone taps me on the knee to get me to come out.
Before reaching the end, visitors experience a host of disorientation and hallucination strategies, such as the ascending/descending screens of Double Neon Elevator (2016), the five reflecting doors of Revolving Doors (2004/2016), the intermittent light points of Phi Wall II (2002), the ceiling and moving walls of Milan Swinging Corridor (2016) and the blinding Light Corridor (2016). Over-concerned about permanently compromising the precarious equilibrium of the discs in my back, I inspect everything very quickly, bent over, dodging all enticements and attractions, and screening my face with a hand at every flash. My shaking turns to palpitations and I think I am not seeing straight when, on entering the gallery's Cubo space, I observe two beds beside the wall but only a few minutes later see them in a different position (I later discovered that the two beds – Two Roaming Beds (Grey), 2015 – really are moved, by a GPS signal).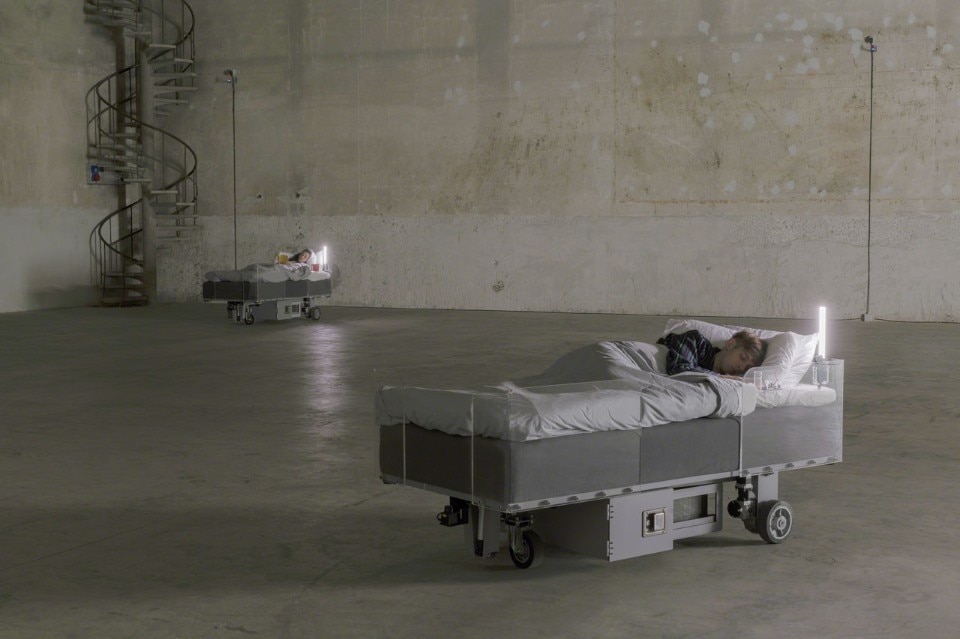 In the Cubo space, I turn around and ascend the other bank like a salmon in a mnemonic exercise to recognise what has already been seen once. It is a little like chasing your own shadow just as seven private detectives pursue each other in Manége Humain Vertical (2007). The concept of duplication that informs the entire exhibition is reinforced by pictures of identical twins in Memory Machine (2012) and Twins (2005-present), as too the two miniature utopian play areas Mäuseplatz (Mice Square) black and Mäuseplatz (Mice Square) white (replicas of a playground built south of Paris in the 1960s), inhabited by a pair of laboratory mice (one black, one white), separated but living together. The same applies to the Fara Fara ("face-to-face") video, a beautiful 2014 work produced jointly (with the photographer Hoyte van Hoytema and director Måns Månsson). In it, two well-known Congolese artists face each other, on two stages and two different screens, one opposite the other, in a music competition.
At the exit, I reflect on the works left behind me and class them as a number of partially missed experiences (and emotions). I bump into Carsten Höller by chance and immediately feel duty bound to say something about the exhibition to secure his benevolence but my words become muddled in stuttered and coughing speech. "Actually," I eventually admit with embarrassment, putting forward reasons for my confused brain, "I saw it practically with just one eye." He looked at me and smiled, then a few seconds later asked: "The right one or the left one?"

until 31 July 2016
Carsten Höller Doubt
Curator: Vicente Todolí
HangarBicocca
via Chiese 2, Milan