It is a truly fanciful name ILIOKATAKINIOMUMASTILOPSARODIMAKOPIOTITA .

As unfathomable as the reverse side of embroidery and as cheery as a children's tongue twister or jingling coins, is the title chosen by Micol Assaël for her solo exhibition at the Hangar Bicocca. It appears to have no meaning save that of tracing the contours of a very private mental landscape, animated by voices, rooms, humours and atmospheres. That is all that can be said about it.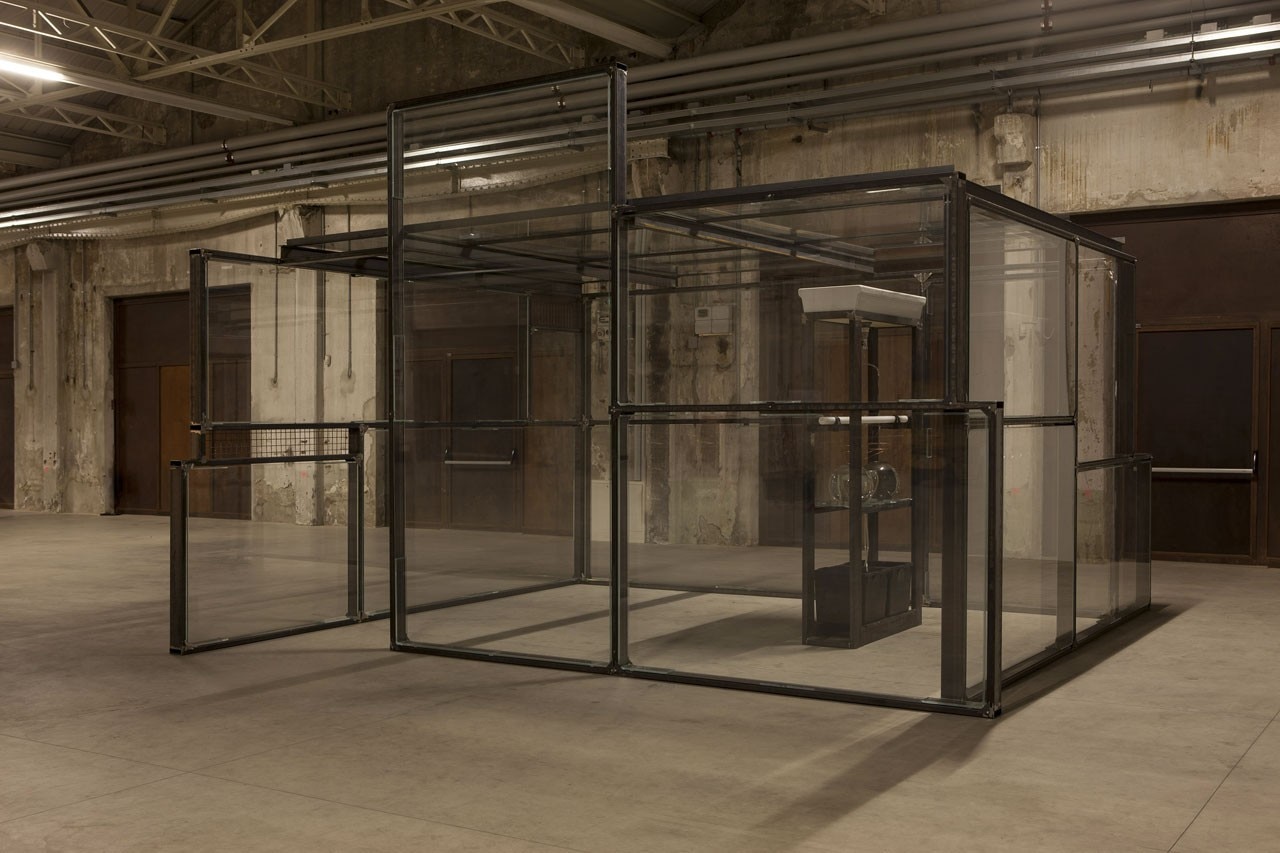 Micol Assaël has a weakness for nature, not in the general sense but specifically, with all the unknowns and surprises it brings with it. She is not without a penchant for scientific adventure but is aware that science does not have governing plans, advancing in stops and starts, wavering and always giving humans fresh space for error. She only has an appetite for the unexpected and, like a racing driver, cares little for brakes and rear-view mirrors. Her face is sincerely human, her bottomless eyes are constantly scanning the world around her and her desire for isolation is not a pose; on the contrary, her insularity comes naturally. Over the last decade, she has been courted by half the world's museum directors, participating in two Venice Biennales (2003, 2005), a Berlin Biennale (2006), a Biennale of Sydney (2008) and a São Paulo Biennial (2008), as well as dozens of solo and collective exhibitions. After living in Russia, Germany, Italy and Iceland, she moved to a Greek island a few years ago to get some peace, as they say, work and produce honey.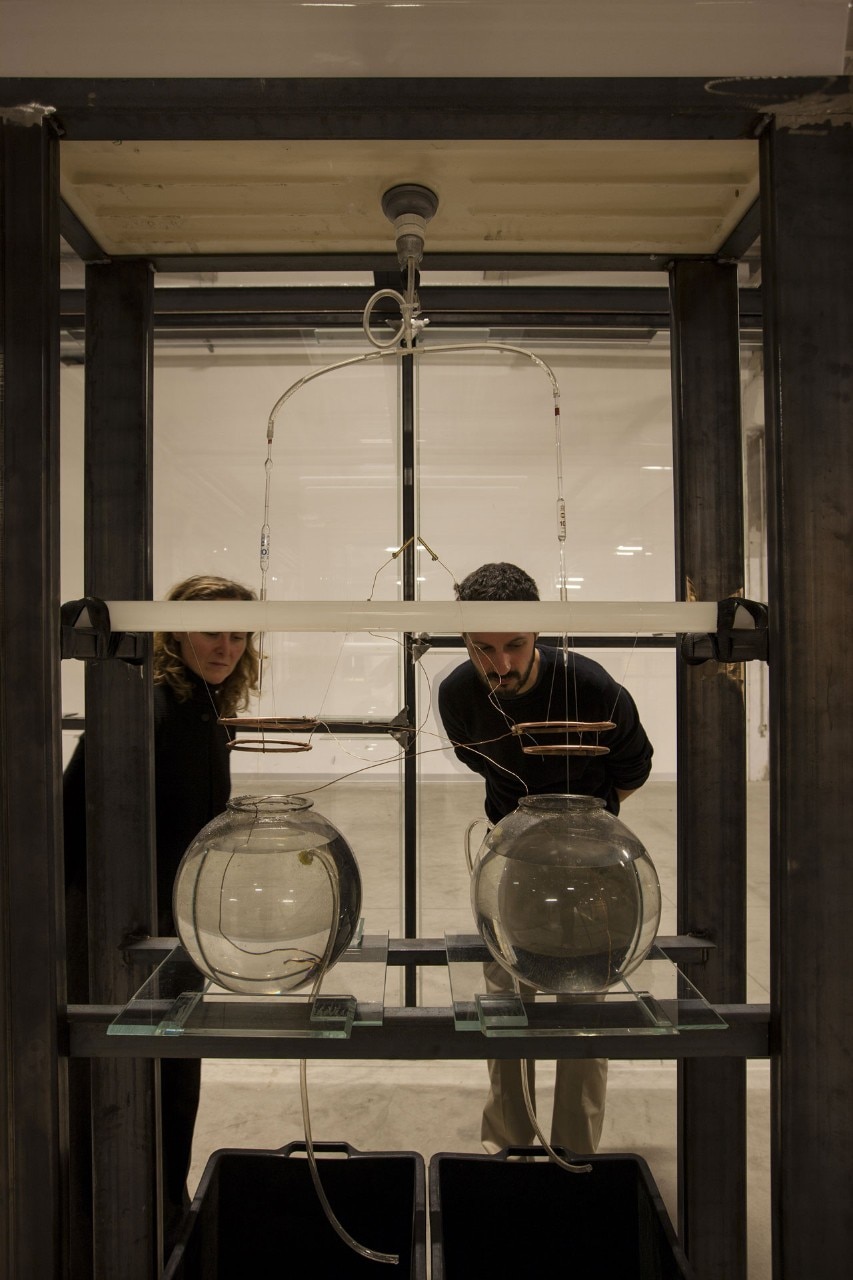 This exhibition at the Hangar Bicocca was assembled with the utmost care and the layout of works amassed by sifting through the sand – four of the most important works exhibited by the artist between 2003 and 2009 (the Vorkuta refrigerator cell, 2003; her Untitled room filled with wind, 2003; the container-office Mindfall, 2004-2007; and the beehive of 432Hz, 2009), as well as a new production created in collaboration with the Polo Industriale Pirelli at Settimo Torinese and the chemical laboratories in Milan (Sub, 2014) – has the precision and harmony of an pitch-perfect musical arrangement. If I close my eyes and imagine it, I see a landscape preserved in salt, unknowable, and with a rather picturesque patina. Stepping into it is like ascending a ship's gangway: you are caught up in that same sense of exalting suspension. "Just try and tune into it", suggests the curator Andrea Lissoni in a cadenced voice as he accompanies visitors into the bows of the museum – the so-called Shed, formerly used to produce parts for locomotives and farm machinery – as if they were sleepwalking. Here, it is clear, you are more in need of antenna than roots.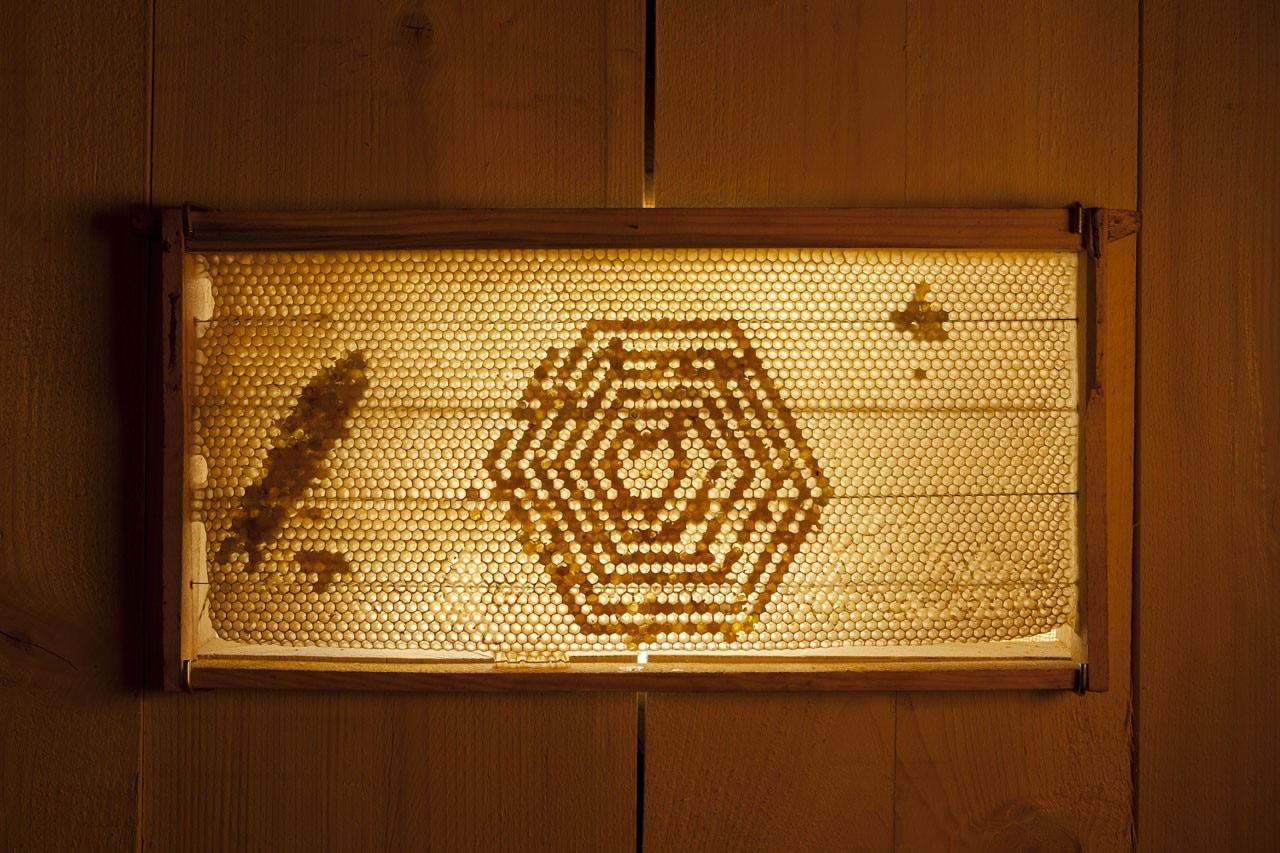 Advancing at will, you encounter environments with the colourless architecture of evacuated and overgrown refuge huts, and with an exhausted and worn-out beat, like a clock with a loose spring. The atmosphere is still but all around is a sense of subtle, evasive and secret movement. A world at twilight or in lethargy where the human absence produces the same sensation as a diet with no salt and sugar. Vorkuta is the Arctic in a tin, an iceberg of memories punctuated by the slight chattering of the teeth. It is colder here than at the bottom of a well and it would take just a few minutes for your nose to freeze and fall off your face. The irritable whirr of the Frigidaire drones on incessantly for the entire revolution of the dial and a still-warm love seat conjures up a radio engineer with curved shoulders who was just sitting quietly there observing the warning lights on the electric panel blinking red and green like the eyes of traffic lights and with a shivering Chihuahua coiled up in his lap.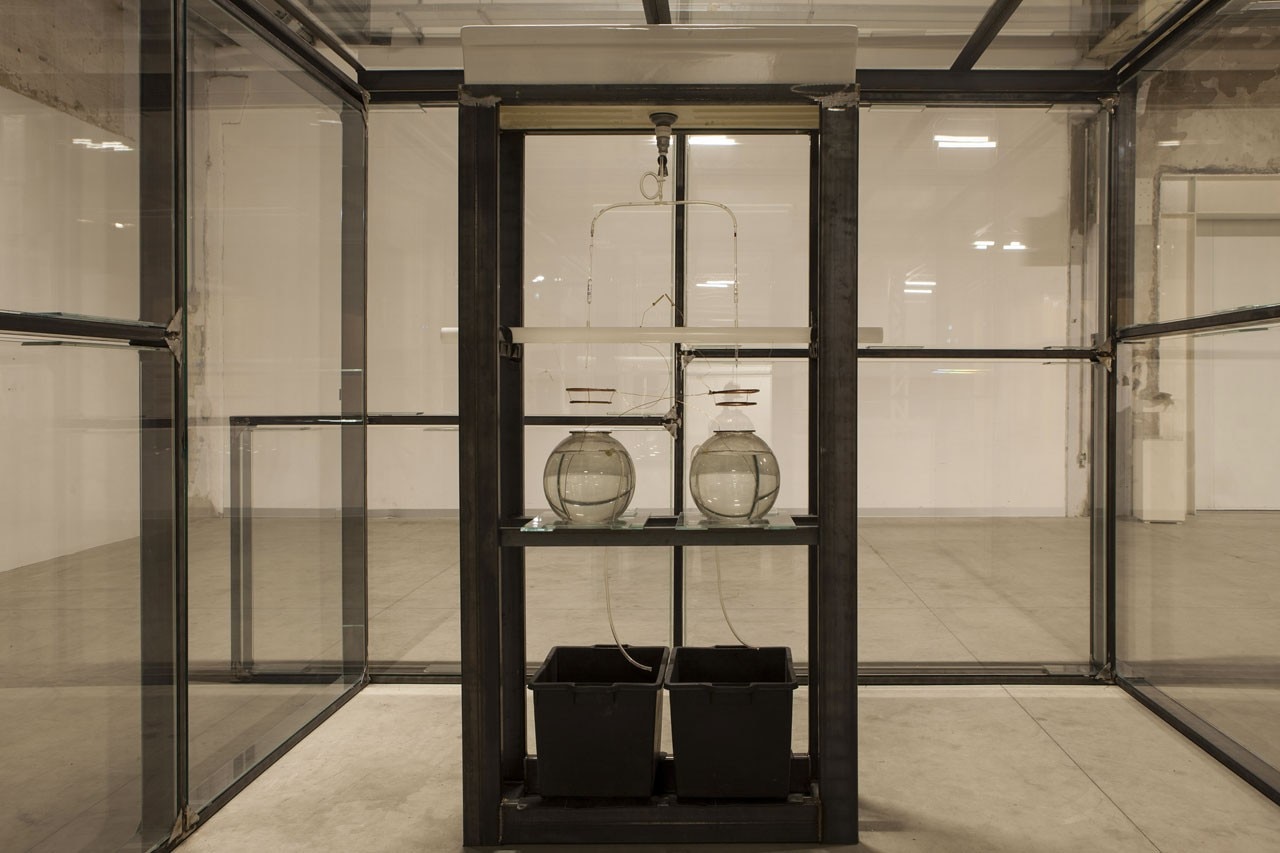 Sub is strange. It is like a huge experimental aquarium of the latest crazes, grown like bread mould out of Inner Disorder (1999-2001), the display cases of which it has remixed with organic abundance. Everyone waits here. As still as statues but electrified down to their toes. Aware of the surrounding attention, drops as dense as curdled milk rain down from above with the rhythm of a hiccup inside two tanks of fermented water. All this has to do with Lord Kelvin's electrostatic generator and certain charges in the water that, like two lovers, are drawn to and away from each other until a blue spark traces pictures in the air. An appearance as rapid as the flight of a hummingbird but which keeps providing an opportunity to release small cries of excited satisfaction.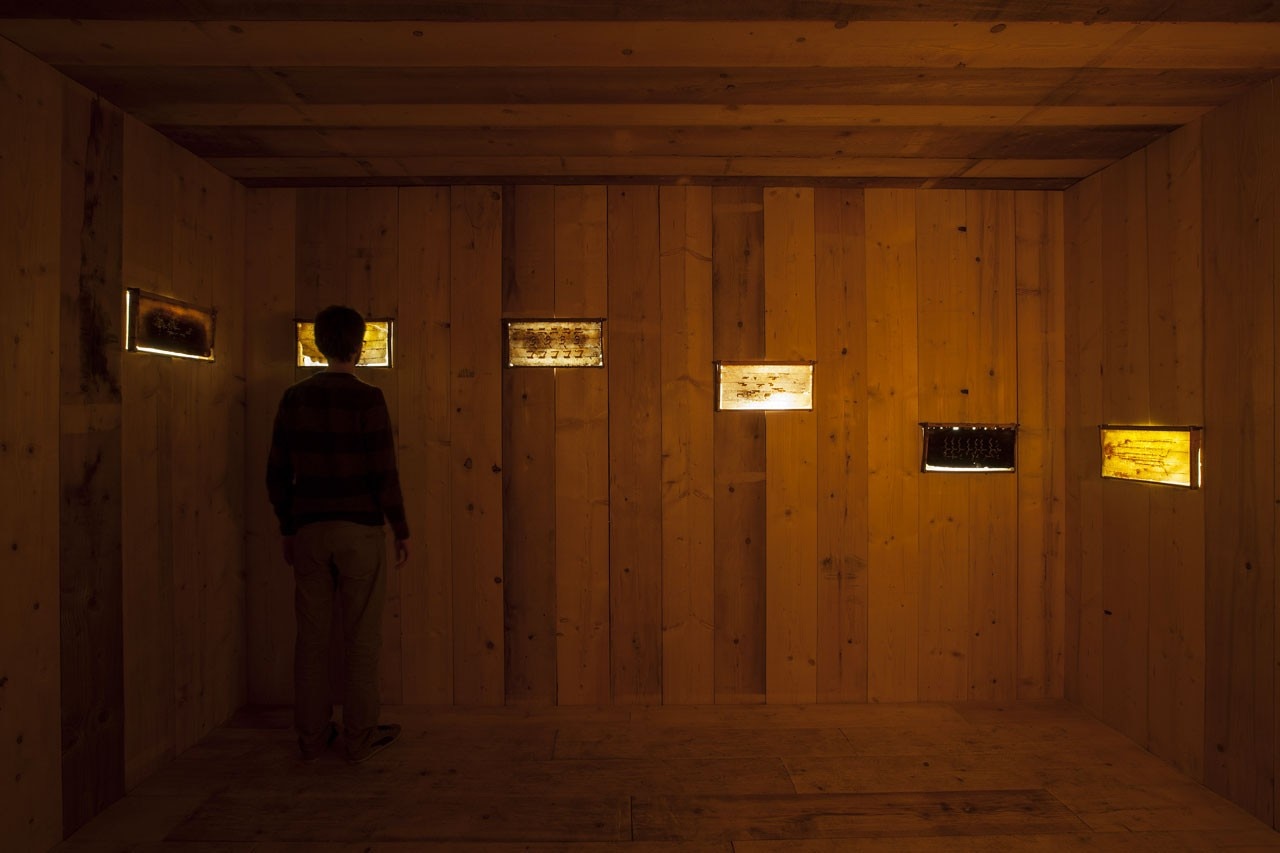 Untitled is an unbridled inferno. The whole room is filled with the deafening sound of the wind and the only way in is to hold firmly onto your hat and bend your head forward like a mole digging a blind gallery. Inside, it is one big slashing of airstreams that claw at your legs and rattle what they encounter, even though there is nothing in these spy-like furnishings – a wardrobe, a bed and a table – that could be damaged by even the angriest gale. Tangles of tomato-red electric cables run along the walls like the veins of fossil ferns, raising a band of sparks that hiss and fray on the ground, as bright as miniature fireworks. This seems in some people to trigger a marked sense of discomfort or, indeed, disquiet.

As noisy as a workshop, Mindfall fluctuates with fumes of naphtha and the smell of baked electric cables. This room with its smoke-tinted glass and tired ventilators contains an attractively lazy atmosphere: the pale ice-cream hues and red-painted sockets add a touch of colour to bare peeling walls while a chorus of electric motors, perched like poisoned buzzards, strikes up a slow and syncopated Moorish lament. The next room, tuned into the frequency of 432 Hertz, smells totally different. Setting a perfect tone, the sweet smell of marsh honey hangs in the air like tulle or mist. The voices of newly born wild bees buzz and undulate in broad spirals for the whole length of the day, creating an all-pervasive vibration with their whirling vocal chords. Wax effigies destroyed by the heat and lit up like torches fry on the soft blonde-oak walls and, like a moth drawn to the bright light of an electric bulb, we see an image that bridles the imagination. An electrifying vision that makes people stand up straight: the Greek island of Astypalaia with the Aegean Sea breaking on its sandy butterfly-shaped coastline and on the gentle hills of which Micol Assaël's beehives blossom like pansies.


Until 4 May 2014
Micol Assaël ILIOKATAKINIOMUMASTILOPSARODIMAKOPIOTITA
HangarBicocca
via Chiese 2, Milan