Most museums, galleries and art centres are spaces of encounter and discovery, spaces to traverse and get lost into, spaces to watch, to think and to spend time on one's own or with dear ones. They are spaces to visit old friends or to make new acquaintances. But they are rarely spaces of comfort.

Despite the current abundance of seating structures on most cultural institutions, verticality still dominates the bodily occupation of these places, which is accompanied by a sense of transit — and transience — and of multifarious consumption.

It is not very often that we see a reclined or sprawled adult in a museum, just looking, reading a book or leafing through a magazine, transferring the commodity of the domestic environment into an institutional context. Such rarity is part of what makes the new Member's Reading Room of the Grazer Kunstverein a remarkable construction.

Conceived by the London-based artist Céline Condorelli and developed together with the designer Harry Thaller as their first collaborative project, the reading room is located on the extension of the original area of the Kunstverein. Facing its new storefront, and occupying the left-hand side of lobby, the library materializes the institution's commitment to focus the 2013 programme on the production and display of language, by offering an open location that gives time for publications to be consulted, shared and acquired.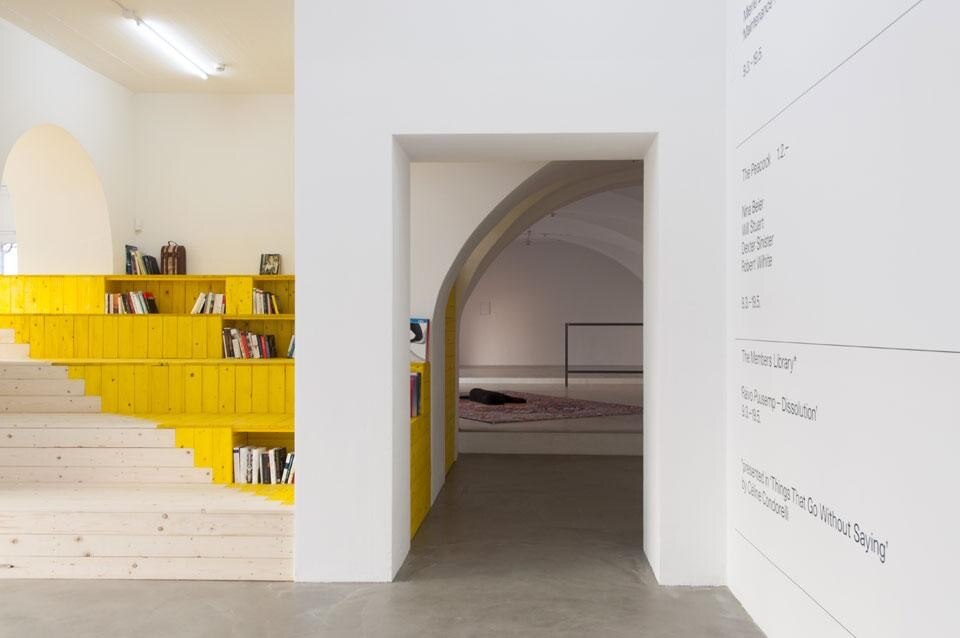 The Reading Room is conceived to host 361 books selected by Kunstverein members. Such precise number alludes to one of Georges Perec's instructions on how to classify and order books, as included in his "Brief Notes on the Art and Manner of Arranging One's Books" (published in Species of Spaces and other pieces, 1974), which is one of the various references that grounded the creation of the place.

Another source was the gallery that Christopher D'Arcangelo, Peter Nadin and Nick Lawson ran in New York in the late 1970s, where artists were invited to respond to the previously existent conditions and works in the gallery, in a accumulative logic that saw as key constituent elements not only the artists, but also the space's area, the time used to develop it, and its materials (which were, as in this piece, all duly credited).
Echoing such all-embracing intention of transmission and reuse, a substantial part of the wood material of the reading room came from another project, the Sharing Transformation exhibition of CittadelarteKunsthaus Graz.

By coincidence, Pistoletto was also a central reference for the project. Condorelli and Thaler's Member's Library is part of a series developed by Condorelli entitled Additionals, which consists of different prop-like objects, quasi-functional structures that are halfway between furniture and architecture. These draw from Pistoletto's Minus Objects (1965/66), a series of thirty pieces that have a minimal appearance — evoking more than what they present —, produced with simple materials, with a petty commercial attractiveness.
Due to its form, materials and location, the installation becomes a place for invention of a collective action using reading as a starting point
As in Pistoletto's Minus Objects, Things that go without saying locates itself halfway between industrial design, the "culture of project", and the evocation of a recognizable apparatus that could potentially be activated at any given moment, thus becoming an event, pushing the research on the relation between art and life — another essential feature of the Grazer Kunstverein's community-based identity — a step forward.
Things that go without saying materialises like a ziggurat that managed to conquer its space amidst the structural elements of the building: columns, walls and arches, and assuring its solid volumetric presence despite the architectural constraints. This infiltrated step pyramid, entirely made out of wood — half of which is painted yellow —, lies as an open invitation to be entered, stepped on and occupied. Visitors can sit on its stairs, lay on its surface or simply grab one of the publications that are displayed on its niches and stand nearby.
Due to its form, materials and location, the installation becomes a place for invention of a collective action using reading as a starting point. It provides the gallery with a space for an intellectual activity that is conventionally relegated to the private and protected academic environments; but above all, triggers the constitution of a community of satisfied individuals. For if we are to spend time thinking, discussing and sharing time in an art place, it better be a pleasant one. Filipa Ramos (@tweetfilipa)