Tick. High above London a man hangs precariously from the minute hand of the clock at the Palace of Westminster. Tick. A worried banker silently checks his pocket watch. Tick. A young couple run to catch a train, racing the clock that looms above them. Tick. The hanging man is now three minutes closer to hearing the chimes of Big Ben and triggering a bomb in the clock tower. Tick. Tick. Tick.

The Clock is a twenty-four hour cinematic montage that keeps real time by splicing together thousands of film scenes — each one including a wristwatch, a wall clock, a clock tower, or some other cinematic representation of time.

Created by artist Christian Marclay, The Clock debuted in 2010 in London, and made its New York premiere the following year at the Paula Cooper Gallery. After a world tour, it's back in Manhattan, on public view in the David Rubenstein Atrium at Lincoln Center. As I walked into the enormous black box viewing room that fills the entire 650-square-metre atrium space I expected to stay for only a few minutes. After all, how intriguing could 24 hours of film clips be? As it turns out, very intriguing. In the skillful hands of Marclay these fragments of cinema become unexpectedly captivating — perhaps even enlightening. Much to my surprise, I stayed longer than a few minutes. Quite a bit longer, in fact.

In The Clock, a film clip may show for a few minutes or a few seconds before cutting to another scene from another movie then returning to the previous scene — the time on the clock changing, of course — and then continuing. Cut after cut. Tick after tick. Each scene advancing the hands on a clock another minute, but also advancing a sort of imaginary plot. In the era of the youtube "supercut" — obsessively assembled video montages depicting multiple instances of a cinematic trope or techniques — Marclay's videos stand out with their artful editing that can, at times, imply larger narratives. The music or dialogue for one clip carries over to the next, artfully weaving the many worlds together. A screwball comedy becomes a drama becomes a heist film, and suddenly a man is hanging from a clock tower. Characters from different worlds call and respond to one another, conversing across time and space. Charlie Chaplin one moment, Tom Cruise the next. Here is a nonlinear history of cinema. But, of course, it's also a clock. As mundane and obvious as that may sound, the installation creates a surprisingly unfamiliar experience of time.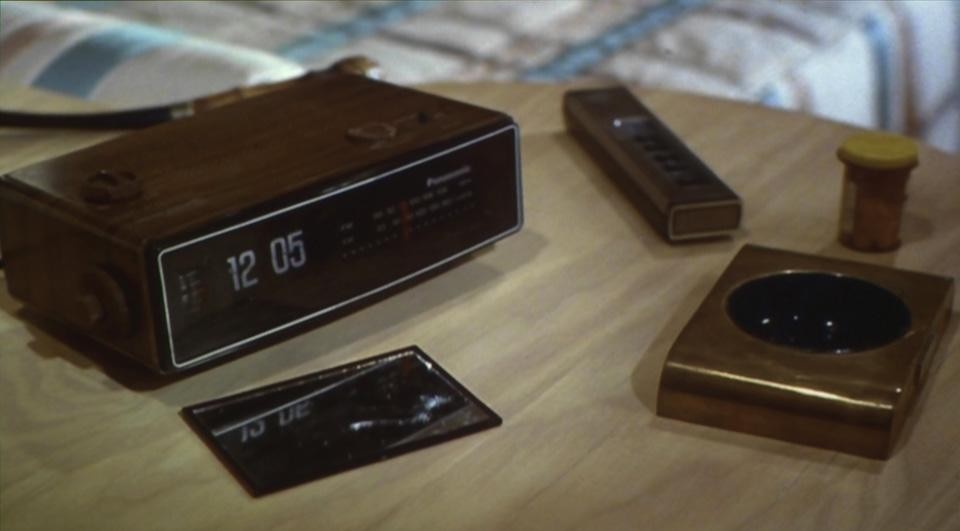 I watched The Clock for almost three hours. No one is more surprised at this than I am. Early on, I found myself simply playing a game of hunt-the-clock, searching each scene, each cut, for the titular object. But that game was quickly exhausted, replaced with my attempts at composing imaginary narratives to explain the tenuous (at best) connections between each scene. At times, I found myself invested in plot threads and clips that ended too quickly, but this is a minor qualm that is part of the nature of the piece and, more than anything, attests to the power of a good story. The staccato rhythm of the film amplifies the strangely visceral impact of the installation.

Of course, it cannot be easy finding and assembling thousands of images of clocks from so many films. There are bound to be recurring motifs of tropes. During my viewing, Big Ben seemed to be the star of the film — the hands of its great clock timing heists or triggering bombs. But there was another recurrent local: the train station. Train station after train station after train station. The Clock made me fully appreciate just how linked transportation and time are. After all, it was the emergence of trains in the nineteenth century that precipitated the standardization of time. Railroad time is time. Technological innovation has shaped our perception of the world. But the installation makes something else explicit — the nature of film itself.
Marclay remixes and re-contexualize fragments of cinema. But film is already an inherently fragmented medium. In traditional film, what appears to be a seamless unfolding of events is an illusion created by the rapid sequence of individual frames. Again, we take it for granted today, but this was once a radical notion. The Clock makes the fragmentary nature of film explicit. It reminds us that the rise of the cinema profoundly altered human perception, training us to receive the sensorial "shocks" of mechanization and modernity; teaching us that the compression of time and space in the world of the film is not the same as our own perception of time and space. But Marclay's work undoes that training, presenting multiple simultaneous perceptions of space and time — that of the filmic montage world and the real time of our own banal reality, woefully bereft of elaborately conceived heists and lovers chasing after steam trains.

Today we measure out our lives in coffee spoons or billable hours and, through portable digital technologies, have the capability to escape the banality of the present moment — a role more traditionally reserved for cinema. The Clock undoes the notion of cinema as escapism, instead serving as a constant reminder of the present moment — of schedules, dates and responsibilities. It is very strange feeling indeed to constantly have an awareness of the exact time while watching a film. At once familiar and unfamiliar, the installation is a sort of anti-movie. Despite this, it entertains. More than that, it enthralls. A few more minutes, I kept telling myself, just a few more minutes. With looming deadlines and an imminent meeting across town, I literally watched every spare minute I had tick by on screen. And yet I felt compelled to stay.
The Clock was selected by the Lincoln Center Art Committee to inaugurate its post-redevelopment public art initiative. One would be hard pressed to find a more appropriate piece. After all, Lincoln Center is itself a timeless montage of great art that, with its recent renovations, is still firmly rooted in the present moment
The Clock was selected by the Lincoln Center Art Committee to inaugurate its post-redevelopment public art initiative. One would be hard pressed to find a more appropriate piece. After all, Lincoln Center is itself a timeless montage of great art that, with its recent renovations, is still firmly rooted in the present moment. The ensemble of buildings and spaces, created by a coterie of influential modernists — Pietro Belluschi, Gordon Bunshaft, Philip Johnson, Eero Saarinen, Wallace K. Harrison and Max Abramovitz — has been thoughtfully updated with work by Hugh Hardy's recent Claire Tow Theater, built above Saarinen's Vivian Beaumont Theater, and Diller Scofidio + Renfro's (DSR) renovation to Juilliard, as well as the "infoscape" they integrated into the Lincoln Center plaza. Through careful cuts and edits, both Hardy's and DSR's projects insert something new into the space, updating it while also revealing aspects of the original work that may have been understated or taken for granted. These architectural interventions are like a carefully edited splice of a new movie into a classic film — a few frames from Minority Report into Charlie Chaplin's Modern Times. It doesn't interrupt the genius of the original, but acknowledges that tastes and perception have changed. And perhaps the shock of the new gives the viewer a new appreciation for the achievements of the classic work.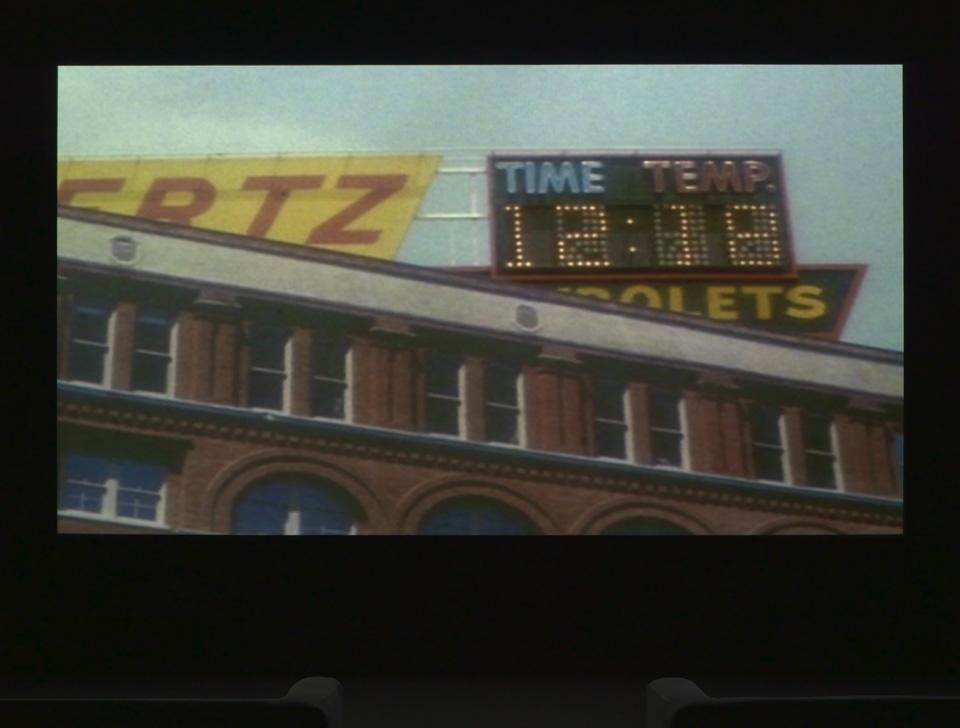 The Clock is an incredible piece of art. Yet, a part of me wishes it was more truly integrated into the David Rubenstein Atrium, designed by Tod Williams Billie Tsien Architects. Although the popularity of the piece and the equipment necessary to run it would likely make that prohibitive, I remain nonetheless fascinated by the idea of Marclay's work as a permanent installation in the Lincoln Center — like a more entertaining version of The Metronome on Union Square. As a privately owned public space, the atrium serves as ticketing venue, information center, cafe, and occasional venue. By freeing The Clock from its black box, it could become a part of that space, a place where visitors sip their coffee and check showtimes while casually glancing up at the filmic montage that dominates the space — perhaps to check the time, or perhaps just to idle some away. Jimmy Stamp (@lifesansbldgs)
Through 1 August 2012
Christian Marclay: The Clock
David Rubenstein Atrium, Lincoln Center
Broadway between 62nd and 63rd Streets, New York
Tuesday to Thursday, 8:00 to 22:00. Running continuously from Friday at 8:00 through Sunday at 22:00. Closed on Monday.