Specialising in comic art and works by artists of international standing such as Lorenzo Mattotti, Charles Burns and Art Spiegelman, the Martel gallery in Paris is hidden quirkily away in the 10th arrondissment, a working-class neighbourhood seemingly unchanged since Joost Swarte invented his still contemporary cult character Jojo de Pojo, the artist's homage to the ligne claire of Hergé's Tintin. Pojo retains an irresistibly cool and avant-garde look in this Paris event. Although perhaps not the unconditional star of the exhibition, the comic artist's alter-ego is one character immediately sought out by visitors among the illustrations and drawings of the gallery's fine exhibition on the Dutch cartoonist.

The magic of the perfect drawings, serigraph colours and ligne claire that have made Swaarte famous and instantly recognisable seem to expand by osmosis, spilling out of installations and drawings that fail to contain them in the gallery's small frames, pastel colours and meticulous exhibition design, and following visitors out into the urban fabric, a feeling prompted by these timeless icons coupled with the richly multiethnic city of Paris. The L'orchestre de métro music scene is a beautiful original and the melancholic décor of so many original illustrations seems to draw on the essence of their surroundings. Swarte's crucial component — a personal sense of humour matched by a simple graphism and apparently naive comic art — feeds on an urbane manner, eroticism and geometry. The gleeful absurdity of many of his gags is drawn out in a ruthless take on modern life, focusing on its pace and anxiety.
The abundance of materials and portfolios exhibited include a wonderful 2011 series extracted from drawings based on the film script of The Hairdresser's Husband by Patrice Leconte, starring Anna Galiena and Jean Rochefort, in which Jooste Swarte's expert hand and narrative force renew the magic and sweetness of this bizarre love story. Elegant in form and accompanied by the publication in French of a monograph entitled Total Swarte (Denöel Graphic), this Parisian event features still topical contents and a brand-new portfolio on cookery recently published by the gallery.
There are also enough excellent originals for it to be classed as a retrospective. More than simply a commercial venture, this is a tribute to a discreet and seminal contemporary comic artist, an opportunity to analyse the staying power of his art, one that has inspired generations of graphic artists and illustrators. Swarte, for example, remains one of the cult artists of the circle of the Valvoline group, the incubator of contemporary Italian comic art. A fabulous comic strip published in the latest issue of Les Inrockuptibles is almost a tantalising trailer for the French exhibition and echoes the golden years when Swarte's work, brimming over with madness, serial killers and innocent — but not less explicit and incisive — sex, appeared regularly every month in cult international comics such as Metal Hurlant and Raw. Jojo de Pojo is still penniless and, unable afford the admission, sneaking clumsily into burlesque theatres, ending up in the dressing rooms of strip-teasers and revealing his identity to the public during unlikely and hieratic bouts of oral sex.
This is a tribute to a discreet and seminal contemporary comic artist, an opportunity to analyse the staying power of his art, one that has inspired generations of graphic artists and illustrators
Swarte, by contrast, has turned his hand to architecture and designed the Toneelschuur theatre in Haarlem, his home city, and the windows of a Palace of Justice. He also continues to produce illustrations with fine style content and, from the covers of The New Yorker magazine to ceramic dishes and a glass table with carrot legs, replaced in this exhibition with kitchen knives, his love for the abstract and surreal is unchanged.

The set designer of the recently opened Musée Hergé is still imparting piercing examples of his art instilled with a spectacular geometrical design. Ivo Bonacorsi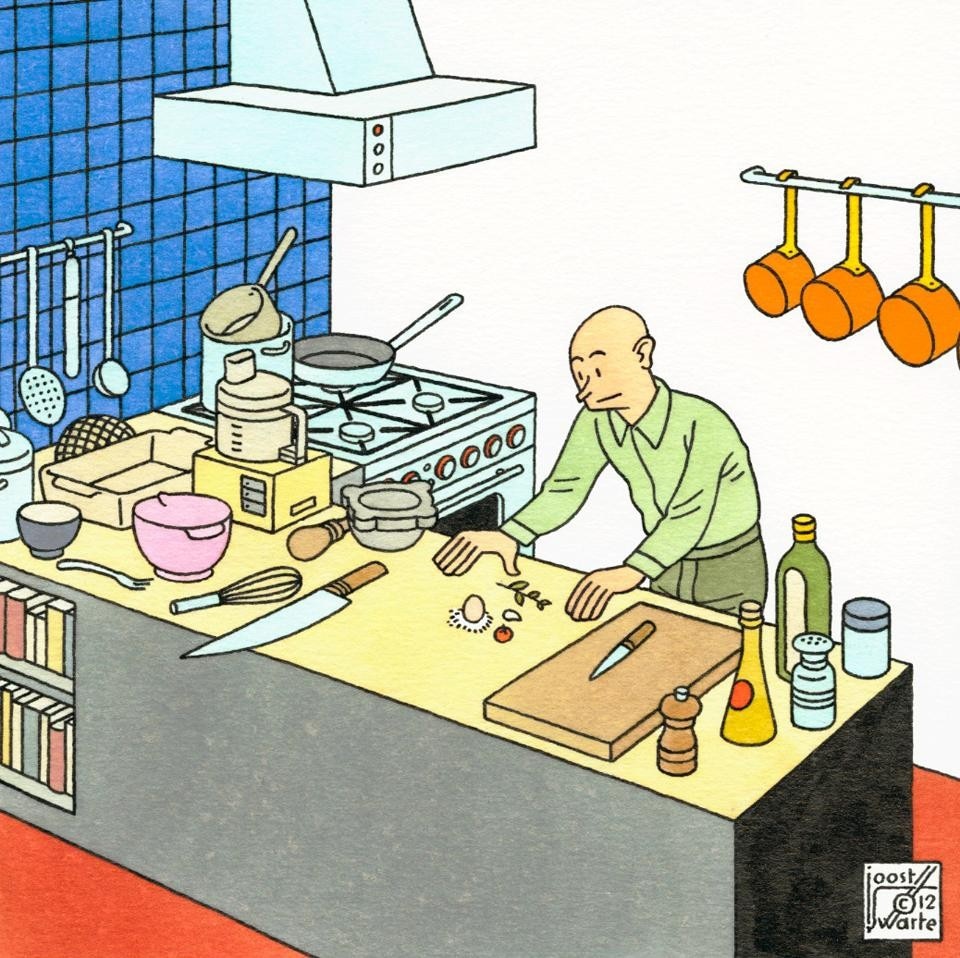 Joost Swarte: Total Swarte
Martel Gallery
17 rue Martel, Paris
Through 5 May 2012