"It's about living beyond surviving, about thriving": Vera Mulyani comes from an artistic background and an experience as an architecture practitioner in France. In 2015, she created Mars City Design, a California-based multidisciplinary think tank dedicated to developing the perspective of a possible human habitat on Mars.

Through continuous experimentation and an annual competition, the Mars City Design Challenge, incessantly feeding it with new ideas, the project is positioned as the result of another effort within contemporary design practice to think outside the box. But this time the thing has got way beyond literal.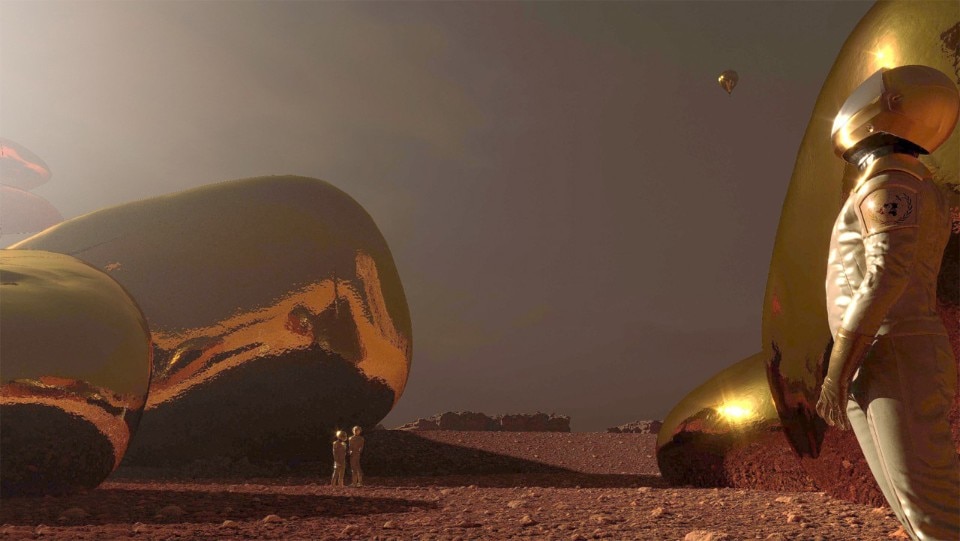 "The mission is to bring an awareness of future destinations involving not just human safety, but human wellness" Mulyani says, as we meet upon her participation to the Torinostratosferica Utopian Hours city-making festival in Turin. 
She found herself looking for a way to integrate a biological aspect in her architectural practice, beyond biomimicry, and she saw an opportunity seven years ago, as the world was not at all embracing the idea of some next destination outside Earth and the purpose of space kept on being about safety, and military defense. Moreover, "we design for space and then we improve the Earth-version of design, in a feedback loop, like it happens with phone cameras, for instance" The opportunity was to look space-wards, joining biology and design in an attention for the human aspects of this approach. Architects, artists and designers were not yet involved in it, "so I had to create it myself, then a community started gathering, sharing same interests and multidisciplinary expertise".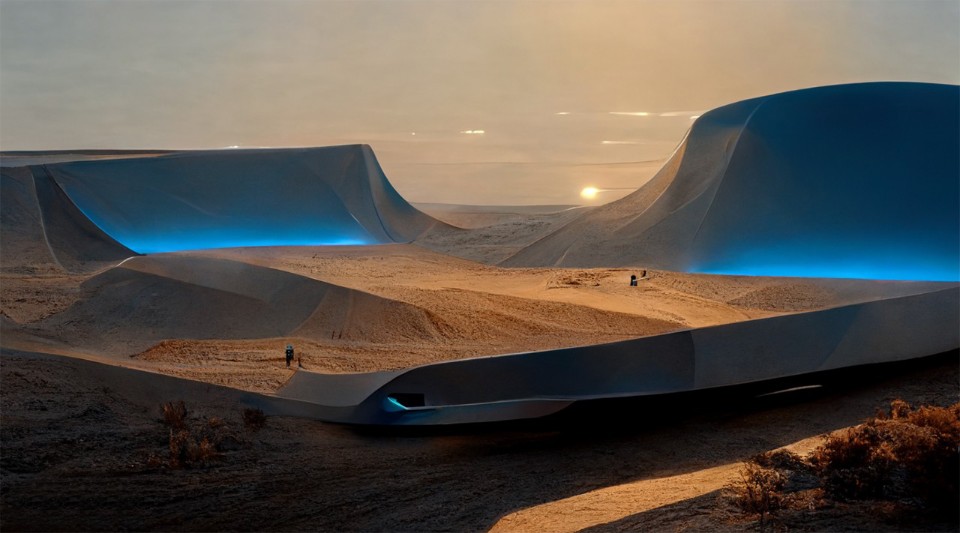 Looking at Mars as a destination for human evolution entails big responsibilities and becomes an unprecedented learning opportunity for humans themselves in times of climate and health emergency on planet Earth. For this reason, according to Mulyani, "there is a sustainable purpose behind Mars City Design: a design reflection following the extreme climate that will teach us how to handle the situation of the growing climate change here on Earth, as well as how to use materials that do not damage the planet, like cement or 3D printed non-recyclable plastics instead do.

The first reaction to harsh conditions would be to position ourselves in defense, like a lot of engineers would do. We're not eliminating that idea at all, but we are integrating it into the next level of creation, which is about adapting, blending in with that harsh environment, learning and using such extreme conditions to support our life system".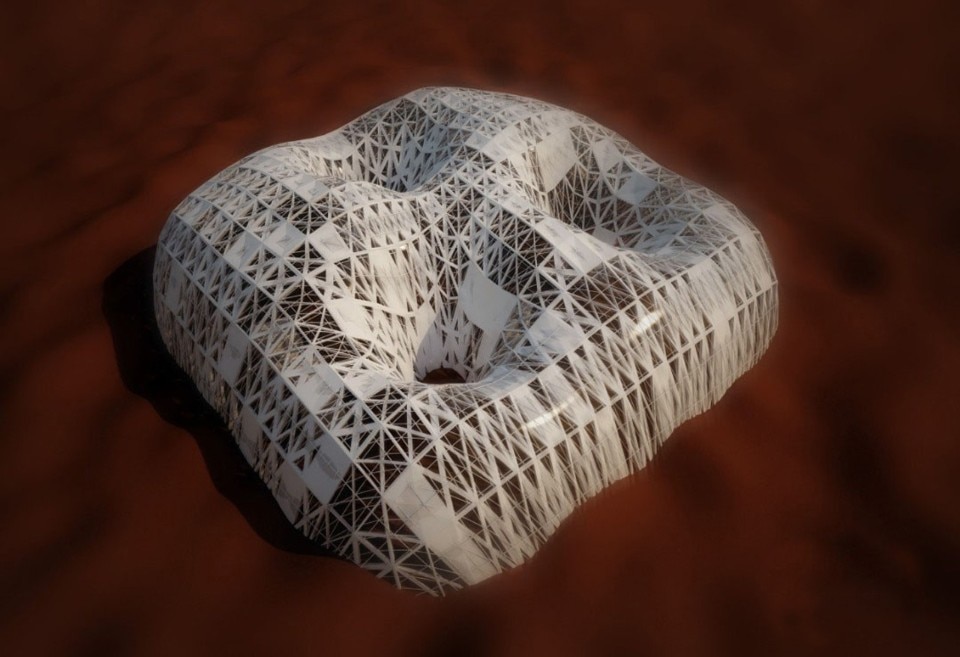 "As an example" Muliyani continues "we are using the way the peculiar marching dunes build themselves to actually help us build our radiation shelters, also aiming to create an infrastructure for collective habitats, not just one individual: apparently, dunes can move of about one foot (30 cm) per year, and we understood that also our foundations should be mobile". Biomaterials are also a promising testing ground for Mars architecture: "The Papua New Guineans, when they went to Hawaii, carried four types of plants, for food, medicinal purpose, material purpose like clothing, and the last one for building, like bamboos.
So, besides bringing machines to be left to the following generations transforming materials available in situ, another solution is to grow plants. We also wanted to experiment with algae, and most of all mycelia for building purposes, and what's interesting with mycelia is that once you process it, it is actually solid, like bricks".
The approach ranges from macro to micro, from the city scale to habitat to farming practices down to nutrition habits in their microbiotic effect, "focusing meal composition on wellbeing and strength instead of comfort, on lowering carbohydrates aiming to grant longevity: when you have a healthy internal microbiome, you have healthy brain, better regenerative cell systems and improved mental health". A super-probiotic named Astrobiome, tested on health enhancement needs for astronauts, has also been developed and put on the market.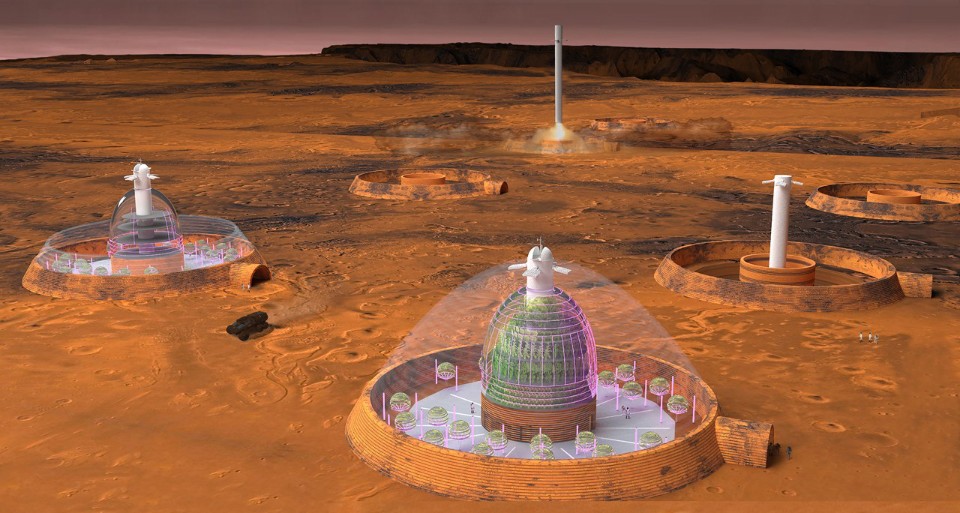 When asked about the implicit risks of such kind of experiences to turn into extractive human-centered practices of expansion, if not well-governed, Mulyani shows no doubts. She shows a picture of Mars surface instead, saying: "Well, that's the nature of humans. We just consume and consume. But I mean, look at this. it's there and all we will do is to revive it. Let us also try this different perspective: Mars now might be looking like the after effect of us not preserving our Earth".

Why Mars, then? "It is to get out of the box. To get out of our box".
And this "exit" from the box has just started, at Mars City Design: "The super-probiotic is already on the market, while bigger projects, habitat and biomaterial prototypes, are in their phase of fundraising and partnership research". Mars City Design does not have one specific testing location "because we have a lot of them. The way we implement the project is through people doing their own prototypes, to whom we're providing consulting service.

For me, this is about the soul of innovation. If I could provide 100 prototypes that are not necessarily mine versus one that it's all mine, I would pick the first one, because it's creating more purpose within my short life". 
What about architecture, then? Is Mars City Design aiming to develop some architectural language, to draw this language from those we already know? "Not at all. We move from a kind of expression that can be considered as the basic graphic language of architecture, that everyone could understand. Maybe it could be a mix of these, initial language signs. But for sure we won't adapt it to our current habit of living here. For some reason, for instance, everyone is designing possible Mars habitat with furniture". The nonsense. "You know, a door doesn't have to comply to some yellow book of architecture language from Earth, because on Mars you can climb easily to the roof, and have your door up there. For a sleeping area in a Mars habitat, then, there are different solutions (we created a class about Mars architecture). Some of them actually are pockets coming out of the wall. But my question would be: which timeline do we refer to? Some third generation might be able already to create something more comfortable; probably they won't even sleep horizontally". 
Vera Mulyani is one of the speakers at Utopian Hours, the city-making festival organized by Torino Stratospheric, which this year takes place Oct. 14-16.