Despite all clichés and trending narratives, the largest part of the landscape of industrial cities, and consequently the modern legacy of  big cities in Northern Italy, their everyday physical and visual reality, is made of a close co-existence of housing and small-scale production, a combination of working class city with an emerging middle class housing.
When time has come for the founders of Wworks to build their new home in Turin — an incremental process, sharing most of its path with craftsmanship — this young couple of architects has aimed to bring some components of the countryside right at the heart of an urban block which perfectly embodies that kind of post-productive urban scenario we just recalled.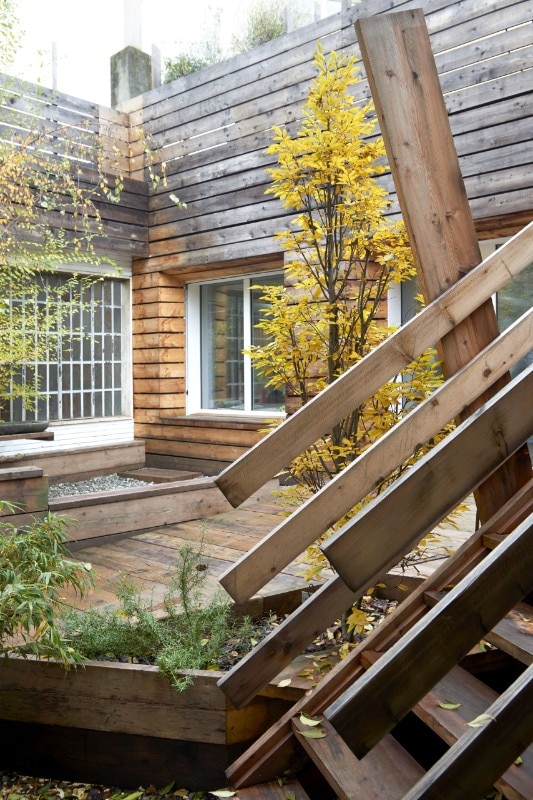 The existing building used in fact to host small-scale production, and it has kept expanding by gradual additions since the early 20th century. A strong sense of continuity pervades the interiors — thus becoming the core of the renovation concept — while the need for a general improvement of thermal comfort performance has determined some local modifications of the living space, including a 60-centimeter raising of the ground floor level. To match this gap, the entrance yard has been consequently given a new artificial topography, creating a continuous timber landscape that integrates the larch-clad façades with the exterior stairs and the rooftop terrace, paved with reused scaffold boards. 
The mission was to preserve the perception of a complex continuity in both space and time. The interiors are totally unpartitioned, while the two bedrooms are wooden volumes — balloon frame structures built by one of the designers, who is also a carpenter — visibly independent from all surrounding surfaces and getting their lighting from above. The existing plasters have not been renovated or completed, while all new surfaces stand out with the peculiarity of their materials, such as the raw self-leveling concrete floors, or the cocciopesto (lime mortar with crushed bricks) walls, tub and sink in the bathroom.
The oldest part of the building hosts a workshop, while on the other side a small bamboo-planted patio marks the transition from living spaces to a coworking space, currently under completion.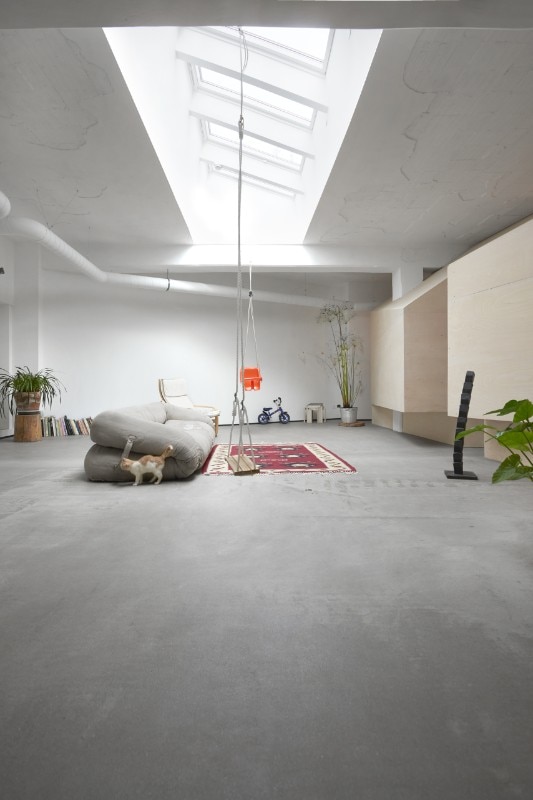 Project:

The ranch

Location:

Turin, Italy

Architects:

WworksDesignBuild - Architetta Valeria Federighi & Architetto Carpentiere Walter Patella

Partners:

Aveng Engineering (structural design); Suingiardino (landscape design); Marta Sorrentino (cocciopesto plasters); Grazia Carioscia (mural graphics); Elena Taliano (drawings)

Surface:

400 sqm

Completion:

2017 - ongoing