Jingdezhen is a city located in the north of the Jiangxi Province in China also known as the "world's porcelain capital" due to its 1,700 years history of ceramic production. The city's first settlements developed around ceramic processing complexes, which included kilns, workshops and homes. The street pattern was also generated by nature and the porcelain industry.

In the historic city center, near the ruins of the imperial kiln, the Zhu-Pei studio built the Jingdezhen Imperial Kiln Museum, a museum dedicated to local history and kilns. Volumetrically, the construction includes more than half a dozen brick vaults, modelled on the traditional shape of the kiln, each with different dimensions, curvature and length. This unique basic structure consists of concrete poured between two layers of brick walls.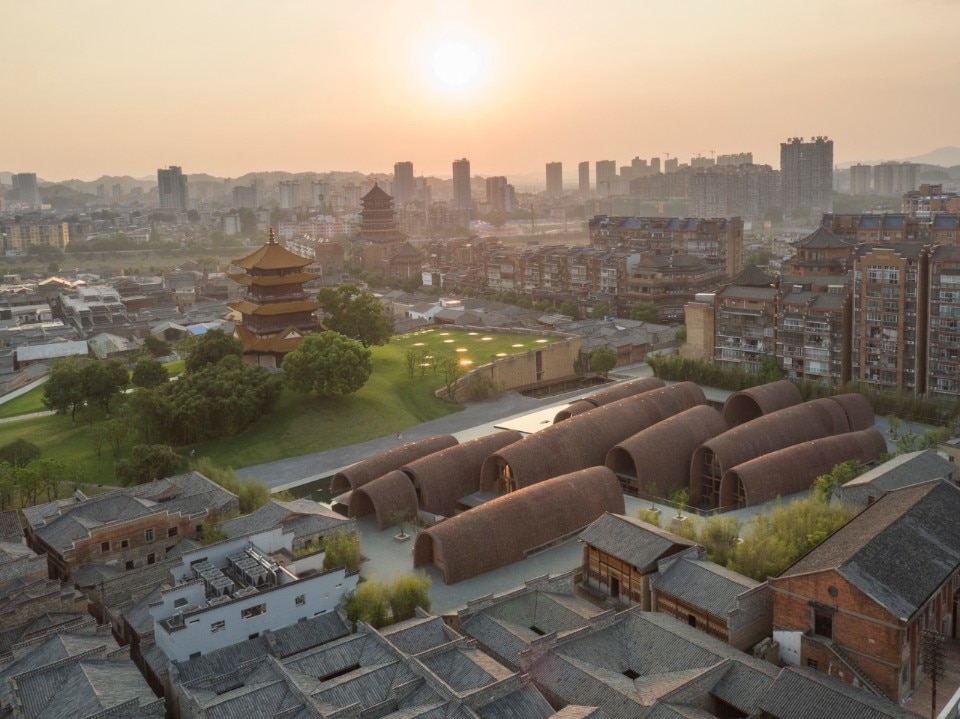 The ground attack of the building manages to create a sequence of public spaces at street level, some covered by a series of more intimate vaults, others recognizable in the five courtyards created inside the museum, each one dedicated to the five themes dear to ancient Chinese culture: gold, wood, water, fire, earth. The strategic position of these open spaces is also useful for the interior lighting of the museum, implemented only by cylindrical shaped skylights inspired by the smoke holes of the ancient furnaces, which provide natural light during the day and artificial light at night.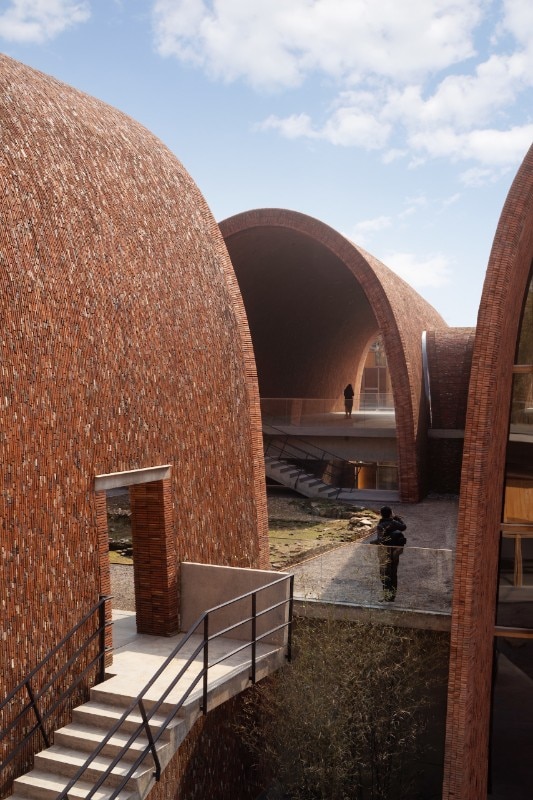 The bricks used in the construction are partly recycled from old furnaces, to reflect the local building culture. Historically in Jingdezhen, in fact, the use of recycled bricks to build houses and buildings of all kinds is a significant character, because brick kilns have to be demolished every two or three years to maintain a certain thermal performance of the kilns.
Project:

Jingdezhen Imperial Kiln Museum 

Architecture, Interior and Landscape Design:

Studio Zhu-Pei

Cooperative Design:

Architectural Design and Research Institute of Tsinghua University

Design in Charge:

Zhu Pei

Front Criticism:

Zhou Rong

Art Consultant:

Wang Mingxian, Li Xiangning

Design Team:

You Changchen, Han Mo, He Fan, Shuhei Nakamura, Liu Ling, Wu Zhigang, Zhang Shun, Du Yang, Yang Shengchen, Chen Yida, He Chenglong, Ding Xinyue 

Structural consultants:

MEP

Green Building consultants :

Architectural Design and Research Institute of Tsinghua University

Facade:

Shenzhen Dadi Facade Technology CO., LTD.

Lighting:

Ning Field Lighting Design CO., LTD.

Acoustic:

Building Science & Technology Institute, Zhejiang University 

Client:

Jingdezhen Municipal Bureau of Culture Radio Television Press Publication and Tourism, Jingdezhen Ceramic Culture Tourism Group

Main Contractor:

China Construction First Group Corporation Limited, Huajiang Construction CO., LTD of China Construction First Group

Area:

10,370 sqm 

Location:

Jingdezhen, Jiangxi, China

Completion:

2020