The purification plant by Oppenheim Architecture in Muttenz, Switzerland, is connected to nature and its most precious element, water. Muttenz Water Purification Plant is a project commissioned by the City of Muttenz with the aim of becoming a landmark for the Swiss location and the Basel area. The project focuses on an urgent issue, the availability of drinking water. In a continuous reference to this essential element, the building stands in the middle of a forest next to the River Rhein and fits into the context as if it were part of it.  
Its soft and modelled shapes seem to have been smoothed by water. The purification process also needs to be clear and its phases are shown to the public, who can visit the complex walking through spaces where water is celebrated with all senses, flowing in pools or projecting reflections on the walls. Stairs and passages lead the visitor throughout the structure, creating a path over water that reaches the purification plant.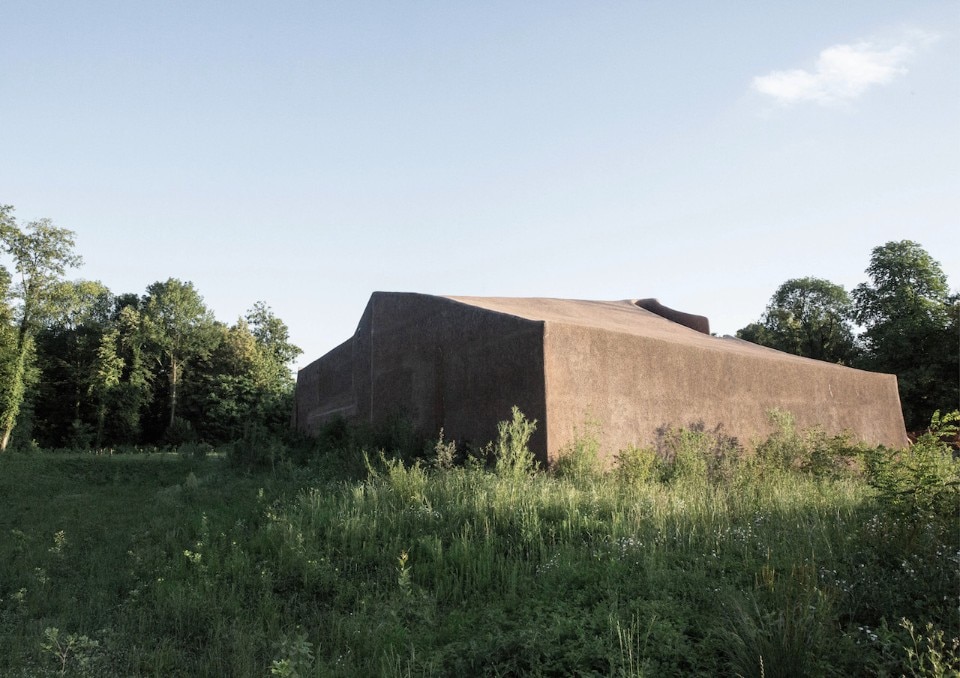 The plant is a three-story building and one of the floors is underground. The first and second levels host the pipes and the water tank, a system that visitors can observe through a window on the second floor, accessible by a staircase that can be taken from the lower floor. Here is the entrance area, an alcove-like room with a pool that collects rainwater from the roof. The facade of the building is moulded to reveal what is happening inside, with perimeter openings that seem to be carved in clay.
The work of Oppenheim Architecture brings together the natural and the industrial, the soft appearance of the cladding and the rough feel. The outer facade is made of shotcrete, a sustainable material that is delivered dry to the construction site and mixed with water only before application; it is then sprayed on the facade.
Over time it will be covered with moss thanks to the flow of water on its surface, making the building gradually part of the natural place where it is located, without overpowering it but changing with it.
Project:

Muttenz Water Purification Plant

Architects:

Oppenheim Architecture

Client:

City of Muttenz

Location:

Muttenz, Switzerland