There are no billboards on the streets interrupting the dark landscape of Lanzarote. Their absence surprises the tourists and welcomes them into the suspended time and place of this island – a place where it is spring all year around and whose Martian, untouched landscape is rarely disrupted by a village, an isolated house at the volcano foothills, or a small vineyard.
This absence particularly surprises those who are used to the view on other Spanish islands, like Ibiza, where visitors are immediately welcomed by billboards with David Guetta's big face on it or some other fellow DJ, the calling card of a hyper-cemented and built environment, where mass tourism eroded and overpowered nature.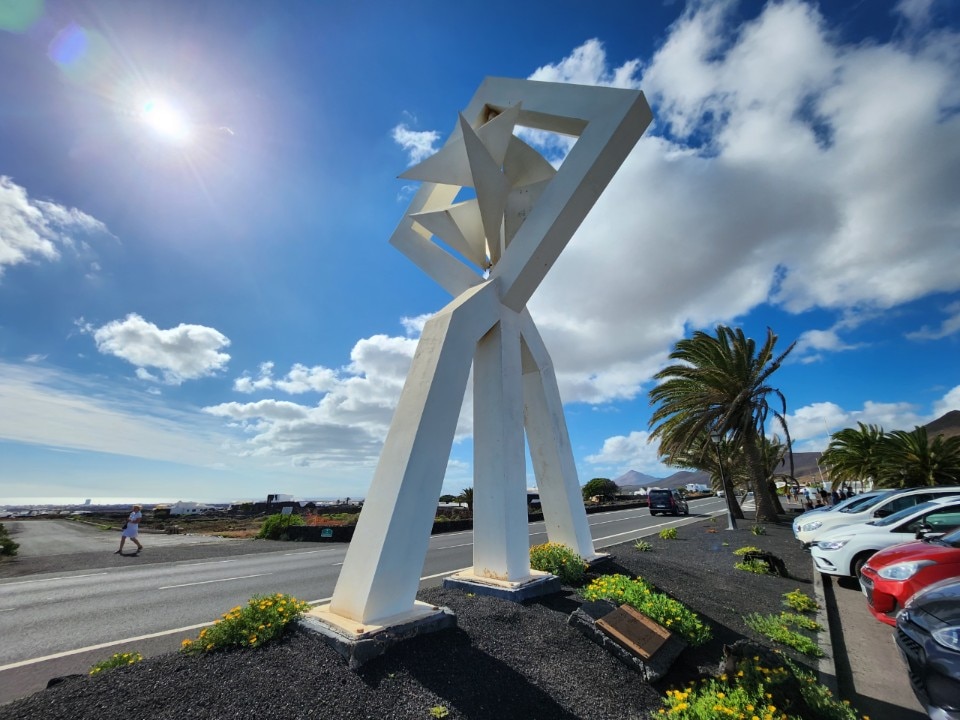 On the contrary, when arriving in Lanzarote, you will notice that there are still traditional houses in the villages − low white buildings with green doors inland and blue doors on the coastline, and that the tourist resorts are placed in specific costal zones, where white buildings are lined up one next to the other, blindingly reflecting the sun, all identical as if they were designed in series by one of those artificial intelligences we all talk about today. Then, there are the sculptures on the roundabouts, most of them painted in solid primary colors, that playfully move along with the winds, which are a constant and vital presence here − the trade winds mitigate the climate and make the island habitable. Finally, there are the endless volcanic plains that extend under the bright blue sky in between gentle dark hills streaked with metallic red and yellow, a backdrop where only clouds and dull-shaped cars pass by, and only rarely a caravan of dromedaries, that everyone here calls camels, can be seen
I laid down and meditated on the confrontation, so direct here in Lanzarote, of two elemental powers: the creating one of the volcano and the destructive one of the ocean.
Michelle Houellebecq, Lanzarote
César Manrique and Lanzarote
Everything in Lanzarote is the result of the work of César Manrique, a contemporary demiurge, who shaped the island, making it a unique place on the planet for its constant intertwining of nature and design that anticipate key concepts of sustainability right when mass tourism exploded in Europe and Spain and when "sustainability" as a term did not exist yet.
César Manrique is born over a century ago, in 1919, in Arrecife, the capital of Lanzarote, but his family originally comes from the nearby Fuerteventura. His father builds a house in Famara, now a cult location among surfers who come to Lanzarote. There, César lives a happy childhood, spending five months of vacation every year on the long beach framed by its iconic cliffs that reflect on the water's edge. Years later, Manrique will say: "That image was engraved into my soul as something of extraordinary beauty that I will never forget for the rest of my life." On that beach, men and the island's nature establish a symbolic pact.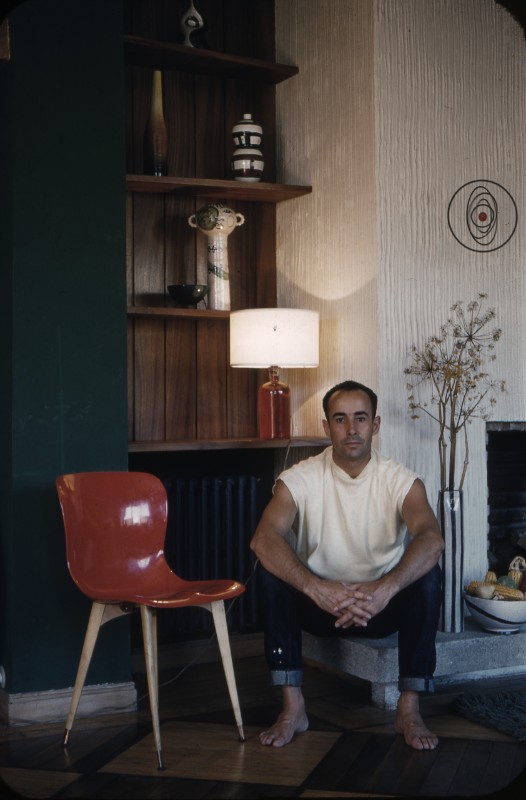 His happy childhood is followed by restless years: he fights in Franco's artillery unit, a dark period of his life he will never talk about again – he comes back and burns his uniform. Manrique starts studying Architecture in Tenerife, but he drops out after two years; he graduates as a teacher of art and painting in Madrid, where he moved. He paints, falls in love, gets married. But that life does not last: devastated from his wife passing, in 1964, he follows the advice of a cousin in New York and moves in with a Cuban painter there. He lives on the Lower East Side, the place to be if you are an artist, a bohemian, or writer in those years. Here, his painting-style is appreciated; Nelson Rockefeller becomes fond of him. His quotations go up, he holds exhibitions and travels all over the world. After only a few years, he gets tired of New York. "My last conclusion is that MAN in N.Y. is like a rat," he writes in a letter to a friend. At that point, well into his forties, he decides to come full circle and, just like a character in Lost, he goes back to his island, to Lanzarote, where he will die in 1992, ran over at a roundabout near the house he designed for himself and that now hosts his Foundation. Needless to say, being Manrique an enthusiastic environmentalist and forerunner of many other things, he was not too fond of cars.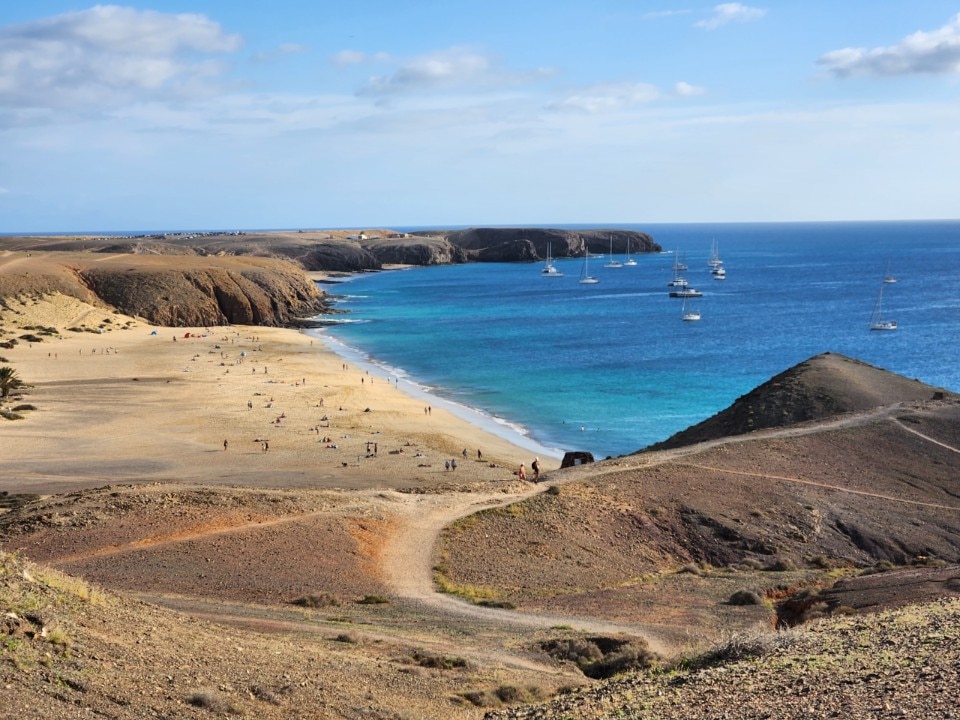 The return on the island
Over the course of twenty-five years, the island becomes his canvas: a full-scale work, in which the original nature goes hand in hand with its punctual transformation through interventions that sprout from the interpretation of the landscape and, at the same time, blend together with the landscape itself. Manrique writes that "Back from New York, I came here with the intention of transforming my native island in one of the most beautiful places on the planet," and that he wants to protect Lanzarote from the defacing wave of the economic boom tourism, while also open it up to the world. His initial idea is to create a village for artists, but his friendship with José Ramírez Cerdá, his peer and president of the local Cabildo, changes his outlook.
The Spanish artist carves new routes through the volcanoes' curves, flirts with the coast, dives deep into the dense network of caves that runs under the island. He hides a contemporary art, culture, and tourism center with a restaurant, a pool, and an underground auditorium in the Jameos del Agua, a treasure chest situated in the northern part of the island; when Rita Hayworth pays him a visit, she defines it "the eighth wonder of the world," and she is probably right.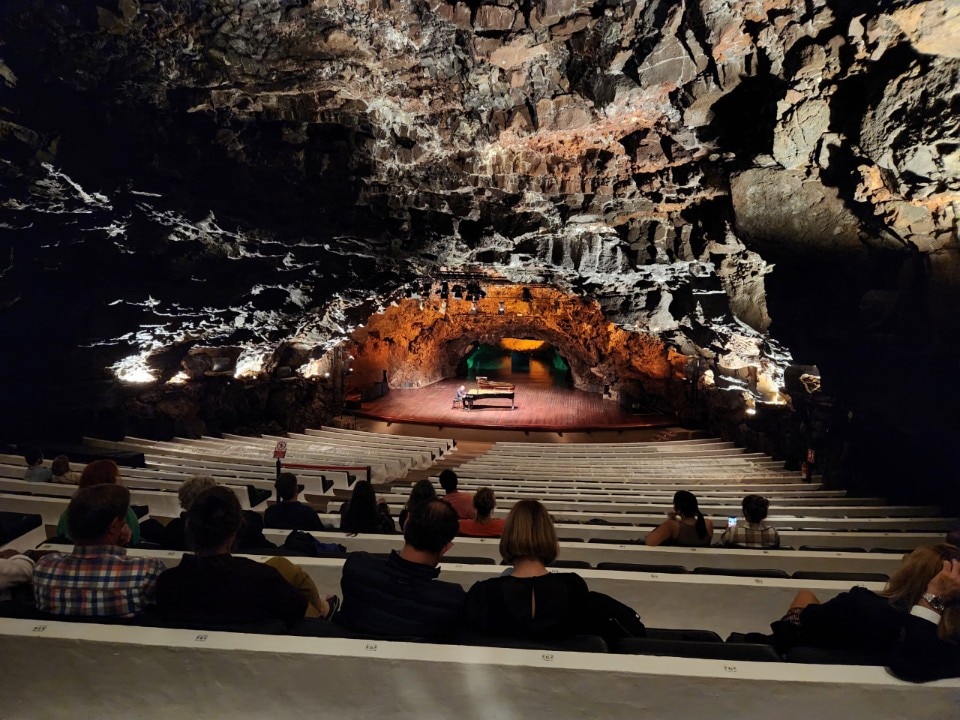 On a Spanish island one could, in absence of nightclubs, expect to find some vestige (baroque convents, medieval fortresses, etc.). Unfortunately, all these beautiful things were destroyed between 1730 and 1732 due to a series of earthquakes and volcanic eruptions of unprecedented violence. So, for the cultural tourism, nothing doing.
Michelle Houellebecq, Lanzarote
Architecture on top of the volcanoes, under the volcanoes
Lanzarote is a unique, volcanic island and its biosphere is protected by the UNESCO. Over the centuries, the volcanic eruptions and the earthquakes have canceled all human presence, creating a post-human landscape that became the backdrop for Balenciaga and Jacquemus' campaigns, setting to Werner Herzog's movies in the 70s, to spaghetti westerns even before then, and more recently to Ferrix, becoming the mining planet of Andor, the best Star Wars series ever.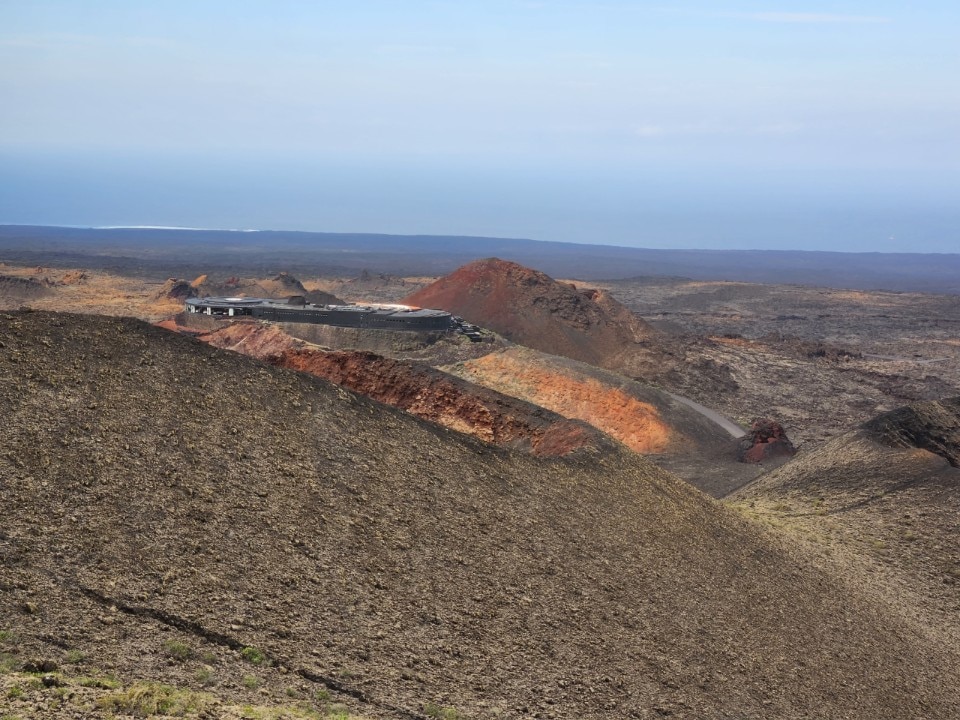 In Timanfaya, at the top of a dormant volcano overlooking the expenses of lava rock that generated after the devastating seven-year-long eruption of the 1700s, Manrique lays a glass and basalt flying disc, creating the "El Diablo" restaurant, where the waiters wear a striped uniform jacket that César Manrique designs for all the staff who works in his restaurants on the island and that slightly resembles that of Footlocker's shop assistants.
The devil is also the mascot of the The Montañas del Fuego; it was sketched by Manrique in 1968, and it is now considered an icon. Later, in the mid-70s, Timanfaya becomes the only purely geological national park and today is the fourth most visited in Spain.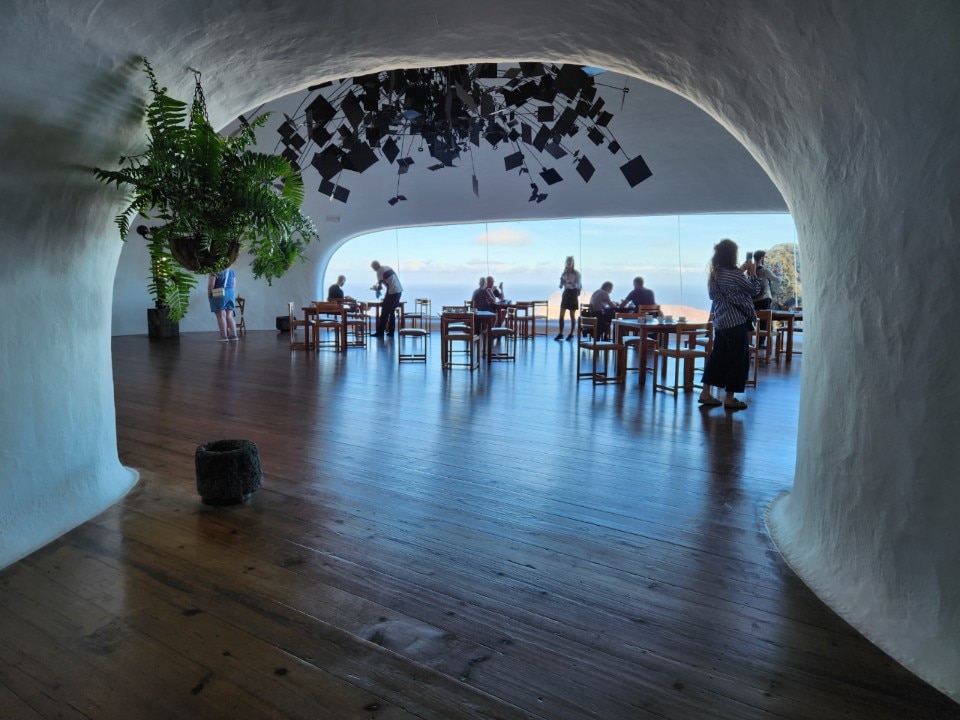 Manrique's approach
Today, defining where Lanzarote ends and where Manrique begins is quite difficult. During the 70s, he renovates a small fort from the Spanish-American war, the Mirador del Rio, creates optical illusions and living environments (including a church) in the underground tunnels that unwind for kilometers under the island, and designs a cactus garden. He keeps on painting and makes a living by selling his paintings abroad. He opens a dialogue with the farmers and convinces them to let him renovate their historical houses instead of demolishing them to build more modern ones; he perseveres, preserves, refurbishes. He dedicates to the conejeros, Lanzarote's inhabitants, the Fecundidad, the most imposing out of the sculptures he scatters all over the island at junctions and roundabouts – to create the Fecundidad he uses old objects, in particular water tanks of disused sailboats.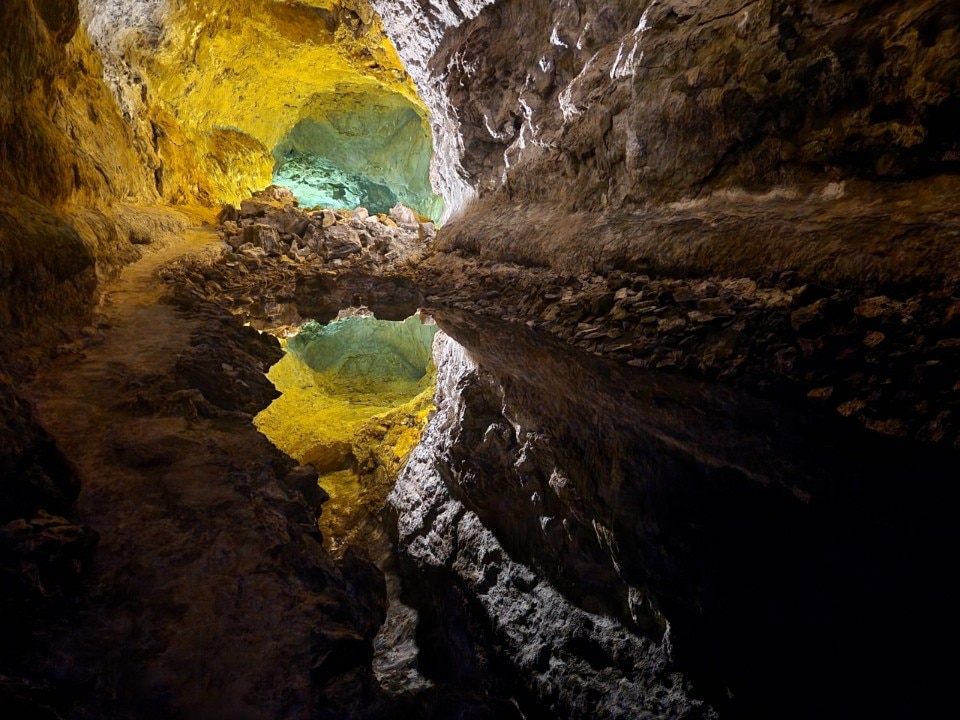 Manrique's is the story of a present, educated, curious, pragmatic designer. Thanks to him, environmental awareness becomes stronger through the knowledge of the context. Years later, he rediscovers the architect within himself, and he finds him right where he abandoned him, in the Canaries, but he doesn't leave him the creative lead: Manrique creates indoor spaces and architectural structures that remind us of today's parametric renderings but with the approach of an artist, and he does so by actively participating on the construction site and having an ongoing dialogue with his talented constructor, Luis Morales.
His designs are essential, he personally intervenes at the construction site and creates structures with soft lines resembling the coastline and the cliffs of his childhood. In an essay published on the Italian magazine Doppiozero, Fernando Castro Borrego writes: "Years later, he stated that the model he took inspiration from for his leap from representing to building space, from representing nature to rebuilding nature according to aesthetic criteria, was Claude Monet, the painter that made his Giverny garden an authentic work of art."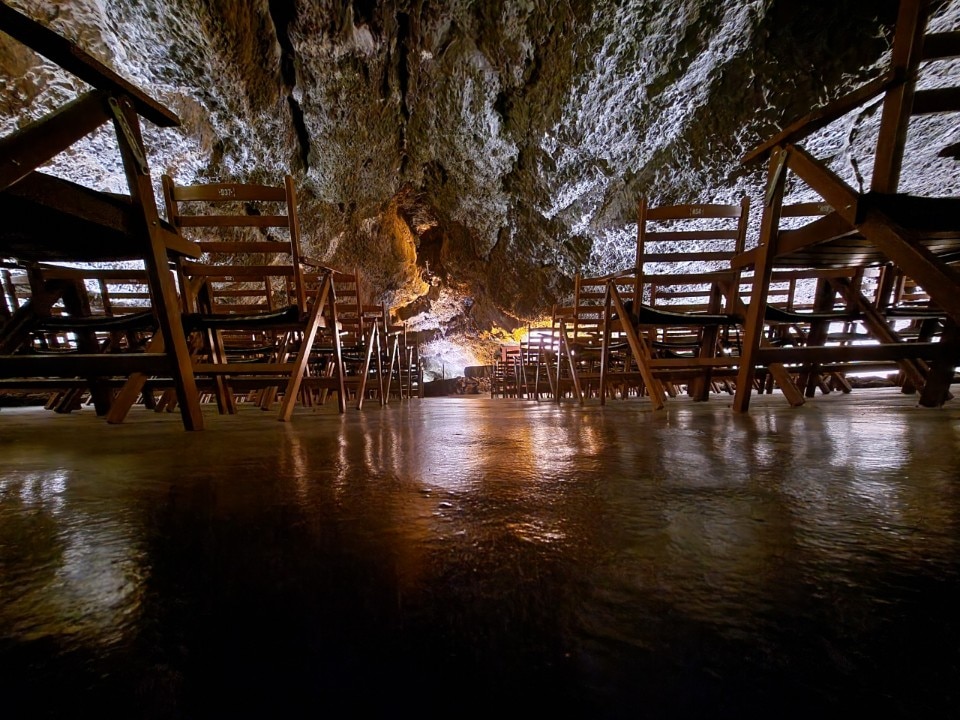 What beautiful stars cover the sky of Lanzarote? Life, this life that, inescapably, petal by petal, is defoliating time, seems, these days, to have stopped at the marigold…
The mansion of César Manrique in Lanzarote
A strip of lava rock stretches towards the outside and invades a spacious room, creating a negative windowsill, a dark and shapeless protuberance that stands out in an environment where everything is light and whiteness. It's surreal. At first, it looks like a trompe l'oeil – it is probably one of the most famous features of the house Manrique built for himself in Lanzarote, the Taro de Tahiche. Legend has it that, while passing by, he saw a fig tree sprouting from the lava rock land and that he chose that spot for his house because that tree was a symbol of life. The story also goes that he got the property just for a nominal sum from a shepherd, who probably thought of that piece of land as only a burden, and that that shepherd got mad when he saw what an incredible house Manrique extracted from it, by making the most of an additional four caves as well, which were made into additional four rooms. A house in the rock that anticipates of almost half a century the house, similar in concept, of Louis Vitton's artistic director, Francesca Amfitheatrof, in Ventotene which was recently celebrated as an incredible new idea on the summer cover of the Financial Times How to spend it.
Fundación César Manrique, Lanzarote
Fundación César Manrique, Lanzarote
Fundación César Manrique, Lanzarote
Fundación César Manrique, Lanzarote
Fundación César Manrique, Lanzarote
Fundación César Manrique, Lanzarote
Fundación César Manrique, Lanzarote
Fundación César Manrique, Lanzarote
Fundación César Manrique, Lanzarote
Fundación César Manrique, Lanzarote
Fundación César Manrique, Lanzarote
Fundación César Manrique, Lanzarote
Fundación César Manrique, Lanzarote
Fundación César Manrique, Lanzarote

On The Guardian, Oliver Wainwright writes that inside Manrique's house "Barbarella meets the Flintstones, the raw, primal geology of the Earth's crust furnished with streamlined 60s style." But we can also see a touch of Kubrick's Korova Milk Bar together with a pinch of Playboy Mansion atmosphere, but much more fluid and European – after his wife's passing, Manrique found happiness with a man, who became his life partner on the island − and an inevitable reflection of Gaudí, but of his most sophisticated features, not his slovenly Desigual-like touch that makes the quotations of Casa Battló's architect go down in today's most hip architecture and design circles. Those are the same circles in which César Manrique, the ecologist, precursor of alternative scenarios to mass consumption, Lanzarote's demiurge who can funnel unique art, design, and architectural projects, is now a star.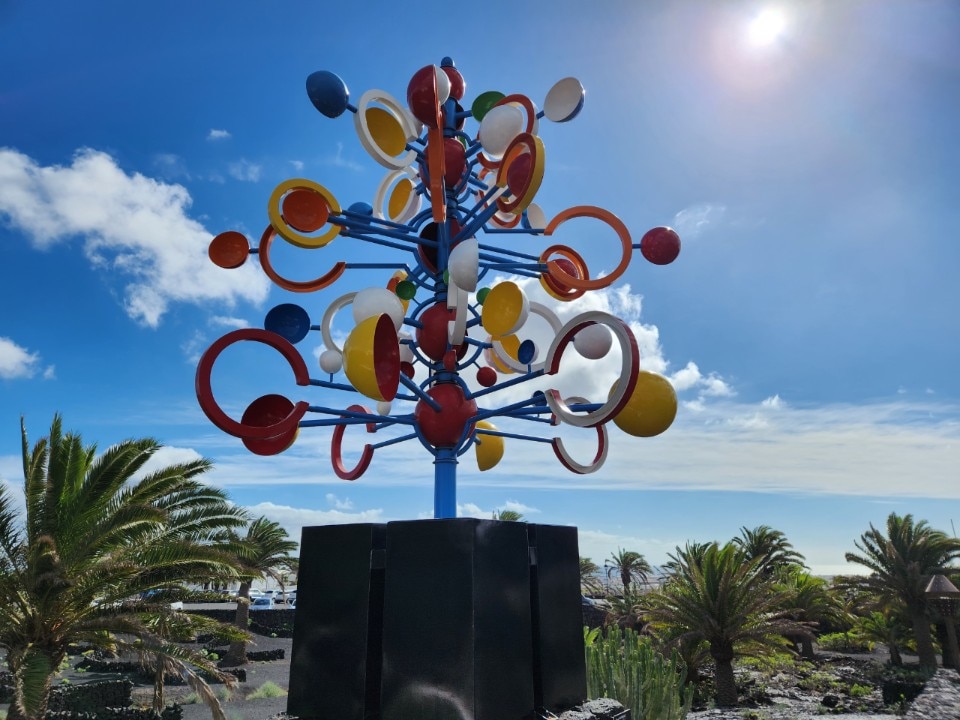 Acknowledgements:

This article was written on the occasion of Samsung's invitation to visit Lanzarote. According to the Korean brand, Manrique's designs connect the forms created by nature to those made by men, well representing the concept behind the lines of their foldable smartphones, Galazy Z Flip and Galaxy Z Fold. All images used in this article were taken with a Galazy Z Flip 4, unless indicated otherwise: when folded at a 90-degree angle, the sophisticated interface of the camera app allows the user to see an immediate preview of the photo shot in a dedicated part of the screen and to also frame the photo horizontally, just like we used to do with the old TLR cameras, a helpful set up for landscape, architecture and street photography. When open like a tablet device and connected to Bluetooth keyboard, the device turns into a useful typewriter.
Quotations:

In the article, there are some excerpts from the works of two important contemporary European authors: José Saramago, who spent the last years of his life in Lanzarote and received a mirror from Manrique, which is still kept in his house-museum, and Michel Houellebecq, who dedicated a libel to the island in which fiction and nonfiction intertwine, never mentioning Manrique or his work. As expected from the French author, in his book we can see a lot of misanthropy, pessimism and a clear melancholic inclination, but also his usual anti-irony – all characteristics that perfectly embrace the alienating landscapes of Lanzarote and its tourism.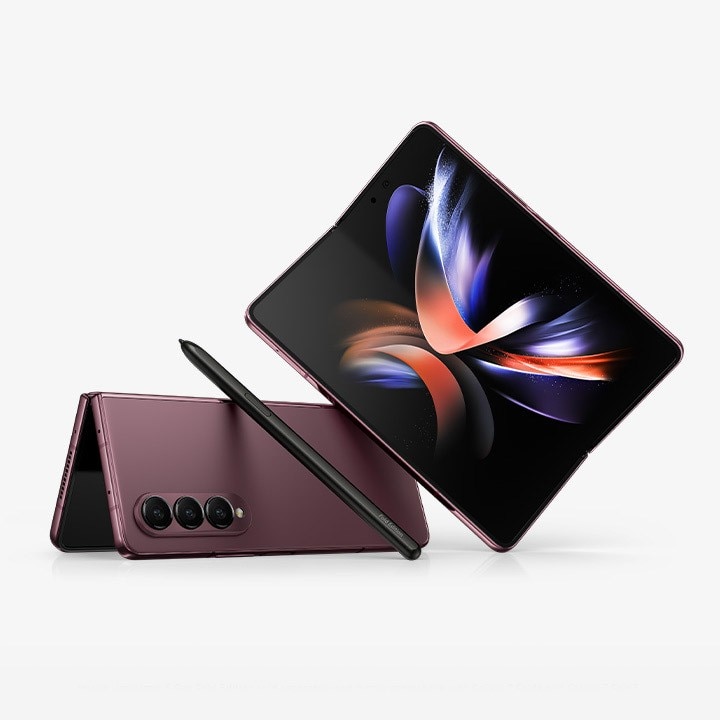 Samsung Galaxy Z Fold 4
Samsung Galaxy Z Flip 4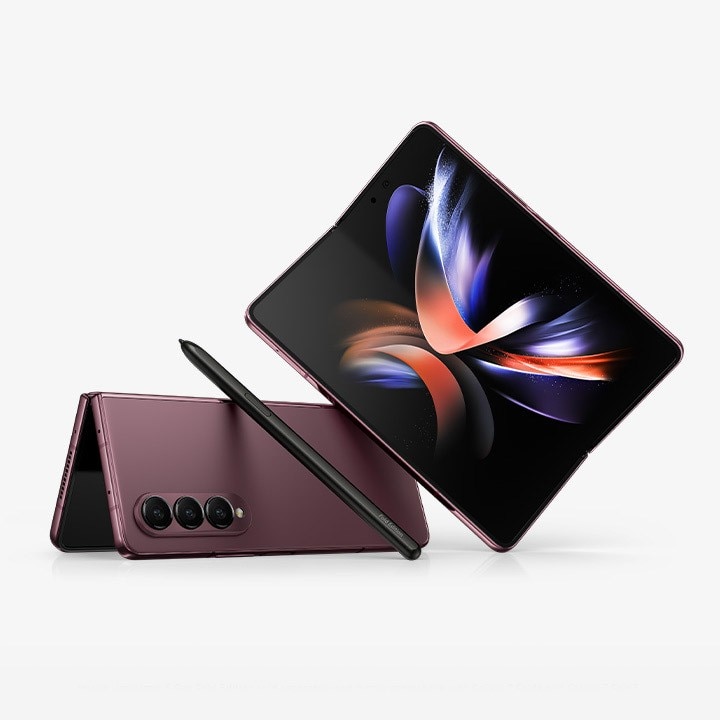 Samsung Galaxy Z Fold 4
Samsung Galaxy Z Flip 4