Did a kangaroo invite you to skip rope on your way home from work today? Were you late for dinner because you lost track of time while playing with a friendly dolphin? If you live in Bristol, UK, you wouldn't have to be high on mushrooms to say yes to either query; you simply would have met one of the city's kangaroos, rabbits, beetles and dolphins currently calling the streets of Bristol home.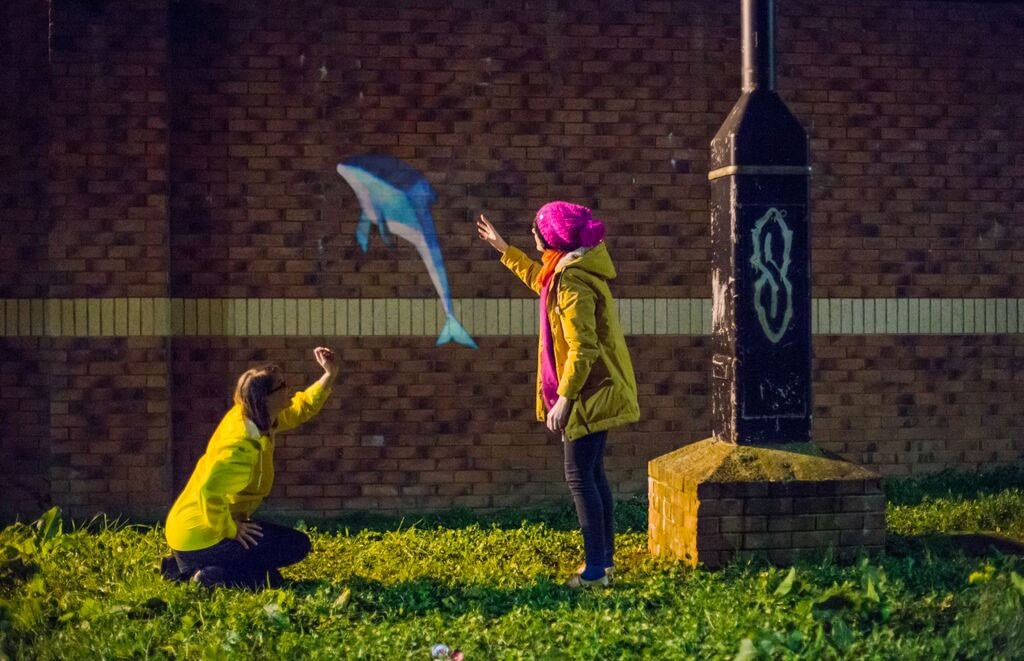 Collectively known as Urbanimals, these little beasts cleverly beat out 197 other competitors from 60 countries to become the 2015 Playable City Award winners. To be clear, 'urbanimals' aren't so much real animals as origami-like light projections that have taken up residence in eight locations across the city in order to playfully engage with passersby. Created by LAX (Laboratory for Architectural Experiments), the Polish experimental design team founded by Anna Grajper and Sebastian Dobiesz, this band of ephemeral merrymakers doesn't seek the limelight so much as the non-places of the city; the spaces you merely pass through. "It's easy to focus on the attractive parts of a city, but we wanted to shed light on the places of transition and find ways to improve them," Dobiesz explains. With Urbanimals, LAX aims to highlight that a vibrant city does not simply focus on its organs, but also its connective tissue.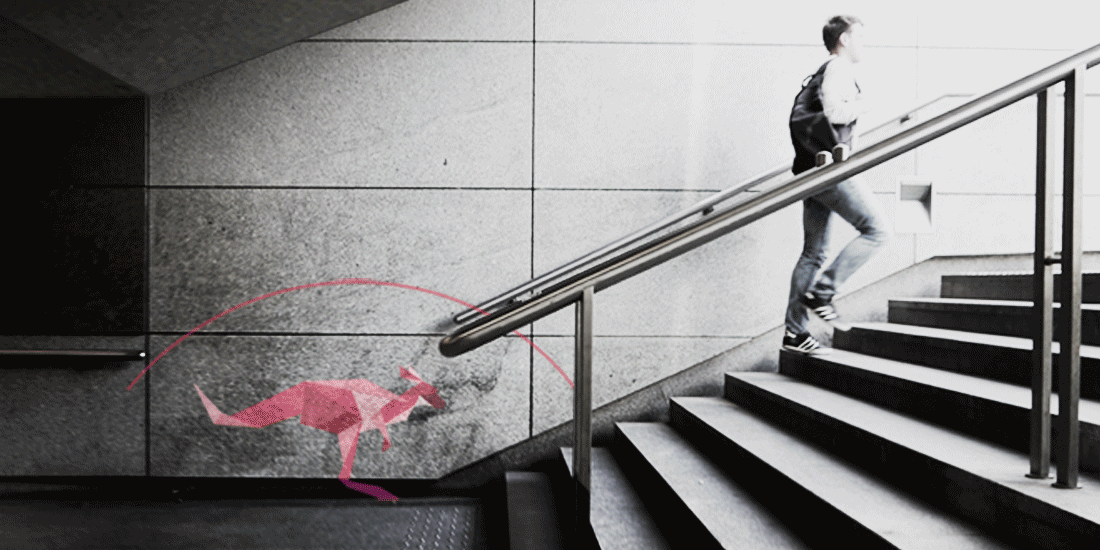 "It has been the most challenging installation so far," admits the Playable City Award's Executive Producer, Clare Reddington. Since 2012, Bristol-based Playable City has elicited creative proposals that combine creative technology and urban infrastructure in a way that fosters a more exciting, engaging and livable city through shared playful experiences. Previous winners, Hello Lamp Post and Shadowing, have enabled residents to engage in text conversations with street furniture such as bus stops and postboxes, as well as walk beneath lamp posts that capture shadows and play them back long after their owner has passed. While none of these have been simple to achieve, this year's project required particularly complex programming that would enable the animals to interact both with the city's architecture and inhabitants. Luckily, this kind of complex and creative challenge is perfectly suited to Bristol.
As with every Playable City project, LAX had the technical prowess of the Pervasive Media Studio, a whizbang community of can-do creative technologists, to coax the animals into making an appearance. Added to this is George Ferguson, Bristol's dynamic red-trouser-wearing mayor intent on making the city Europe's capital of creativity. A former architect, Ferguson is a champion of good urbanism, a fan of doing things differently, and a staunch believer that cities are about people and should feed the mind and soul, as well as the body.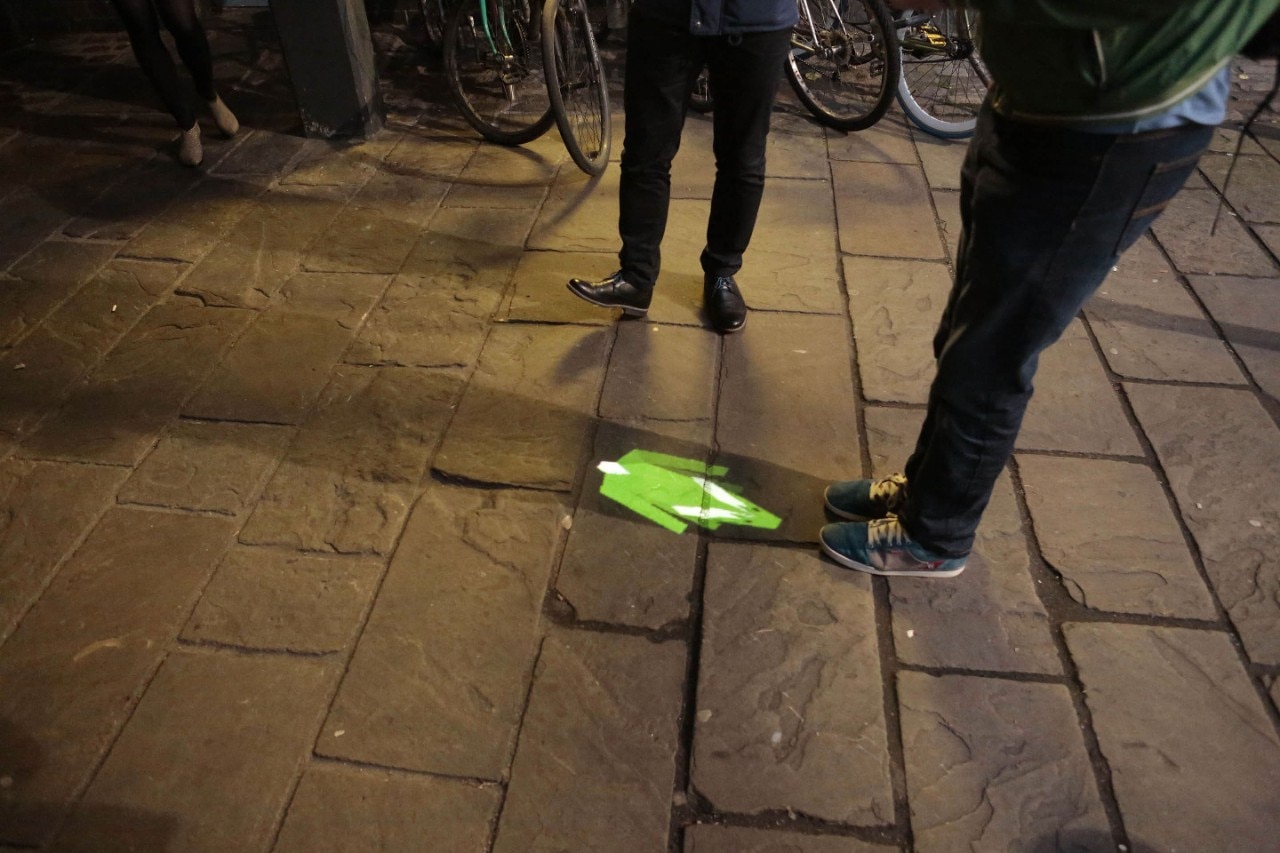 "I believe that my job as mayor is to encourage, inspire and enable, not instruct," Ferguson affirms. "Bristol should be a laboratory for change: if you want to experiment, do it in Bristol." Counting Jane Jacobs, the pioneering proponent of grassroots urbanism, as one of his heroes, the mayor is big on promoting civic engagement at all levels. He has set up "George's Ideas Lab," a website where citizens can suggest ways to improve their city, spearheaded environmental initiatives that earned Bristol the title of "European Green Capital, 2015," and developed the Happy City Index, the world's first city-wide comprehensive, live measure of happiness and well-being. Ferguson's progressive bottom-up approach to creating a city oriented towards the happiness of its residents reveals a refreshingly non-linear notion of impact. "We're serious about fun," notes the mayor known for turning Bristol's centre into a car-free carnival in the "Make Sundays Special" initiative that runs June through October. For Ferguson, fun is about more than just games; its about fostering a porous place where things get done and people are empowered to use the city in a constructive way. He maintains that by approaching complex urban issues with a sense of play, they can be rendered more human, thought provoking, and relevant to everyday life. LAX couldn't agree more.

"Bit of an unusual one," tweeted the local police one late September day; "if anyone has lost a kangaroo in the Dursley area please contact us on 101 and quote incident 462. We have found one!" While these glowing angular animals are designed to infuse wonder, surprise, and joy into the city's transient spaces, their creators are quick to note that their playfulness is also a tool to achieving something more substantial. Through our interaction with them, Urbanimals invites us to shift our habitual urban behavior patterns. "People might not notice what has changed in their minds immediately, and perhaps after a while they will even forget about the animals," Grajper says, "but they will remember that they saw the city from different angles and perspectives." Both LAX and Playable City recognise that the project's true impact may only reveal itself like a delayed shadow, long after the urbanimals have moved elsewhere. "We're interested in long-term change," Dobiesz affirms. "However people perceive the project now is fine. We believe that our approach and goals will be achieved over time." Now in its third year, Playable City has established roots in Bristol, with a growing body of work and cities such as Tokyo, Lagos, Singapore and Austin wanting joining the conversation. As it continues to playfully question the shape of our cities, its impact will continue to grow, deepen and emerge in unexpected places.

Despite being heavy on the feel good factor, the notion of playing our way forward on a city-wide scale is not always an easy sell. "Projects like Hello Lamp Post can be relegated to the category of performance art and left at that," sniffed one Playable City critic in 2013: "surely, it's not worth further scrutiny." Playable City would be the first to admit that play is not the answer to every problem. But to relegate it to performance art overlooks the valuable place it should have in the urban planner's toolkit. Ultimately play is about inclusion, engagement, collaboration and openness; qualities that are all too often absent in our cityscapes. Projects such as Urbanimals alert people to new possibilities at a scale that they can relate to, inviting them to use them as a springboard for their own plans and ideas. As the ever-astute Jane Jacobs so aptly remarked, "cities have the capability of providing something for everybody, only because, and only when, they are created by everybody."