This article was originally published in Domus 981 / June 2014
When I first spoke about the Italian Pavilion project with Pierluigi Nicolin, his immediate suggestion as a great veteran of exhibitions was, "Start with the display!" There lies a difficulty in staging a display of architecture. At the Art Biennale, the exhibits are works of art, presented in their physical form, but architecture is not transportable, so it can only be documented in two ways. The first is by means of simulacra like photographs, models and descriptions. But this diminishes the complexity of architecture as a phenomenon – physical presence, scent, the way light moves, materials.
The second way is to make the exhibition itself turn into a piece of architecture. Thus the dilemma is between "documenting" architecture and "remaking" it. Often the Architecture Biennale ends up looking like a display of architectural installations, which can, of course, be memorable. In 2008, the Belgian Pavilion's "After the Party" was an empty space with the floor full of confetti. It was strikingly beautiful in its brave monothematic approach. Since its debut in the Arsenale spaces, the Italian Pavilion has attempted to document a cross section of Italian architecture culture, either by critical sampling or by specially commissioned projects. After all, organising an exhibition is not so different from putting together an issue of a magazine. Both are made up of a selection of projects (and implicit exclusions) around a theme that is announced in the editorial.
Rem Koolhaas's guideline for the national participants, "Absorbing Modernity 1914-2014", is of great simplicity and pertinence, so I followed it enthusiastically. Almost by chance, the Italian pavilion is located at the end of his "Monditalia" show, which is an acute and idiosyncratic dismantling of the postcard-like image with which Italy has become invested over the centuries, only to end up hiding its multiform and contradictory reality. For this Biennale, the Italian Pavilion will examine the past century's architectural attempts to act upon our fragmented landscape in an "edifying" way by grafting new shoots of great modernity in the interstices that separate the preceding layers.
We accept Italy in its contradictions and different landscapes. Within these concrete conditions, some "people of good will" have rolled up their sleeves and operated with their culture inside the different concrete conditions with which every project is faced. I'd choose two projects as being emblematic for this empirical approach, at once innocent and cultured: Alessandro Antonelli's "Fetta di Polenta" (slice of polenta) in Turin, as a bizarre example of urban housing that contradicts every known typological model in order to adapt to the site; and Franco Albini's Treasure Museum of the San Lorenzo cathedral in Genoa, a subterranean invention that gives a finished form to the randomness of the lot upon which it rests.
Instead of aiming for a general, paradigmatic solution – the kind aspired to by the first modernists with their universalistic ambitions – these two projects constitute a kind of theoretic manifesto of the "case-by-case" method. Taking up Lévi-Strauss's famous dichotomy between the engineer, who has a method according to which he produces shapes, and the bricoleur, who assembles a series of existing shapes to pursue a specific end – we could state that in this show, the great classical culture of Italy's modern architects, instead of being used in a universalistic way to create neoclassical forms à la Durand, has been wielded to give substance and formal completeness to a series of utterly new problems.

This is a kind of cultured empiricism with which I feel in tune for my peculiar education, which is a hybrid of American experimentalism and Italian philological rigour. Architects who had studied Palladio and Vitruvius found themselves having to "graft" modern buildings on the rubble from the war, meaning that they were forced to deal with the existing morphology of the city. In the exhibition catalogue, on one page I contrast excerpts from Bauen, written by Hannes Meyer in 1928, with fragments from Amate l'Architettura by Gio Ponti. The former expresses the pureness and power of his "Calvinist" radicalism, stating that every project is "the result of the formula (the functional diagram and the economic programme)." He urges us to use new materials: Ripolin, Euboolith, viscose, asbestos, Torfoleum, cellular cement, synthetic horn, casein, Trolite plastic, cemesto, synthetic wood and tombac, half of which no longer even exist.
The latter proudly asserts how "Italy was made half by God and half by Architects" and exhorts readers to "love architecture for the fantastic, adventurous and solemn things it has invented with its abstract, allusive and figurative forms, which enchant our spirit and enrapture our thoughts as the scenic setting and salvation of our life," as a more poetic and comforting vision that well expresses the "anomalous modernity" of the situation in Italy. The choice of title for the Italian Pavilion, "Grafting" is in my eyes quite distinct from the naturalist obsessions of today's theories, which are animated by a sense of guilt and the desperate search for an infallible paradigm.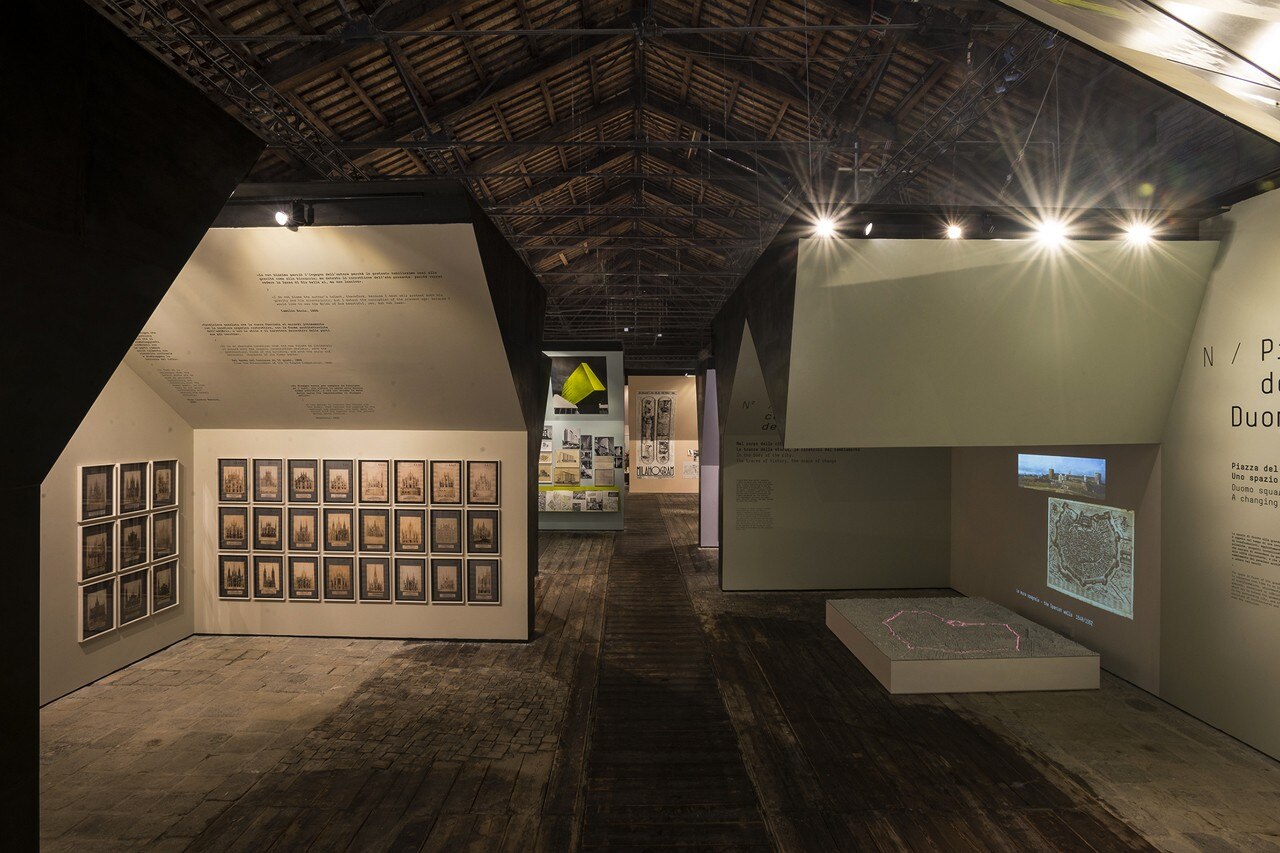 To me, grafting is a human act containing a certain degree of violence, fallibility and the ability to learn from our mistakes. It also contains responsibility for actions that modify an existing "organism" that is by no means a tabula rasa. This reading is obviously focused on the situation in Italy, but does not pertain to it exclusively. Gunnar Asplund's project for the Royal Chancellery of Stockholm is no less of a "graft" than Giuseppe Terragni's projects for the renewal of the old city centre of Como. In the first room, our display mimics the density and regularity of an urban space. It is dedicated to Milan, seen as a "workshop of modernity".
The second room evokes the narrative character of the landscape, showing a selection of contemporary Italian projects, and ends with a number of "postcards" sent in by foreign architects. But the display does not only host the contents I've just described – it begins and finishes with two actual, physical "grafts" on the existing space: a metal portal (affectionately dubbed archimbuto, which vaguely translates to "archifunnel") that is a prosthesis for the pavilion's facade, and a long bench-sculpture in the garden (nicknamed with a hint of irony "the ribbon of the Virgins") that is available to the public for events and as a resting place. Because of the timeframe, the exhibition design was "home-made", but it features two cameos: Modus Architects (for the Expo 2015 section) and Matilde Cassani (for an area where a montage of amateur videos will be projected). Quoting Maria Angelou, the pavilion's spatial conditions mimic what the images and texts say, in the hope that the public might "forget what we said, forget what we did, but never forget how we made them feel."