You're the Design and Applied Arts Department Head at Naba. What value do you put on interdisciplinarity?
The interdisciplinary point of view is a necessary resource that must be nurtured and it is even more important when we pursue innovation: it is becoming clear that nowadays the complexity level of things is high, so it obviously requires a multidisciplinary approach to research and interpretation of solutions. Our Applied Arts department includes specializations such as Communication, Graphic Design, Fashion Design, Media, New Technologies and Set Design, and the fact that these specializations are found within an Academy of Fine Arts is a significant point, in fact, it reflects the importance of contemporary art methodologies, of the personal approach to the interpretation of themes. We always say that our school doesn't produce followers nor styles, but works on the individual's ability to find new readings, new interpretations and connections between things.
So how do you put it into practice?
We offer students the opportunity to work on extra didactic, often on intensive projects. In particular, we have introduced under the name of Design Marathon the hackathon mode within NABA, and we carry it out involving important companies and students of different specializations. It is precisely in this context that the project emerges as a much more interesting form compared to the classic market analysis, that we call "project based forecasting". The interdisciplinary component is crucial: I like to think of it as a vector field that opens up between polarities that think and move differently. The more we are different, the more we create project spaces. The more the two of us are in tune, the more difficult it will be for something new to come out of working together.
The "learning by doing" approach remains the basis of the NABA method. An approach that is claimed by many today. How does yours stand out?
I quite agree that's a somewhat overused definition. In our case it is a question of finding the right balance between providing theoretical knowledge and making students acquire it independently through their projects. I was saying earlier that our school doesn't create followers because our method is to ask our students to learn by themselves: I would call it "learning doing". Assimilating the proactivity that the world of creative professions now requires allows us to imagine things that are not there, to envision, to innovate.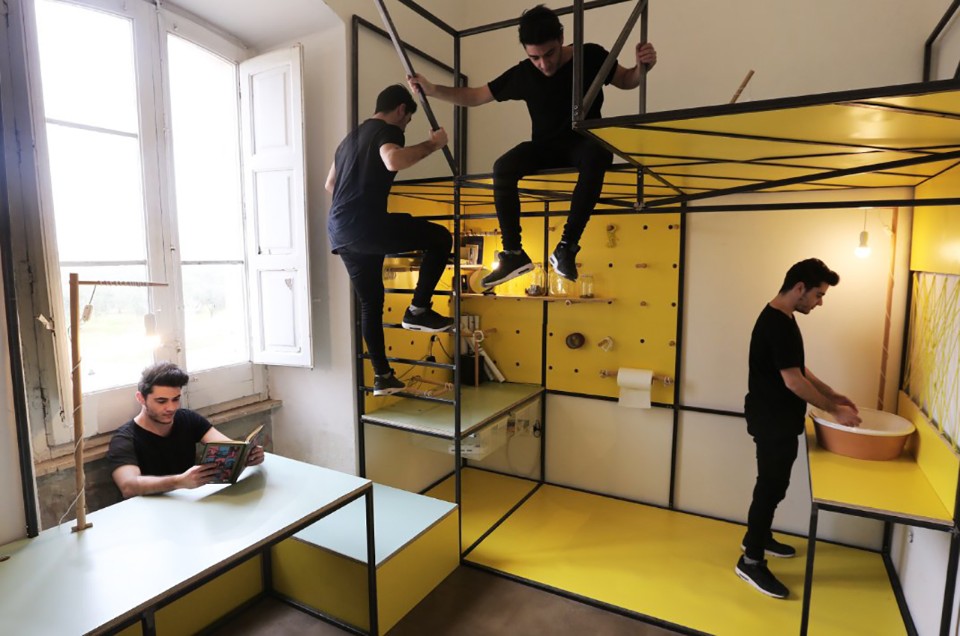 You are Course Leader of NABA's two-year course in Interior Design. What do you think this generation conveys in relation to the home environment? What are the themes that fascinate them? Are they sensitive to fashion?
The home theme is extremely interesting because it is enriching itself with a variety of completely new narrative dimensions, but it is also complex to deal with at school because of its connection to one's own intimacy, and therefore with thorny aspects. At this moment you can obviously perceive the progressive erosion of the idea of home in terms of privacy and buen retiro. More and more open and public, the house is becoming increasingly oriented towards the world of virtual and digital relationships as well as physical ones. However, I find it difficult to identify a single theme among those that fascinate students because there is now a 360-degree reception of what happens on all platforms. In terms of style itself, there is an almost unintentional eclecticism: the world offers such a variety of ideas, inspirations, projects that the key really becomes to understand how to mix them. More than the search for stylistic homogeneity, what we are observing now is the work on the ability to hold together many different pieces.
Tell us about "Pop! Abitare voce del verbo popolare" and what are the unexpected results that the project obtained?
It is a beautiful project that was proposed to us by Metropolitane Milanesi, as far as we know it has no equal either in Italy or in Europe. The idea is to create a magazine for the inhabitants of Milan's council houses - we are talking about 50,000 people, the size of a provincial capital - that employs communication as a form of reconciliation with the community of tenants. POP is a 100% made in Naba project which involves students in order to find meaningful personalities, collect stories, organize projects for the public spaces. The best part of this work is then packaged and printed in 30,000 copies. It's an exciting project that has made us understand how much employment opportunities in the social design field are growing: that's why we're launching a two-year course in Social Design this year. In order to make certain public projects work, there is no need for bureaucrats, but for designers who no longer sit on the Empyrean and know how to work among communities.
Another way to be hands on.
That is a very good definition, if you will. Hands on not only with physical matter, but also with the social body.