Alessandro Mendini, Scritti di Domenica (edited by Loredana Parmesani), Postmedia Books, 2016, 600 pp., 97 ill.
I imagine Sandro Mendini reading the nth review of Codice Mendini that Electa brought out in May thanks to the courageous, devoted and meticulous work of Fulvio Irace, who thirty years ago came to Milan from Naples, called upon by Mendini himself to work with him on the magazine Domus. I see him oscillate between the sense of guilt of one who feels too much, admired, studied, praised with respect to a mixed profession that, after all, he has always practiced for love and vocation and the irreverent and slightly sadistic sneer of the small-time crook who thinks "you'll never catch me". And it is no coincidence I think that while in May this huge book came out, the biggest ever written on him (368 pages, 55 illustrations, 50 years of work) with a cover that "looks like a small-scale reproduction of EUR", together Postmedia Books have published his Scritti di domenica, a mass of thoughts, letters, messages, short essays, interviews and incursions whose linchpin is the rigorous, well-honed writing, amid which one can read some of the most interesting lines to appear in design literature in the last hundred years.
Codice Mendini is a summa, a "canon" as brilliantly defined by Lea Vergine but there are hardly any people in these pages and when there are, they are characters, in other words people "bent" to that stage of his history: literary or artistic figures, or anonymous artisans met on his unsuspecting travels. Scritti di domenica is instead a kind of homage to people. A world of friends and not, acquaintances and otherwise, colleagues and others. All united by being the object of these correspondences. But it could also work quite well: on one hand the election of the objects themselves to figures, to novels, as Irace says, with which he entertains a loving relationship, personal, anthropomorphising, that seems almost to substitute human need. On the other, in his writings, the turning of people into objects. Or private in public. About which one cannot therefore be shocked, because if it comes from there, one knows that it can only be a promotion to a higher level of purely human interest.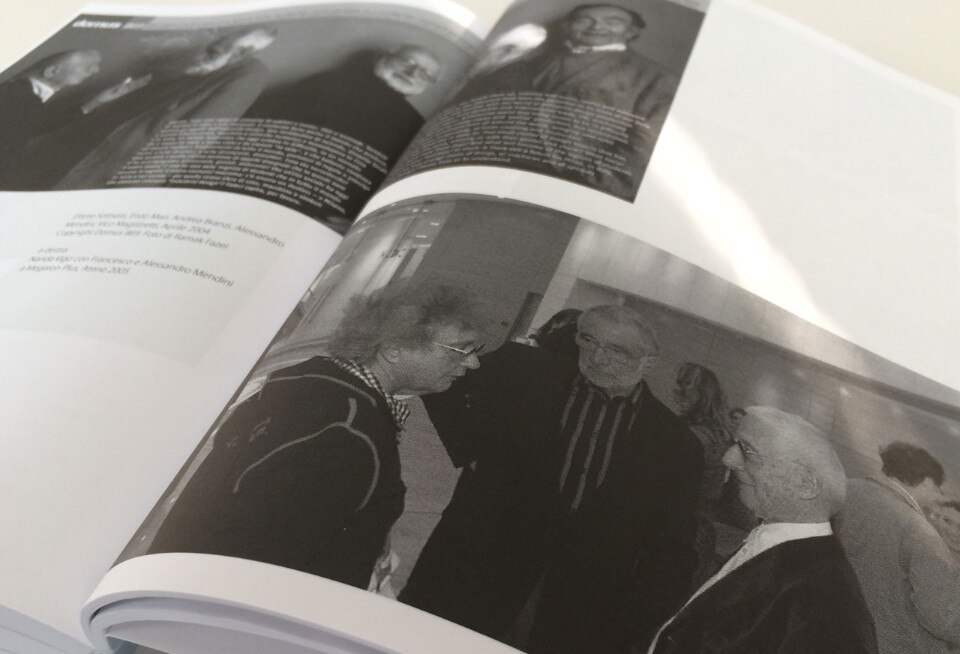 So it seems that these two books - Scritti di domenica and Codice Mendini - should almost be read together. Not to understand more, but to understand that if, as he says in one of the most moving parts (p 265) "for me, dwelling is a difficult activity", inside the Mendini spiral one can also cheerfully experience difficulty.
Sandro is one of the masters of design – perhaps along with Ettore Sottsass, albeit in a profoundly distant way – the pen improves. He is a communicator, before being a designer or an architect. Yet Mendini, I think I've said it before, you cannot really totally understand. Because you would do him a disservice. He is undeniably one of the last great masters of Italian design, a figure who cannot be compared with. But you can't study Mendini: he has no students, he has hardly ever taught, "I don't believe I have messages to transmit unilaterally", as if there were no accounts of his teachings in his every tremulous dream impressed on paper or in a design. Yet with this book, one can study design through Mendini, magnificently. He is a person who stays in the head of those who have the good fortune to come across him with a trace of myth, education, gallantry that should be cited because they are genetic gifts, artfully cultivated. Yet he is one of the most caustic, radical, pungent and synthetic observers of human and professional weaknesses with respect to which he has always found an elegant way to handle with kid gloves or soberly keep a distance. "Not a great master, come on, if anything a little master": thus are saved both the veneration suffered albeit mocked and that snobbishness, by his own admission, somewhat typical of the Milanese bourgeois that he is part of, and that finds nothing similar today nearby in Italy. "You need to go perhaps to Korea, where they make me do things that here in Italy they don't ask me anymore and I found a kind of bourgeois similar to the one I came from, only perhaps more rustic and unsophisticated" and where, I imagine, maybe one day Alessandro Mendini will be elected a national hero, being able to practice undisturbed his unattainable utopias. As if to say: when we seem to get close to a Mendini immediately another one comes along, almost always to under-dramatise or remix the definitions, with that ironic modesty, slightly snobbish, that one can only allow oneself if you have learned how to walk on all surfaces, without being sucked into them.
Scritti di domenica is a valuable, serious and curated collection of writings that we had forgotten about (his "typological" contributions for Boeri's Abitare for example), that we didn't know (private letters, interviews published who knows where that he had meticulously kept track of) that we reread, back and forth, from the end to the beginning, skipping pages and each time finding surprises. But it is also a manual of writing applied to design. One describes as "Sunday poets" those who – having other occupations in life – every so often take out a piece of paper and inkwell and have a go at being a writer. Nothing could be further from Alessandro Mendini who, with this title that describes with precision a human practice and a professional methodology that he has used for years, he decided to give over the holiest day of the week to writing. And in the end, certainly, the modest question, that fuels also the myth of the Mendini a bit superhuman, a bit isolated, saint or sinner, who writes – on Sunday, in fact – a letter to the outside world.
"Who is Alessandro Mendini though?" – the art critic Lea Vergine asked with theatrical perspicacity, at the Milan presentation of the book recently published by Electa – concluding, after a series of wonderful conjectures, that Mendini "is certainly not a holy picture of the postmodern as they wanted us to believe", but is perhaps, in the end, a dramatic character. It's true: Mendini is the dramatic figure in the play so dear to him, he is the wit that rejects grief, he is the sadness in the irony of kitsch, he is the impotence in the Gulliverian act. And he is also the opposite. He is a method for constructing utopias.