Banksy. Il terrorista dell'arte, Sabina De Gregori, Castelvecchi, Rome 2010 (pp. 256, € 25)

"Some people become cops because they want to make the world a better place. Some people become vandals because they want to make the world a better looking place"… If you think that is one of Oscar Wilde's aphorisms, you are wide of the mark. The quote is attributed to Banksy, the most famous living graffiti artist. Banksy. Il terrorista dell'arte (Castelvecchi, p. 256, 25 Euro) by Sabina De Gregori, a scholar of Street Art and modern-day languages, focuses on his adventure and exploits. Despite having been on the scene for 20 years or so, the mysterious artist-guerrilla (whose identity, if indeed he has one, is officially unknown…) did not catch the eye of the mainstream media until 2003. An article by Simon Hattenstone Something to Spray, published in The Guardian, dates from 17 July of that year and articles and reports have flooded in ever since.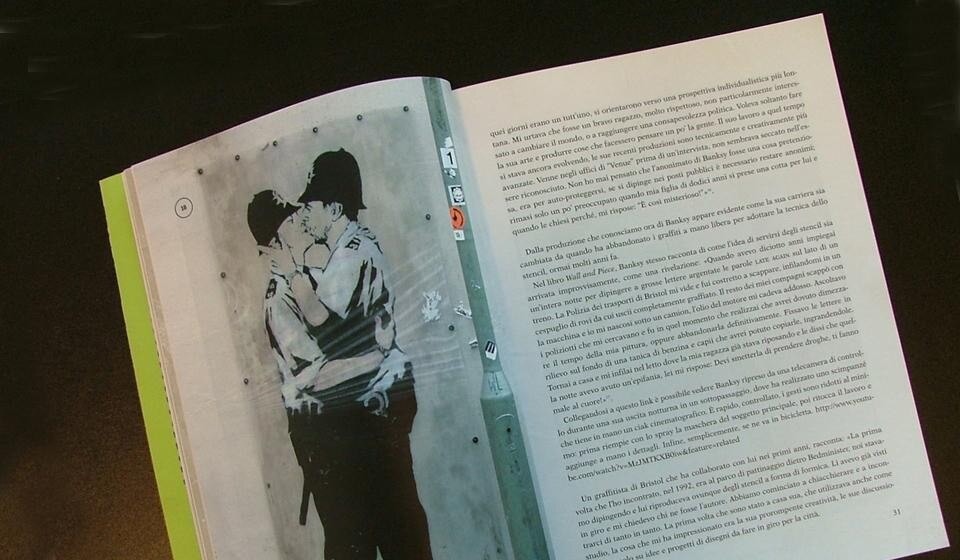 Just who is the king of Guerrilla Art, the man who vanishes behind his work and manages to sneak into the world's leading museums? Who is concealed behind the writer who even managed to leave his mark on the Israeli separation wall in 2005? Many names have been put forward but there are no certainties so in her book, the author zaps between people and places, pursuing clues in a sort of "hip-hop fox hunt". She starts in Bristol, the artist's home city and cradle of the trip hop movement and music groups such as Portishead and Massive Attack. Indeed, it was a member of the latter, Robert Del Naja (alias 3D), who inspired Banksy, "When I was about ten years old, he was painting the streets hard. I think he'd been to New York and was the first to bring spray painting back to Bristol.... 3D quit painting and formed the band Massive Attack, which may have been good for him but was a big loss for the city. Graffiti was the thing we all loved at school."
1998 brought consecration. Bristol became the European writer capital and Banksy its prophet. Walls on Fire, an event he organised, saw dozens of artists from the Old Continent spend a whole weekend painting a 365-metre city fence. The rest is recent history. From the trompe-l'oeil of a naked lover hanging from the window sill of a bourgeois house to the dandy-rat in top hat and tails painted under London's bridges and from the cover of Blur's Think Tank album to a portrait of John Travolta in a scene from Pulp Fiction holding a Warhol-like banana instead of a gun. And so on to in 2010 and his latest brilliant foray in Park City, Utah, during Robert Redford's Sundance Film Festival. There, and a few weeks later in Berlin, the artist surprised everyone with his latest project Exit Thorough the Gift Shop, a fake autobiographical documentary. His attendance was announced on both occasions but those who had hoped to see his face at last were disappointed. Yet again, Banksy managed to talk about himself through others, without showing up…