The doorbell rings and I go get the envelope.
I open the package very quickly and I throw everything unnecessary in the bin. I only keep the box with the smartphone inside, and I clean it with a surface sanitizer. Then, I take out Huawei's new flagship smartphone, the P40 Pro – and I disinfect that too.
In a parallel world, in which Covid-19 doesn't exist, I would now probably be in a European capital, Paris or London probably, in line to pick up the sample phone after Richard Yu's presentation, who's the CEO of Huawei's Consumer BG. Instead, I watched the presentation all by myself, on YouTube, and exchanged a few opinions with my friends and colleagues on WhatsApp; Yu himself was completely alone on the stage. Normally, there would have been one or more guests with him - once, he even got on stage driving a 911 (but there was a reason for that: he was about to announce the partnership with Porsche Design).
This is a dystopian scenario, and dystopian is somehow also the new lineup of high-end phones that Huawei has just launched. The Huawei P40 family runs on Android 10, Google's latest mobile operating system, which is based on Linux and therefore is open source. However, P40 smartphones don't have access to any Google services: last year, Trump decided that Huawei had been spying on the US, and effectively banned the company with a national security order. This means that your new P40 smartphone won't have any of those apps that have made Google, Google for over 22 years. Starting from Google Maps, which, ironically, the delivery guy probably used to get to my house to give me this beautiful and Google-less smartphone, which was launched live on YouTube, a Google's subsidiary since 2006, the year of its acquisition. And so on.
"As TV and radio bring us news and information en masse from all over the world, probing technologies, such as telephone and computer networks, allow us to go instantly to any point and interact with that point." This wrote, with prophetic lucidity, Derrick de Kerckhove, the great media theorist in his 1995 masterpiece Skin of Culture. In which, among other things, he focused on a necessary reformulation, in the computer age, of the relationship between inside and outside, between man and environment, elaborating the metaphorical image of a human "breathing in complex information and breathing out transformed materials." Electronic technologies as extensions of our self and as a completion of our mind to help us get around the world: it is difficult to think of a company that has better realized this vision than Google. Especially since the smartphone, always in our hands, always in our pockets, has become our greatest "electronic extension".
Read also: Domus interview with Derrick de Kerckhove

"From digital assistant to digital master"
How do I spell this word? What does that other word mean? How do I get to this place? What is the phone number of the pizza place down the street? These are all pieces of information that we no longer bother to keep in mind, because Google does that for us. On the other hand, "Our brain doesn't need to be fast, as long as it's smart, i.e. well connected", de Kerckhove once wrote. Not being able to access certain information that we take for granted is alienating, as if a part of us had been taken away; it is the same kind of disorientation that any tourist visiting China experiences, if they don't have a good VPN to elude the national blockade towards Google: you can have lots of alternatives, but it is almost like being hangover. 
"You appear to know the answer to every question. But actually, you need to look it up every time. Our memories are declining, we don't need to remember hundreds of telephone numbers anymore like we used to." This is the dark side of the smartphone, as Danny Boyle told Domus. According to the English director, in return for our lovely injection of comfort, we're getting as lazy as the inert humans in the movie Wall-E, fat and lazy and with our eyes always stuck on the screen. Meanwhile, it's true that our digital identity, the one we somehow naively keep imagining in our devices, travels over our heads; me, who tries a number of Android phones for work every year, I've gotten used to seeing those devices - with more and more beautiful displays and more powerful cameras - as the bodies in which the characters of Altered Carbon are reincarnated: mere casings, and as soon as you switch them on,  an extended soul of data settles in through the login to my Google account. After all, our smartphones have become our extensions. And we have become theirs.
Years of photos, my documents from the last decade, passwords and contacts, my personal calendar. A list of all my Android apps, including the ones I bought. The Google keyboard that has learned how I type. It's just some of the data that I've asked Google to store for me, perhaps without thinking too much about it. Google Mobile Services (GMS) are that ecosystem of services that you're usually offered when you buy an Android phone. They're represented by a universe of individual apps that many smartphone manufacturers put together in a nice Google folder that you find in the home the first time you turn your new phone on: Gmail, Google calendar, contacts and so on. YouTube and Google Maps, the almost useless video calling app Duo and so on. Since May of last year, after the Trump government added Huawei to the U.S. Department of Commerce's Entity List, the Chinese company can no longer integrate GMS into its phones. However, this did not stop Richard Yu. Summer comes to an end, and, in September, he presents Mate 30, the latest update of what had started as a phablet lineup in Shenzhen; at the end of March, paradoxically on YouTube, Richard Yu launches the new P40 series, yet another confirmation of Huawei's well-established design tradition: a new Leica camera, with a higher 40-megapixel resolution and maybe a few more lenses than last year (the P40 Pro Plus has 5 lenses!); the latest Kirin processor, great fluidity, a battery that lasts even longer; a revised and improved device design (all 4 edges are rounded in the P40 and P40 Plus, we'll talk about it again). There's EMUI 10.1 user interface and there also is a great gesture control system, just like in the latest Google Pixel (is it a coincidence?).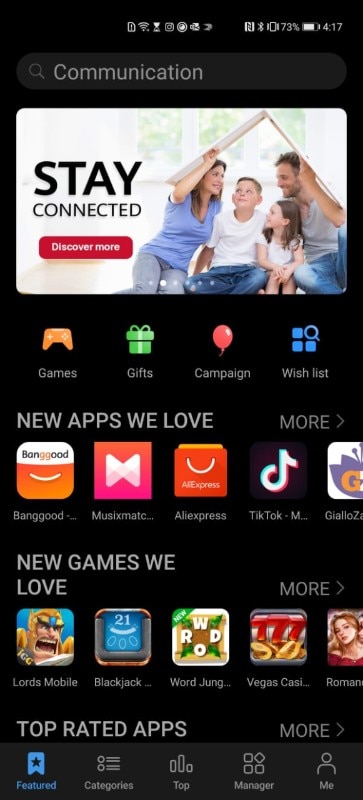 To make it short, Huawei P40 Pro, the one I tried out, is a great new smartphone. To replace the proprietary services of Google, the Chinese company chose the Huawei Mobile Services. They make up for it quite decently, but this means that you need to subscribe and upload your data on a brand-new Cloud all over again, for which you'll also have to spend more money in order to have more space and so on. There's a new app store - AppGallery - and you can get (by following some tips and tricks) many of the apps that all the other Android devices have, except for a few that don't really run without GMS. You can also set up Google as a search engine (but forget Google Chrome) and soon you'll have a voice assistant (Celia, which sounds a bit like a Chinese Siri). How is life without Google? After a few days, the feeling is a sort of exotic intoxication, as if one day you wake up and discover you've been living in another country for a while now. A country where, it goes without saying, Google Maps doesn't work.