It is a sudden and almost unintentional but fairly uncommon and slightly vintage action. Stopping to look up at the giddy and constantly evolving urban fabric of Hong Kong is a poetically artistic action that promises a vision of a different city.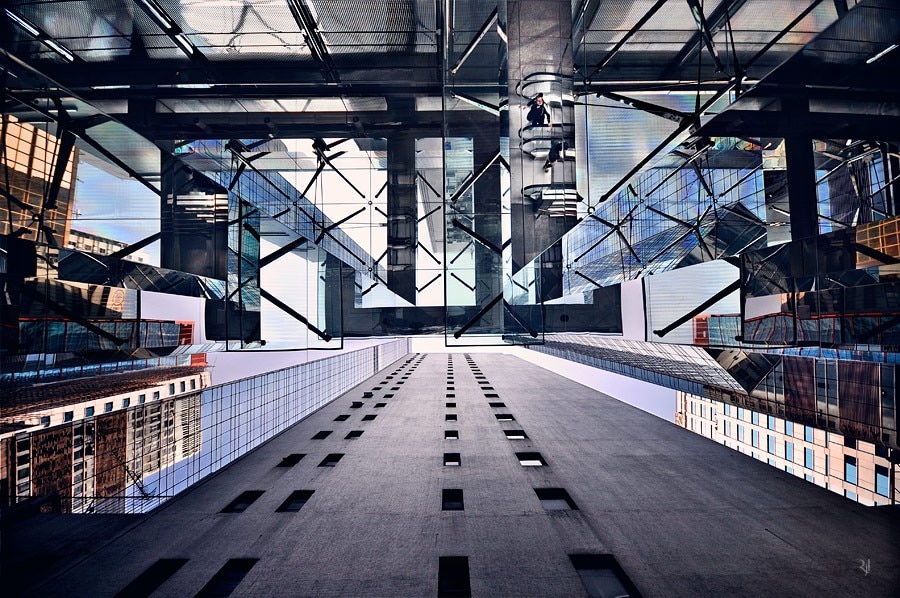 This is how Romain Jacquet-Lagraze observes and photographs the large and constantly changing Asian capital – vertiginously from the bottom up. Twenty-six years old, born in Paris and with a Master from IMAC – Université Est in Paris (a multidisciplinary school of engineering), he started out as a graphic artist and then changed his focus. When in cities such as Los Angeles and Tokyo, he found it impossible to be unmoved and started taking photographs. Romain arrived in Hong Kong in 2009 and was initially fascinated but then started to feel at home and decided to share his viewpoint of the megalopolis with all the distracted passers-by.  The photographs in the Vertical Horizon series, presented at the Hong Kong Affordable Art Fair by AO Vertical Art Space, give visitors a clean and perfect but equally irregular idea, one that makes them giddy in the opposite sense, too.
"The city of Hong Kong offers contrasts with a decadent old mansion standing beside a modern building in a completely different style. The contrast in the urban features is a pleasure."
Francesca Esposito: It is a long way from Paris to Hong Kong. How did you get here?
Romain Jacquet-Lagraze: A strange sensation grabs you when you finish university. You want to visit new places and explore the world. By the time I was 22, I was already in Asia, in Tokyo. Freshly graduated in graphic design, I was completing a six-month internship. As I was nearby, I decided to move to Hong Kong, a city where I find beauty, chaos and life.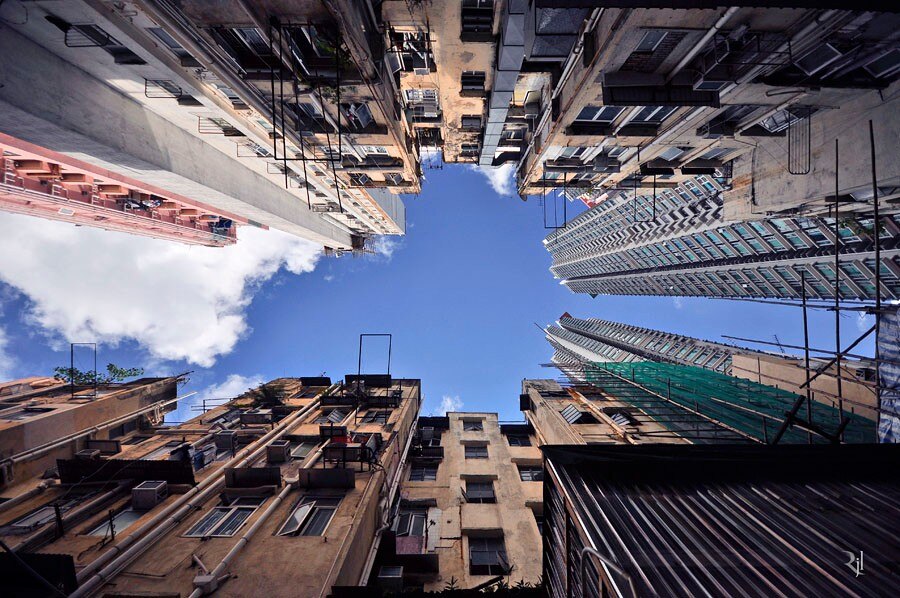 Francesca Esposito: What is your relationship with the "megalopolis" of Hong Kong?
Romain Jacquet-Lagraze: The feeling I get living in Hong Kong is, in one way, that of being at home.  Initially, it was a sense of fascination and curiosity. The city is truly staggering and not just because the size and environment in France, where I grew up, are totally different. I have learnt to love this megalopolis year after year. Now I am in love with the sensations that only Hong Kong can offer. You feel like a small body in a huge place and I try to convey this via photography. I had visited Tokyo and Los Angeles, and Paris of course, and before Hong Kong I thought Tokyo was the most interesting city on the Asian scene. I had a certain impression of a megalopolis in my imagination. Once here, it shocked me and I stayed.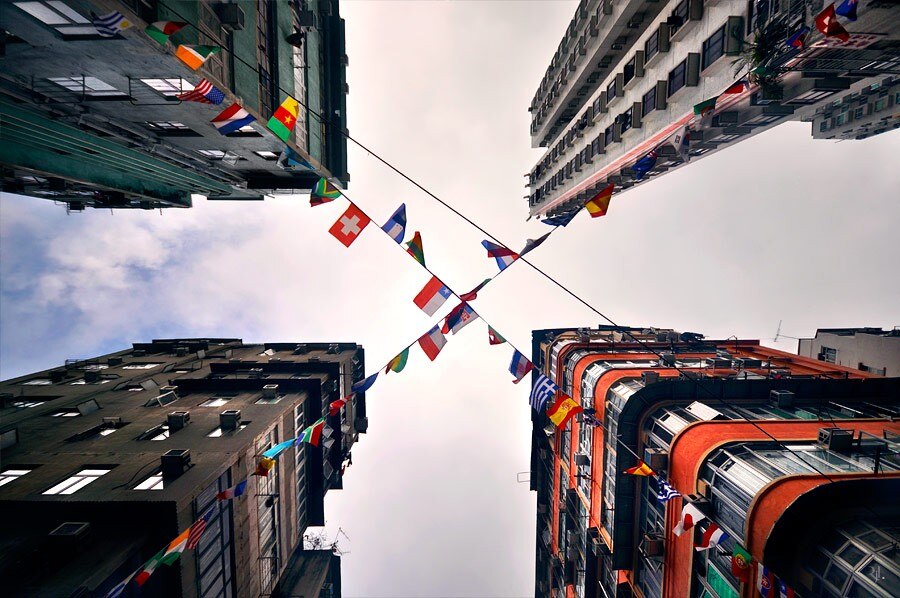 Francesca Esposito: From graphic artist to photographer. Why?
Romain Jacquet-Lagraze: The creative part of my work is more closely linked to drawing, painting and multimedia software. It is hard to say, but here I realised that the city brings many emotions and sentiments with it. It is expressive, especially so the districts such as Jordan and Tsim Sha Tsui. I no longer had to draw anything because the skyline conveys every message. What I had to do was record the city because it has a very strong visual impact. I love its aesthetic tenet. Although many think it is untidy and dirty, it actually reflects my aesthetic concept. I like things that are beyond control and chaotic.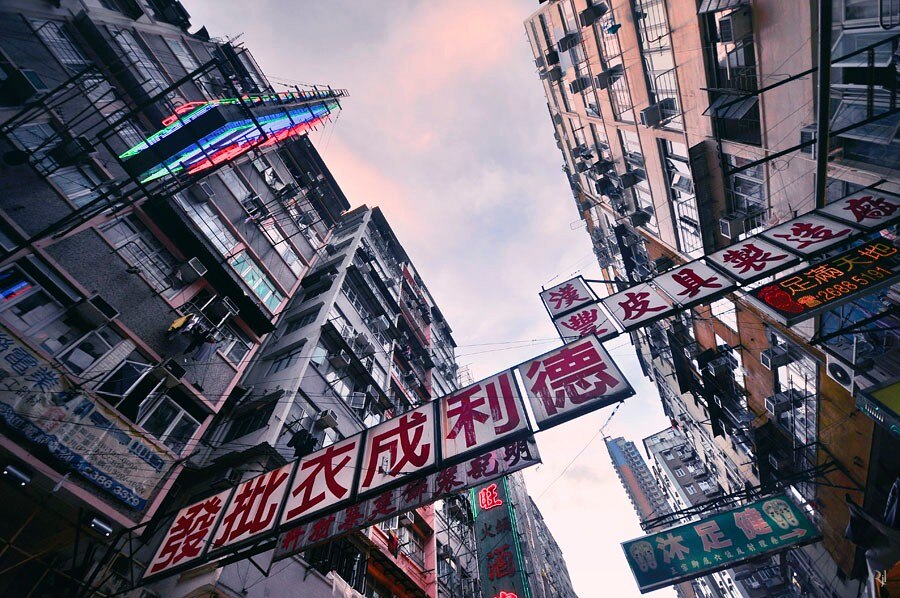 Francesca Esposito: First there was chaos. How do you relate to this primordial aspect, which you often mention with regard to Hong Kong?
Romain Jacquet-Lagraze: Chaos is fundamental, perhaps because of my background. I come from Paris which is in no way a chaotic city. It is perfectly structured and sometimes boring. For example, where do you feel the light in the streets? What I like here is that it replaces human control.  People no longer have any control over what they construct.  Buildings are placed randomly one beside the other with no precise plan. I see chaos as the pure expression of life.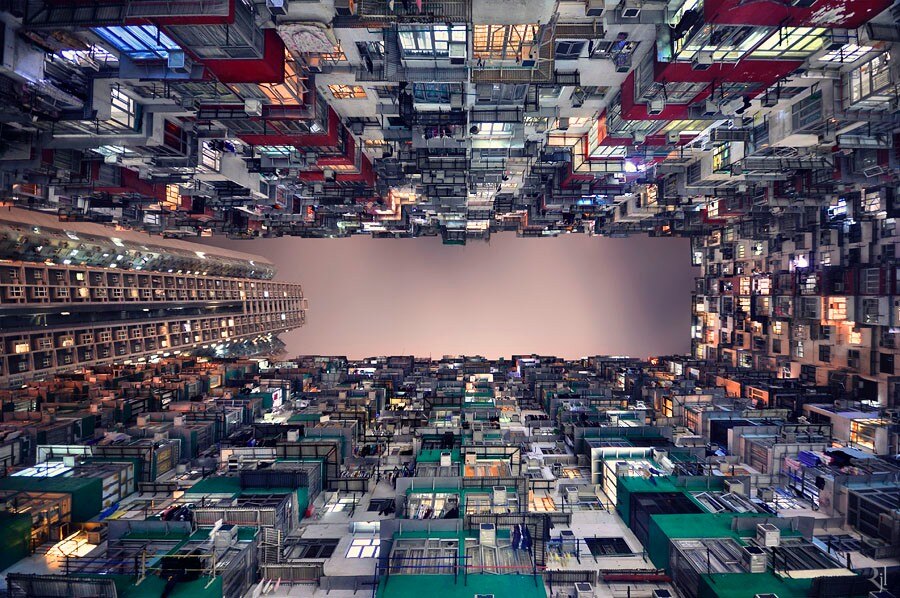 Francesca Esposito: The eponymous book in the series Vertical Horizon has just been published by Asia One Product & Publishing (AOPP). What ideas on architecture have you developed here?
Romain Jacquet-Lagraze: Architectural photography is a recent discovery made on my trip to Asia. I am hugely fascinated by geometric forms but I sense that the buildings are entities totally beyond the control of the architects who designed them. It is as if they no longer belonged to the original idea behind them. A building starts to live an inner life of its own, as you realise when you look at details such as air conditioners and windows.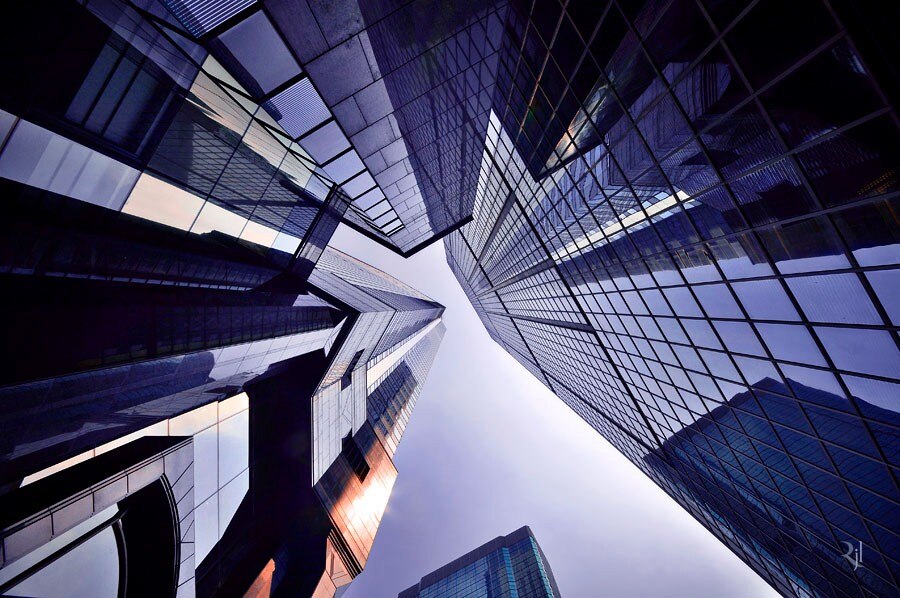 Francesca Esposito: What do you feel when you look upwards?
Romain Jacquet-Lagraze: It is a feeling of seeing the city from a different spot, a space where you feel like a tiny speck of dust in the surrounding environment. One thing I have noticed is that you never notice the architecture when you live your daily life somewhere. You go mechanically from A to B without really seeing anything. In this way, I perhaps convey an awareness of what it is like to live and move around huge concrete giants.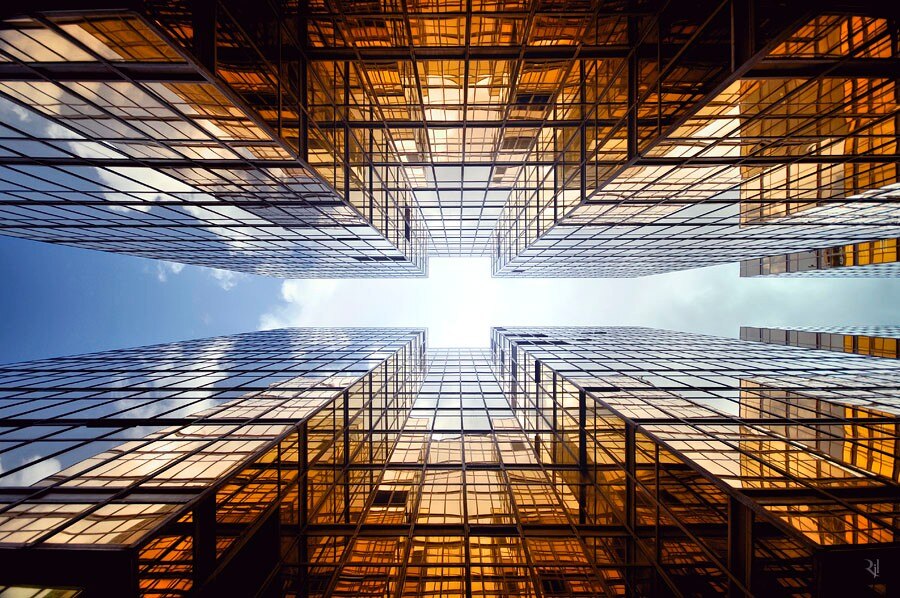 Francesca Esposito: What places are you crazy about?
Romain Jacquet-Lagraze: I like exploring central districts such as Yau Ma Tei and Mong Kok because they are packed with detail, from the skyscraper and building facades to the spontaneous vegetation. Moreover, the city changes very quickly and when you have been away from Hong Kong for just a short while you realise that the situation has changed. The shops, colours and forms change in a flash. The city is vertical and offers different points of view, depending on how you look at it. You can also take a bus and be out of the city in no time, getting lost in nature.