We know about the carpooling phenomenon from Hollywood. Thanks to the world of cinema it has entered into our imagination: the pick-up that crosses the arid, sun-drenched city suburbs early in the morning, to collect daily workers who drive to the villas in the hills of Los Angeles in trucks full of men; and the lucky ride when hitching a lift right in the middle of the New Mexico desert.

Mexican photographer Alejandro Cartagena has documented the passage of workers to building sites, where the suburbs of Mexico are expanding. With this work, Cartagena adds a new piece to the carpooling universe, and to the complex portrait of Mexico he is actively creating.

Alberto Sinigaglia: What exactly is your Car Poolers project about?
Alejandro Cartagena: They are pictures of men riding in the back of trucks on their way to work to construction sites and houses in south Monterrey. For me they are also a visual representation of how these people deal with the problem of transportation in an over developed city. All the images are shot on one of the busiest highways in Monterrey going southbound to the city of San Pedro. I selected two overpasses and shot from 10 to 15 metres above so I could spot the workers from far away.

What kind of camera and medium did you use?
I used a digital camera for this work, mainly to ensure that the speed I was shooting at was the correct one for the speed of the trucks. I usually work with film cameras and so I set myself a standard of only shooting one or two frames per scene. This makes it more exciting and stops me from shooting too much.
Your works mainly concern Mexico, your country, a territory that you know very well. Nowadays many photographers are more and more rediscovering their territories, their own spaces and in someways themselves.
I guess that it makes me more comfortable to work in my own surroundings as I know them well. But yes, in a very personal level, it is very much about self discovery and an understanding of my culture and identity. For me, it's been very enriching to explore one place in many different ways. In my book Suburbia Mexicana there are five different approaches to Monterrey´s metropolitan area. The Car Poolers series is another, and I am excited about the many more to come.

Do you usually follow a method or rules when you look for your subjects?
Not really, but I do prefer subjects that have layers of meaning. I´m always looking for things that relate to my previous projects, but sometimes things pop up out of nowhere. I think I was very much moved by writings on social urban theory. From David Harvey to Mike Davis. I am still working through all the things those texts made me see and think.

Can we say that your work is "documental"? Nowadays there are many declination of the photographic language that coexist under the definition "documentary photography". What does it mean for you?
You could call it "documentary photography", but it could disappoint if what you're looking for are factual truths. I am more interested in what I think of the subjects and not the search for a specific, literal truth. To me, "documentary" means something is based on issues we can all relate to. It's something palpable to someone other than yourself. I appreciate work that fools around with truth and fiction. There are many things that open up when you see things in not such a literal way.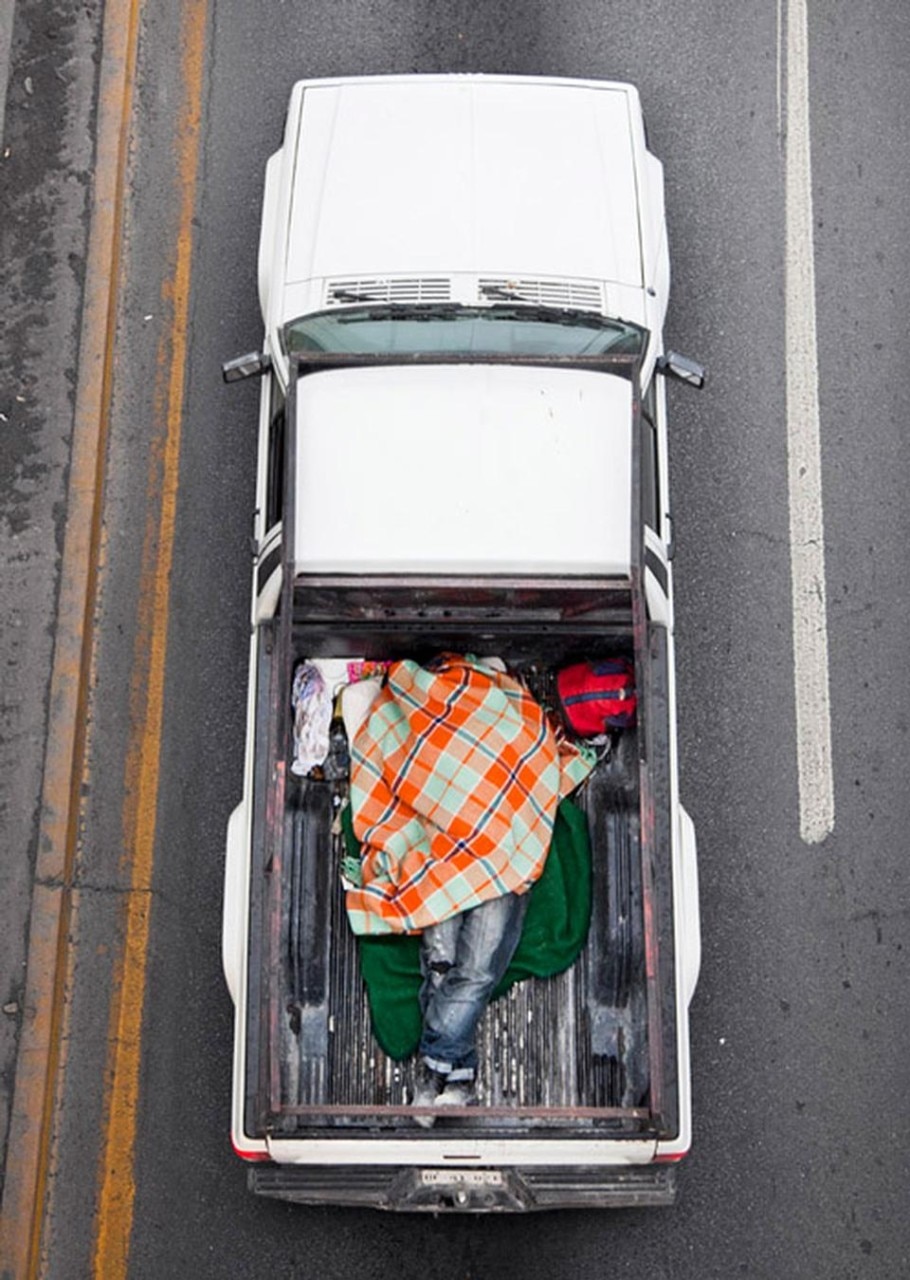 For you, what kind of resource is the web?
It is my visual source to all the great images and stories out there. It is also the easiest and fastest way to present your ideas. I can´t get enough of it.

Can you suggest a Mexican or South-American photography book?
The Last City by Pablo Ortiz Monasterio, or Ricas y Famosas by Daniela Rossell.

What comes next?
A baby is coming into my life later this year. I'm also completing the Car Poolers project and working on another project in Guadalajara, Mexico.
I am more interested in what I think of the subjects and not the search for a specific, literal truth