Tokyo's Nakagin Capsule Tower, the most significant Metabolist landmark designed by Kisho Kurokawa, is being wholly dismantled to make way for new development. Built in 1972, the 13-story mixed-use office and residential tower, located on the fringes of Ginza and Shimbashi districts is set to come down on April 12, said the preservationist Tatsuyuki Maeda.
Maeda first bought his unit in 2010 and now owns more than a dozen of the tower's compact cuboid capsules, with built-in furnishings and a single iconic circular window. Conceived for the human beings of the future, the capsules have neither kitchen nor appliances. Maeda has been leading the Nakagin Capsule Tower Preservation and Restoration Project, the campaign to save and revitalize the structure in an advanced and  widespread state of disrepair and abandon.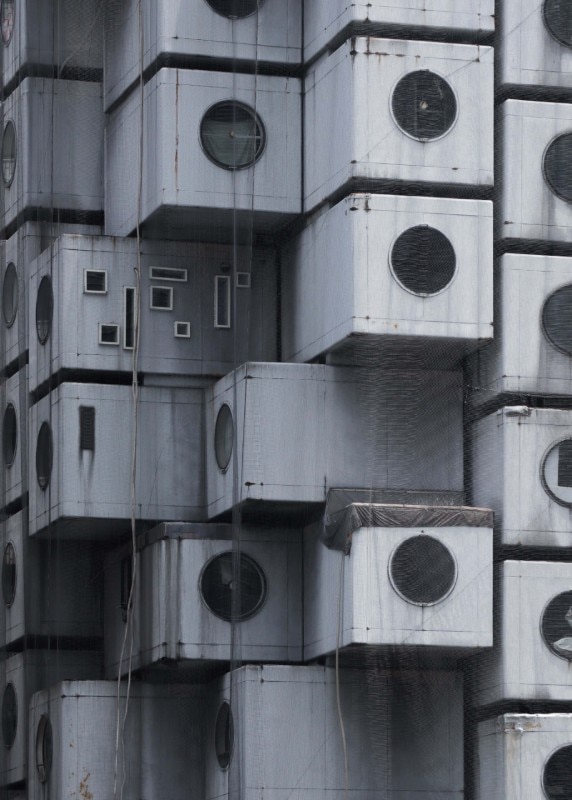 Recently, the efforts of Maeda along with fellow capsule owners and activists have been focused on extracting and preserving individual capsules as it became increasingly clear that the tower would be razed. "We don't know yet how many capsules we'll be able to save, but we plan to repair some deteriorated parts and refurbish them to send them to museums," said Maeda. Last year, for example, architect and former capsule dweller Akiko Ishimaru launched the Nakagin Capsule Tower Building A606 Project crowdfunding campaign, to detach and relocate Capsule A606 – which Ishimaru and a small team had restored. Ishimaru pledged to donate the capsule to a museum with the hope that it can be rented by architecture enthusiasts for overnight stays.
The facility hosted a total of 144 capsules – utility-fitted prefab living units, each of them of roughly 107-square-feet – but only about ten residents. The dwellings were designed to be removable and, as such, replaced every 25 years by new capsules, in line with Japanese Metabolism movement's vision of resilient structures, adaptable and regenerative, just like living organisms. According to metabolists, the capsule was not intended as an instrument of homologation, but as a means of social diversification, a minimum refuge able to preserve the various individual spheres. However, none of the units had been removed or replaced in the 50-year history of the tower.
In 1996 the tower has been listed as an architectural heritage by DoCoMoMo. However, in 2007 the residents voted to tear the tower down and develop a new building. In 2010, the pods that are still safe to live in have become a hotel, but in 2017 short-stay renting have been banned by the building administration. Maeda had hoped that a new wave of international interest in the tower would have led to its designation as a UNESCO World Heritage site, but the Covid pandemic has instead definitively destroyed the possibility for foreigners to see and experience this building, reconfirming its value.
UPDATE: Akiko Ishimaru told Domus that the A606 capsule will not be donated to a museum, but that it will continue to be used and shared as a mobile capsule.