Dear Franco,

we, your friends from Domus, are speechless, because we did not have the time yet to find any word.

"From Sunday on, all I can think of is a painting by Guttuso", writes Cristina Moro. "It's a funeral where there are red flags, high and around many black and white faces. Those faces are us, who don't even have the words to greet you properly, shocked to have lost you".

We still have the laughter and the precise sensation of your open smile. You were able to pay attention to everyone: each one in a different but special way, naturally able to transforming the professional relationship into friendship, always present for any of us as life went by: degrees, promotions, victories, illnesses, marriages, bereavements, births, birthdays. You've always been there, in your elegant and delicate way. In your way of being a rock and a column. That same way of being always there for the first coffee in the morning, with your hat on your head and cigarette in your mouth, walking up and down the courtyard with your hands in your pocket, always full of thoughts, restless, alive. The first to arrive and often the last to leave the office. You've managed to make everyone love you. You had it easy.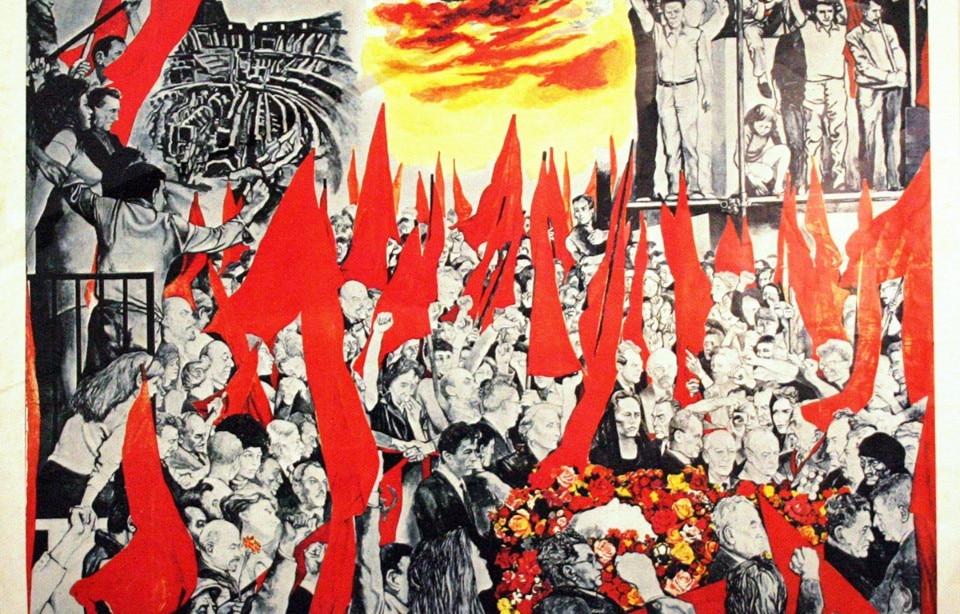 "You've got us used to your pastiere cakes, prepared at first by your wife Maria and after by your daughter Martina. We exchanged films, documentaries, songs, some books, the ricotta cheese croissants Rita used to bring in the morning, especially when we were working on weekends. We exchanged plants, stories, gifts, advice" (Giulia Guzzini). You told us about the slush you only eat in summer at Capo d'Orlando, about the fish market with fresh clams that spit on you. You talked about something you were building, you sat in the archive and told, puffed or laughed... You even listened, because you knew how to listen.

And now we think about your elegant vests, your fancy scarves, your sax, the music that filled your soul, the hours you spent playing, the referee's whistle, your irreverent jokes and your curious look at everything. And we know that we will miss you, that we will look for you in the editorial office before coming to terms with your absence. We've had the privilege of working with you and being friends. We'll always remember you, with a smile.

Opening image: Franco Miragliotta (centre) at work in the editorial office, between Italo Rota (left) and Alessandro Mendini.
When I heard about your departure I tried to write to you, trivially on your Facebook wall. I couldn't find the words, but the song Blue in Green by Miles Davis came to mind. Here, the sound of his trumpet after the chords on Bill Evans' piano expresses exactly what I felt and feel. Glad to have talked to you about music and to have seen you take back the sax after so long.

Goodbye Franco, say hello to John Coltrane and Thelonious Monk. And behave yourselves.

Salvatore Peluso
Dear Franco,

to find you back, I went through the history of the What's App messages we exchanged over time. At first just a few, because you were certainly not the type who imposed his presence, then almost daily in the three years in which I had the luck and the privilege to be your colleague, and again less frequent but always full of affection when we were no longer colleagues, but only friends.
A message, the most trivial and frequent one – almost every morning between 8.00 and 8.20 – "Are you coming for coffee?" is for me also the most painful to read today, witnessing a daily routine made up of an empty editorial office, lights still off and your presence that was announced by whistling first, then your perfume.
Coffee, cigarettes and confidences: mine as a frightened little girl struggling with the first problems in the working world, with the search for a house, the stupid issues with boyfriends that at the time seemed to be national dramas; yours as an apprehensive father with a daughter a little younger than me who was approaching adulthood, as a practical man struggling with a house to be built and as a dreamer who identified himself in a film or fell in love with a documentary.
With that morning coffee we got to know each other, to build a special friendship.
Since then I have changed colleagues and jobs, but I have never had that date with anyone again. It will remain my memory, banal, of a special person.

Goodbye Franco.

Carlotta Marelli
Hey man,
I knew you'd do the joke eventually. You're not one to walk away like the others, but as a divo. Chapeau. So now I have to write with detachment and seriousness, but how can I do it? We used to joke about everything together, and if I think of you in front of me right now I start smiling, because you'd make fun of me. You'd say, "Mariannina, can you please stop writing bullshit?". Even at your funeral, I felt you were close, making jokes about the sermon and showing off your grave: I have to admit that you took a nice place, the lower right corner of a perfect grid, as the good graphic designer you were. I've spent more time with you in the last four years than with any boyfriend, friend, relative, parent. And not hours as colleagues, but as friends, inside and outside the office walls. The rule was simple and we liked it: let's talk about anything but work. I talked about football, you talked about basketball. You would explain to me the new international refereeing regulations, I would show you my impossible projects in Mexico. We listened to each other. We psychoanalyzed each other. We told each other the truth, that sometimes hurt but it was good. You supported me with singing, and I supported you with the sax. I taught you how to eat beets, and you taught me how to peel fruit with a knife and fork. You always had a new obsession: the circular saw, the Armani jacket, the Korean film dubbing program, the "Miragliotta method" for Solfeggio. So many jokes, so many bad jokes! We didn't spare ourselves. You've been best boy- and girl-friend. See you soon, and don't forget about us, about me: when you least expect it, I'll be there to ask you for a cigarette.
Marianna Guernieri
Hi, Franco,

You had brought this beautiful and good pastiera to us in the editorial office, proud because it had been made by the very good hands of Martina, your daughter.  You were always smiling, a reference in perfect balance between Yin and Yang in the work environment. You leave a great void wherever you've been, of that I am more than certain. In my experience in working at Domus you remain one of the most beautiful memories.
Olga Mascolo
Pres' Blues in F minor (Impromptu)
May you always find an aerophone / to blow your kindness in / and that pork pie hat / you were always looking for
Raffaele Vertaldi
I remember meeting you in October 2018. I had transplanted myself to Milan from London with barely a word of Italian to write for Domus' website. You were a graphic designer on the print edition of the magazine, spoke little English, and sat at the very opposite end of the office. There was plenty to excuse a friendship from the get-go. But that wasn't you – you were kind and welcoming, and dressed in a pair of Dr. Martens and parka, a strange reminder of home abroad.
There was always space for an extra tray at your lunch table, where I came to appreciate your wicked sense of humour and love of saxophone, translated through the medium of much put-upon colleagues. You were wry – offering words not exactly of encouragement on one especially inauthentic risotto I had prepared – and irreverent, judging from the jokes that sometimes weren't translated.
Your jest extended to your commitment to broadening my Italian vocabulary beyond the confines of rudimentary architectural terminology, to include the correct pronunciation of important words such as "platypus" and the "little key" from which coffee was offered regularly.
These anecdotes are of small but so welcomed gestures, little shoots in comparison to the deep roots of friendship you grew at Domus. As such, I know how acutely your absence will be felt in the magazine's newsroom, and on its pages. 
Abracci,
Jessica x
Jessica Mairs
Hi Franco,

There are no right words for this moment. We who have spent days, lunches, coffees, talking together. You have always amazed us with your kindness towards us, a man for whom respect, listening and friendship are absolute values. Shall we remember the comments about the juicy lunches in the cafeteria?
Our days in Domus were a continuous meeting, between offered coffees, musical suggestions and unconditional affection.
And now we are here to rethink your whistle, to imprint it in our memories.

Thank you.

The guys from the archive, Elena Claudia Oscar
During the breaks from the editorial routine, you and I, Franco, mostly talked about animals. Short incursions into a world that included your dog and Marianna's, my cat and Simona's, but also a coypu that had crossed the street in the morning and the crows that guarded the courtyard of Domus. You did not hesitate to express your tenderness, your feelings and sometimes fragility, you who were so discreet. I've always liked this aspect of you. That affection, that curiosity and sympathy without judgment, I had the impression that you felt it for us, your colleagues. Today I would like to ask you if I was right - I think yes.
Annalisa Rosso