Light, a critical ingredient of many dermatological treatments, is the starting point of L. McComber studio project. Despite its large windows facing east and south, the former pediatric clinic was a dark and uninspiring space. To make the most out of the large openings, the entire office was transformed into an open-plan space with translucent elements serving different functions, letting the abundant natural light filter in all around.
The ceiling, covered wall to wall in acoustic tiles, was exposed to make the area feel more spacious. The six examination rooms, featuring frosted glass ceilings, form a long white wall punctuated by six high wooden doors. With its imposing opalescent glass wall and lowered ceiling, the relaxation room for the clinic's professionals looks like a glowing cube. Light therapy machines sit imposingly in the center, behind reception. The curved translucent glass walls that encapsulate them give away their function, as they emit an entrancing purple light when in operation.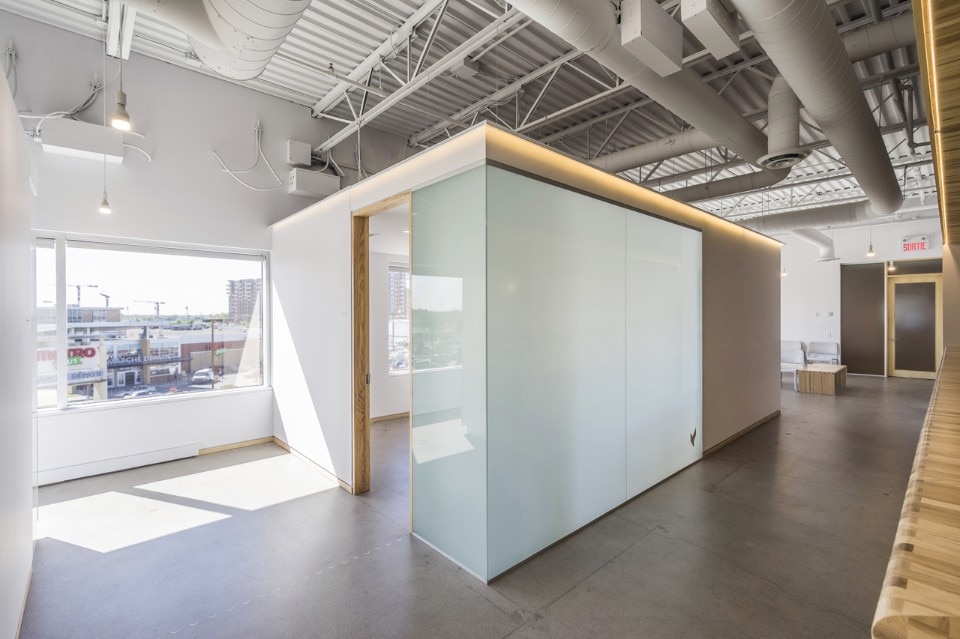 In addition to being a welcoming and comforting place for patients, the clinic had to meet the needs of its personnel. By moving the consultation rooms away from the exterior wall, a long service corridor was freed up for staff to move around in. This spatial arrangement – the true backbone of this space – created a bright and lively corridor through which nurses, technicians and physicians could move freely from one room to another, consulting their patients' computer records, exchanging opinions and information, or even going to their offices and the relaxation room.
Computer workstations are mounted on walls for medical staff to consult records before or after seeing their patients, without blocking this strategic passageway. The staff can also enjoy the transparent block within which the relaxation room is enclosed, shielded from the curious glances of the patients.
L. McComber, Clinique D diaphane, Laval, Quebéc, 2015
L. McComber, Clinique D diaphane, Laval, Quebéc, 2015
L. McComber, Clinique D diaphane, Laval, Quebéc, 2015
L. McComber, Clinique D diaphane, Laval, Quebéc, 2015
L. McComber, Clinique D diaphane, Laval, Quebéc, 2015
L. McComber, Clinique D diaphane, Laval, Quebéc, 2015
L. McComber, Clinique D diaphane, sketches
L. McComber, Clinique D diaphane, floor plan

Clinique D diaphane, Laval, Quebéc
Program: clinic renovation
Architect: L. McComber ltée
Design team: David Grenier, Laurent McComber
Graphic design: Atelier Chinotto
Lighting design: Richporter Lighting, Éclairage
Main contractor: Brago Construction
Cost: 309,000 €
Area: 900 sqm