Pètra is the reinterpretation of an ancient jug, who belongs to the history of Arab ceramics and then later it has arrived in Sicily, where it took the name of Bummulo Malandrino.
Make that studio and Improntabarre wanted to give a new life to the aesthetics of this jug, creating a contemporary tableware accessory that well represents the history of the Sicilian island, characterized by countless cultural influences.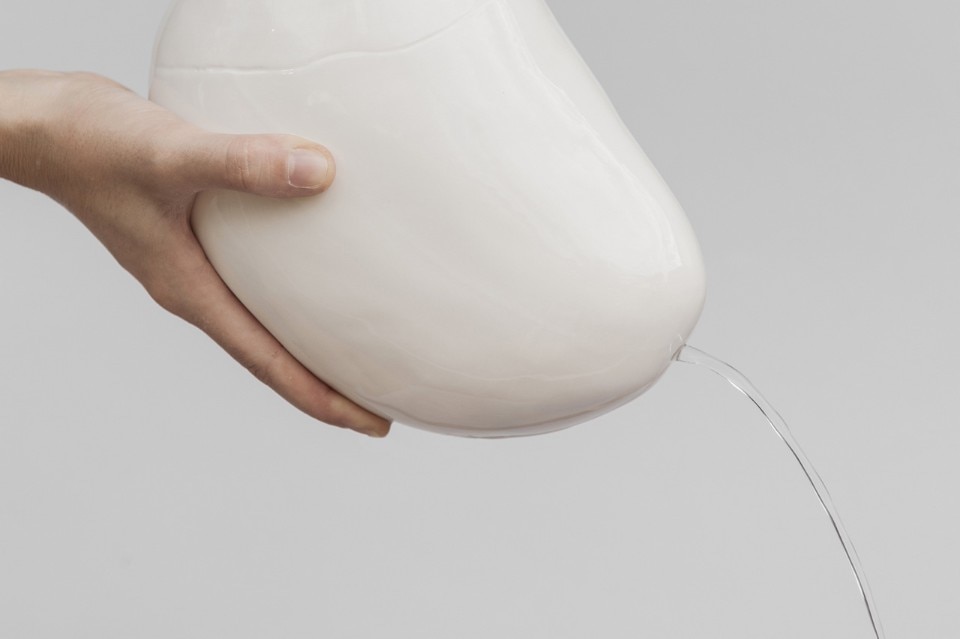 The object was born as a container for fine liquids in order to be preserved, such as oil or water, and has arrived in Sicily during the Moorish domination (827 – 1091 AD). It was named Bummulo Malandrino and the name comes from its ingenious construction with the filling from the bottom, that protects the contents from external agents. Today the container is made in the district of Caltagirone, where now is bought exclusively as a travel souvenir.

The aesthetics of this new container was born studying the Simeto, the main river that runs through the Island, whose source is located near Bronte and from here flows into the Ionian Sea. Along the way there are many remains of the Moorish domination, among these stand out the Ponte dei Saraceni and the Fornace Araba.

Bringing back the idea of the preciousness of fresh water and drinking water, it has been analyzed the morphology and geology of the riverbed were the stones have been recovered and cataloged in order to define the soft shape of Pètra. During the research phase it has been selected a single stone that, for containment volume, size and ergonomics, was the most functional according to the requirements of the table water receptacle.

Pètra is available in numbered pieces, different colors and finishings. The result of the research is a contemporary tableware accessory which blends local geography and cultural influences.
Make that studio and Improntabarre, Pètra
Make that studio and Improntabarre, Pètra
Make that studio and Improntabarre, Pètra
Make that studio and Improntabarre, Pètra
Make that studio and Improntabarre, Pètra
Make that studio and Improntabarre, Pètra. An ancient Bummulo Malandrino
Make that studio and Improntabarre, Pètra. Rock taken from the Simeto river