For the retail store of a company which runs its own dairy farm, Moriyuki Ochiai Architects were tasked with providing a space to attractively display these products by evoking the imagery associated with the farmstead and milk.
They envisioned a space brimming with the lively vital energy of fresh milk and the forest surrounding the farm on which milk cows are raised.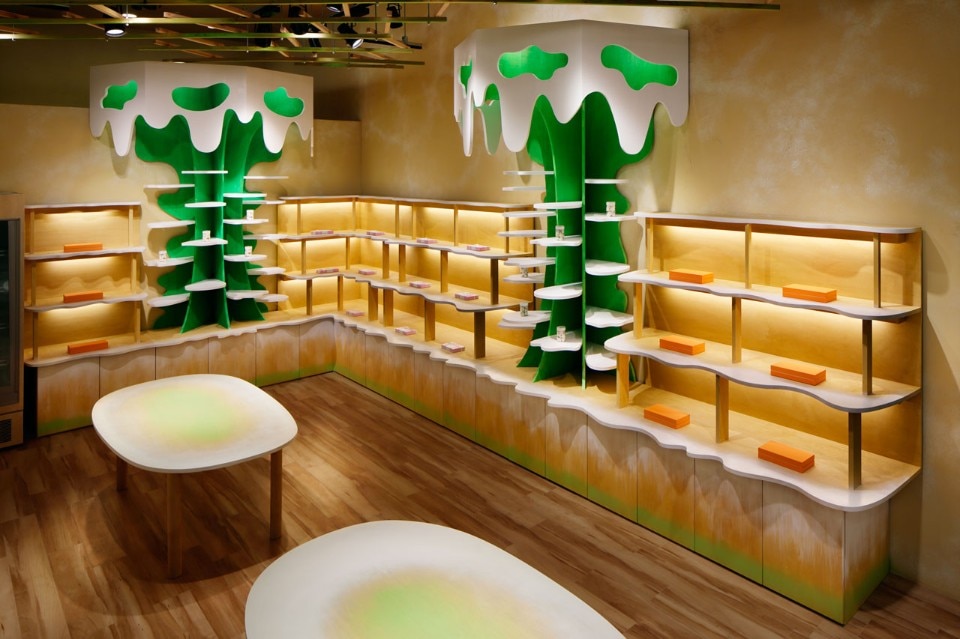 Tower-shaped fixtures (the milk-tree tower) are asymmetrically distributed in two areas found at the center and right side of the store. As the plain and rough texture of the green part rises vertically from the bottom, shelves shaped like splashes of glossy white milk spring from the middle part before culminating in a lighting system molded like a fountain of overflowing milk. Through the application of three different tones of green, each tower fixture creates different atmospheres.
Flanking the three towers are shelves with wavy edges that provide a warm and soft atmosphere, gently enfolding the persons facing them. Using a color finish that highlights the texture of wood, a white gradation progresses towards the edge of the shelves in order to produce a milky ripple effect.

The ceiling features long pieces of timber painted in dark and light green crossing with short pieces of plain wood, thus creating a deeply intricate canopy of branches and leaves that confer the warmth of wood and a light rhythm to the whole space.

Momom store, Tokyo, Japan
Program: shop and restaurant
Architects: Moriyuki Ochiai Architects
Design team: Moriyuki Ochiai, Rosann Ling
Client: Dream Dairy Farm
Constructor: Aslego
Area: 98 sqm
Completion: 2015