Embedded within the summit of Mount Kronplatz, 2,275m above sea level at the centre South Tyrol's most popular ski resort, the Messner Mountain Museum Corones is surrounded by the alpine peaks of the Zillertal, Ortler and Dolomites.
Established by renowned climber Reinhold Messner, the sixth and final Messner Mountain Museum explores the traditions, history and discipline of mountaineering.
Zaha Hadid explains the concept of the design: "The idea is that visitors can descend within the mountain to explore its caverns and grottos, before emerging through the mountain wall on the other side, out onto the terrace overhanging the valley far below with spectacular, panoramic views."
Informed by the shards of rock and ice of the surrounding landscape, concrete canopies have been cast in-situ and rise from the ground to protect the museum's entrance, viewing windows and terrace.
Reflecting the lighter colours and tones of the jagged limestone peaks of the surrounding Dolomites, the exterior panels are formed from a lighter shade of glass-reinforced fibre concrete and fold within the museum to meet the darker interior panels that have the luster and colouration of anthracite found deep below the surface.
A series of staircases, like waterfalls in a mountain stream, cascade through the museum to connect the exhibition spaces and describe visitors' circulation over three levels. At the lowest level, visitors pass the viewing windows as they traverse through the galleries to emerge out onto the terrace that projects 6m from the mountainside giving a 240 degree panorama across the Alps.
At 1,000 square meters, the museum is arranged over several levels to reduce its footprint. During construction, 4,000 cubic meters of earth and rock was excavated and then replaced above and around the completed structure - immersing the museum within Mount Kronplatz and helping to maintain a more constant internal temperature. The wide windows allow natural light to penetrate deep within the museum, drawing visitors forward through the interior to the panoramic windows and viewing terrace cantilevered over the valley far below.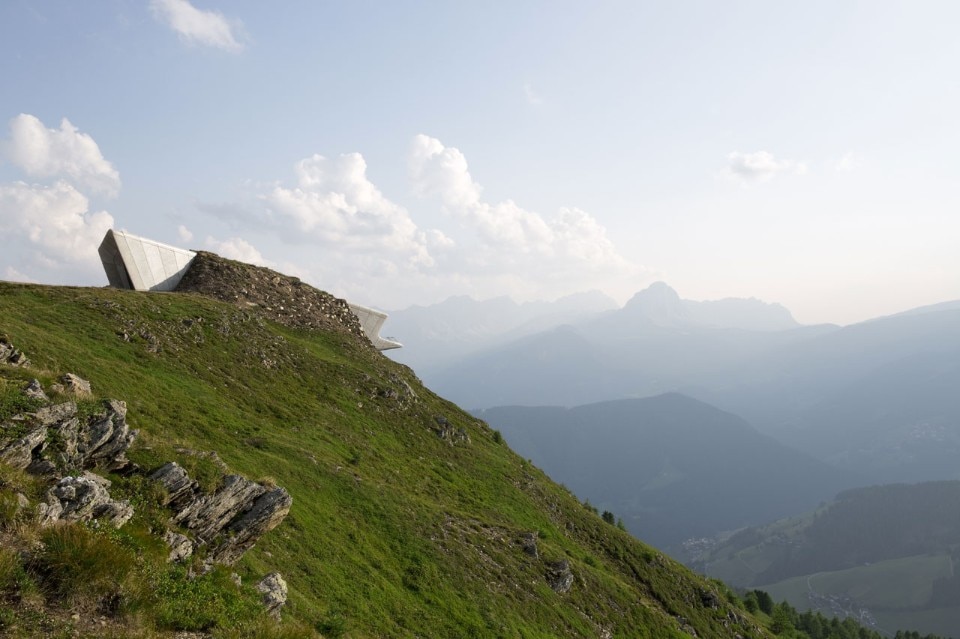 Constructed from in-situ reinforced concrete, the museum's structure has walls between 40-50cm, while its roof supporting the replaced earth and rock that embeds the museum into the mountain, is up to 70cm thick.
The majority of the museum's exterior and interior panels are also made from in-situ concrete, with a formwork of tapered surfaces used to generate the peaks and abutments of the exterior panels that convey the rock and ice formations of the surrounding landscape. Almost 400 internal and external panels were prefabricated, with the more complex curved elements created in a process of spraying layers of high-performance fibre-concrete into moulds carved from CNC-milled foam using the architect's 3D model.
A scaffold of steel sections with adjustable brackets to offset tolerances forms the museum's substructure. Counter-plates for the connecting brackets are laminated directly within each panel during the prefabrication process.
Zaha Hadid Architects, Messner Mountain Museum Corones, South Tyrol, Italy. Photo © inexhibit.com
Zaha Hadid Architects, Messner Mountain Museum Corones, South Tyrol, Italy. Photo © inexhibit.com
Zaha Hadid Architects, Messner Mountain Museum Corones, South Tyrol, Italy. Photo © Wisthaler.com
Zaha Hadid Architects, Messner Mountain Museum Corones, South Tyrol, Italy. Photo © Werner Huthmacher
Zaha Hadid Architects, Messner Mountain Museum Corones, South Tyrol, Italy. Photo © Werner Huthmacher
Zaha Hadid Architects, Messner Mountain Museum Corones, South Tyrol, Italy. Photo © Werner Huthmacher
Zaha Hadid Architects, Messner Mountain Museum Corones, South Tyrol, Italy. Photo © Werner Huthmacher
1773_PLAN LEVEL -00.pdf
Zaha Hadid Architects, Messner Mountain Museum Corones, South Tyrol, Italy. Plan level 00
1773_PLAN LEVEL -01.pdf
Zaha Hadid Architects, Messner Mountain Museum Corones, South Tyrol, Italy. Plan level -01
1773_PLAN LEVEL -02.pdf
Zaha Hadid Architects, Messner Mountain Museum Corones, South Tyrol, Italy. Plan level -02
1773_PLAN LEVEL -03.pdf
Zaha Hadid Architects, Messner Mountain Museum Corones, South Tyrol, Italy. Plan level -03
1773_Siteplan_big.pdf
Zaha Hadid Architects, Messner Mountain Museum Corones, South Tyrol, Italy. Siteplan
1773_SECTION.pdf
Zaha Hadid Architects, Messner Mountain Museum Corones, South Tyrol, Italy. Section

Messner Mountain Museum Corones, South Tyrol, Italy
Program: museum
Architects: Zaha Hadid Architects
Design: Zaha Hadid, Patrik Schumacher
Project Architect: Cornelius Schlotthauer
Design Team: Cornelius Schlotthauer, Peter Irmscher
Execution Team: Peter Irmscher, Markus Planteu, Claudia Wulf
Structural Engineer: IPM
Mechanical Engineer & Fire Protection: Jud & Partner
Mechanical Engineer: Studio GM
Lighting Design: Zumtobel
Client: Skirama Kronplatz/Plan de Corones
Area: 1,000 sqm
Completion: 2015