About the seating Beau fixe designed for Ligne Roset, Inga Sempé says: "As a child, we had two armchairs at the seaside, massive like elephants sitting on their hindquarters, the front legs of which formed the armrests and 'ears'.
These 'ears', I loved them since, not being at home, I could mess them up: I was always snuggled there in my wet swimsuit, my damp hair resting against an 'ear' whilst I wiped my hands on the sausage-shaped armrests. Redesigning such an armchair is a difficult undertaking: I had to work with this typology without nostalgia, seeing past its common association with convalescents or the retired.

What I wanted was a version of opposing volumes: light, structured and soft. The armchair's very construction defined first its lines and then the remainder of the collection: a two-seat settee and a footstool."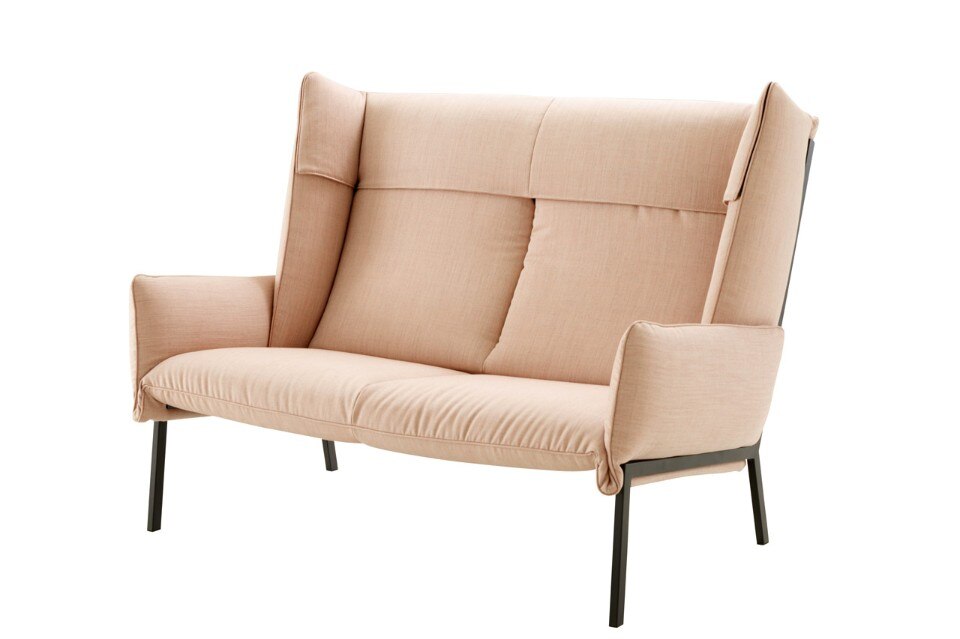 Beau fixe is the simple assembly of two complementary pieces: a metal structure and a quilt. The structure functions like a giant clamp which holds the one-piece quilt in the jaws formed from the main uprights. These jaws segment it and fold it into rectangular panels which form the armrests, seat, back and 'ears'.
A structure is often designed to support a mattress or cushions and then disappears beneath a cover. On the Beau fixe armchair or settee, it remains visible from bottom to top since it holds in place the quilt, the seat, from the seat to the headrest, and this great vice which unites metal and fabric is what characterizes the collection.

Of the structure one sees only a trace of matt black metal, which sinks into a soft, puffy mattress divided into symmetrical rectangular bulges, like a spoon in Italian meringue. If the collection reminds one of the seats of cars or aeroplanes, it does so in a simple, airy fashion; the whole thing is held above the ground by slender legs; the seat and high, soft back surrounded by full-length 'ears' and high armrests envelop the user in a micro-climate.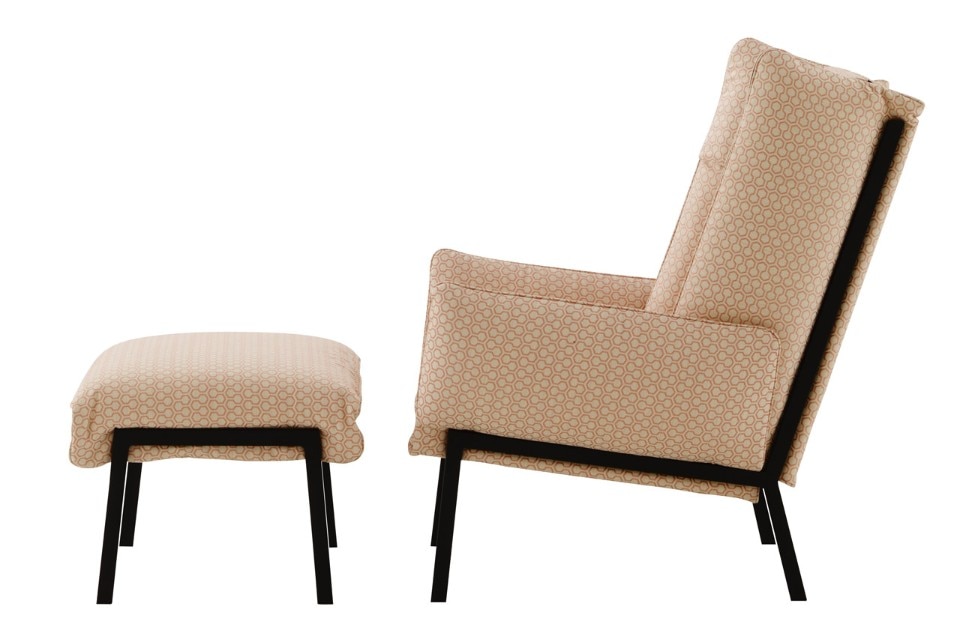 To contrast with the calmness of the Beau fixe collection, Inga Sempé wanted to associate a fabric which would bring liveliness and meticulousness. Responding to seating composed of straight lines linked by curves in drops or arcs, the motif is a set of intercalated dots and dashes, sometimes linked, in an irregular rhythm.
From a distance, one believes that it is a weave of thick threads, like a tweed, even though it is simply printed onto cloth. It is not at all figurative, but one could see morse code or braille in it, or even stylized representations of grains on a stalk or trees on a roadway. The detail in the motif enables it to be printed in bright colours which still remain understated.


23–27 January 2015
Ligne Roset
Hall 8, Stand D61/F62
Maison&Objet
Paris Nord Villepinte