The Nathalie Du Pasquier collection includes new and classic American Apparel silhouettes for men and women covered with prints inspired by Du Pasquier's work with Italian design collective Memphis, founded in Milan by Ettore Sottsass in 1981.

The Memphis Group was a design and architecture group founded designed Post Modern furniture, fabrics, ceramics, glass and metal objects from 1981 to 1987. The Memphis group's work often incorporated plastic laminate and was characterized by ephemeral design featuring colorful decoration and asymmetrical shapes, sometimes arbitrarily alluding to exotic or earlier styles.
Nathalie Du Pasquier was born in Bordeaux, France in 1957 and has lived in Milan since 1979. She designed numerous "decorated surfaces" including textiles, carpets, plastic laminates and some furniture and objects. In 1987 painting became her main activity.

Iris Alonzo, Creative Director American Apparel: How did you first become interested in creating patterns?
Nathalie Du Pasquier: I first became interested in patterns during a year I spent in West Africa between 1975 and 1976. I was interested in looking at them. It is only in 1979 that I started designing some. The very first ones I just wanted someone to buy them. I did not care where they would end up. The first patterns I designed were presented to an agent in Milan who decided which clients to show them to. Later, in 1980 when I was 23 years old, I built up my courage and designed my first patterns for George Sowden's pieces in the first Memphis collection. Designing patterns became, for a few years, a kind of practice; an automatic language I would use on anything.
IA: How did you meet Ettore Sottsass? What was it like being a member of Memphis?
NDP: I don't remember how I met Ettore Sottsass. George Sowden (my boyfriend) was working with him at Olivetti. Being a member of Memphis was very interesting. Memphis was not about doing one project; it was about proposing and showing "possibilities".
IA: Did you formally train to do what you did with Memphis, or for what you are doing now?
NDP: I did not study. I trained in a different way, I think traveling, seeing different parts of the world and what other people did was a kind of university. Then I was reading. I was curious about a lot of things. I also trained looking at what my older colleagues were doing, of course. I still train every day, like a dancer. Training is the best part; there is hope and confidence.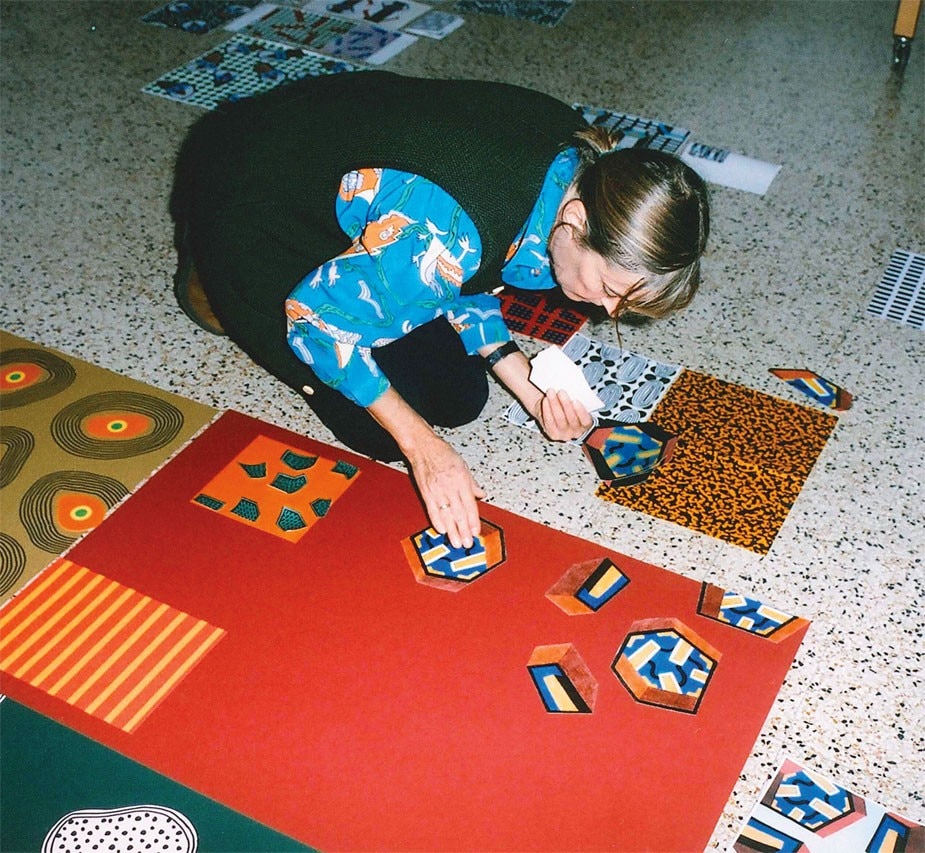 IA: What techniques or mediums did you use to make the patterns for our collection? How did the shapes used in the patterns "come" to you?
NDP: For the American Apparel collection, I did as I usually do. I sketched with color pencils. As I knew you wanted some "Memphis" feeling patterns, I looked through my old drawings and decided to do some new ones using my usual rule for patterns – which is very natural and pre-computer: cut and paste. Ideas come as I draw, I guess this is what a designer is: someone who thinks with his drawing hand. When you came to Milan I finalized what I had thought about, inspired by your presence!
IA: What are your favorite colors to work with? Are there any colors you don't like?
NDP: I don't have favorite colors and there are no colors I don't like! Sometimes it's the combinations between them I don't like or the context that I feel to be inappropriate.
Nathalie du Pasquier for American Apparel
Nathalie du Pasquier for American Apparel
Nathalie du Pasquier for American Apparel
Nathalie du Pasquier for American Apparel
Nathalie du Pasquier for American Apparel
Nathalie du Pasquier for American Apparel
Nathalie du Pasquier for American Apparel
Nathalie du Pasquier for American Apparel