B30° / B35° project intends to reveal the essence of concrete: its gravity, mass and balance.
Balance lamp series suggests to users various positions of light depending on the space and its usage. The bottoms of the polygon shaped bases, made of concrete, have certain angles (30° / 35°) to create the right balance in different positions.
The angles were adjusted in balance on the basis of the weight of material to create a stable form and proportion. Additionally, B35° Lamp can be displayed in different ways, with modular arrangements such as circular or bridge layout.
The B lamps collection is made with the fundamental materials in modern architecture, concrete and wood, translating their properties into a new language and function.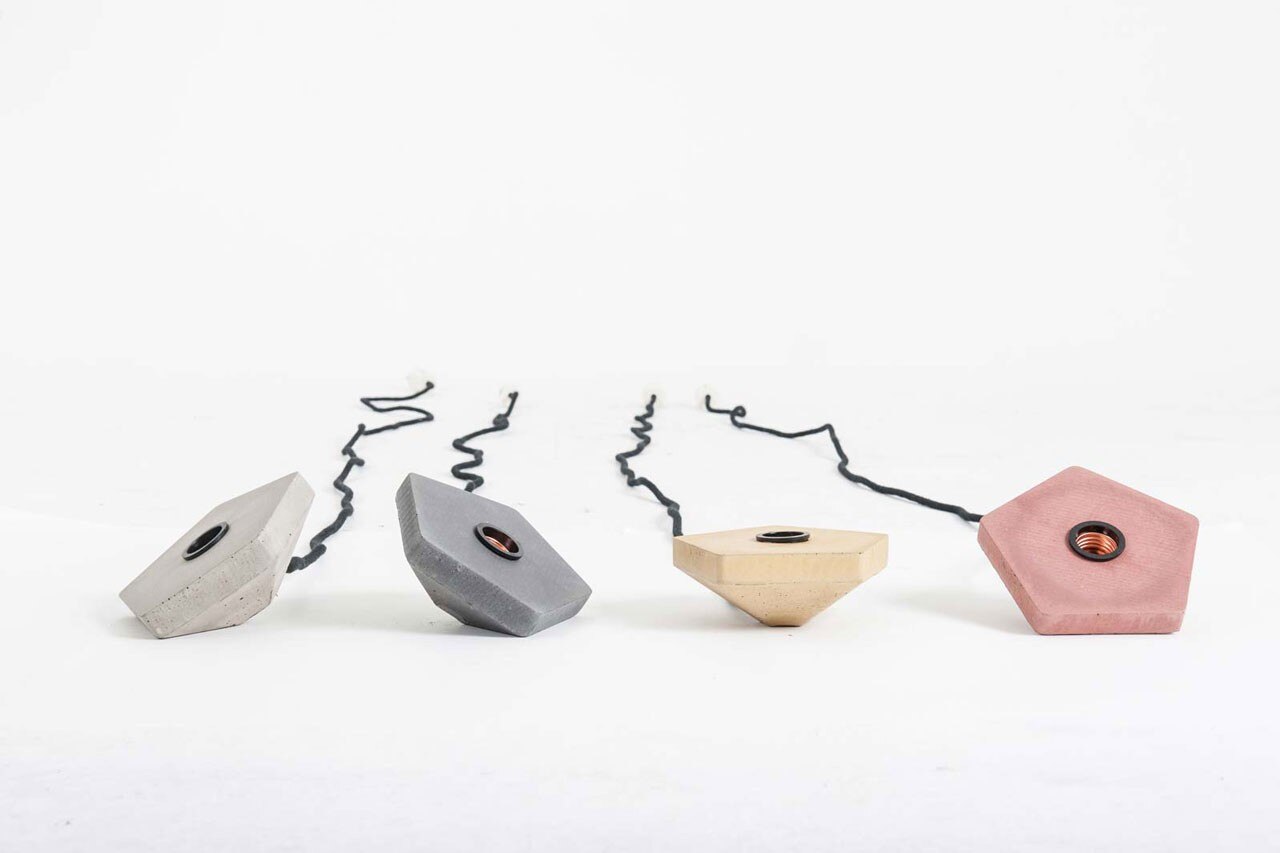 In the making process, different thickness and forms have been tested to find the best proportion of concrete mixture for the proper strength using high performance raw concrete.
To obtain the color variations, three different color pigments (red, yellow and black) were mixed with concrete mortar in various proportions. The solid concrete form came out of the fluid condition retaining the texture of the wooden molds.
Jin Sik Kim and Yu Hun Kim, B30° lamps
Jin Sik Kim and Yu Hun Kim, B35° lamps
Jin Sik Kim and Yu Hun Kim, B35° lamps
Jin Sik Kim and Yu Hun Kim, B30° / B35° lamps
Jin Sik Kim and Yu Hun Kim, B30° / B35° lamps
Jin Sik Kim and Yu Hun Kim, B30° / B35° lamps
Jin Sik Kim and Yu Hun Kim, B30° / B35° lamps
Jin Sik Kim and Yu Hun Kim, B35° lamps
Jin Sik Kim and Yu Hun Kim, B30° / B35° lamps
Jin Sik Kim and Yu Hun Kim, B35° lamps. Sketch