"An event is political if its material is collective, or if the event can only be attributed to a collective multiplicity" – Alan Badiou
The brutal police attack of the last 31 May in Istanbul triggered an uprising. The following Friday and Saturday nights, thousands of people gathered and built barricades in the streets that lead up to Taksim Square. Trash and discarded materials, found in the streets and pavements, were used to collectively construct barricades in order to prevent police forces from entering the streets. In what could be interpreted as a claim for a de-colonization of the power of hegemony, even some materials that were obtained from the police during previous clashes — such as benches — were used in the barricades, in a demonstration that barricades, to this day, are still presenting the oldest and effective form of settlement in general architectural history. In Istanbul, barricades in the entrances of Harbiye, Talimhane, Gümüşsuyu, Sıraselviler, Tarlabaşı… all marked Taksim Square.
The façade of the Atatürk Cultural Centre (AKM) was covered with several posters, banners and flags, representing the diverse communities, ideologies and resistance groups. Gezi Park became filled with hundreds of tents and temporary structures, which expanded mutually and became flexible in any moment of resistance. This practice of ephemeral and situational dwelling, co-existing collectively across an unconditional moment, lead us to experience our city and its architecture in unusual ways. AKM, Taksim Square and Gezi Park became the main symbols and the subject of public debate, along with the 3rd Bridge, and other urban transformation projects in Istanbul that are forced by the government without grassroots decision-making. In the last few years, the public debate between governmental authorities and local actors – activists, urban planners, architects, NGOs, the Chamber of Urban Planning, the Chamber of Architecture, and academics – has reached an intense peak.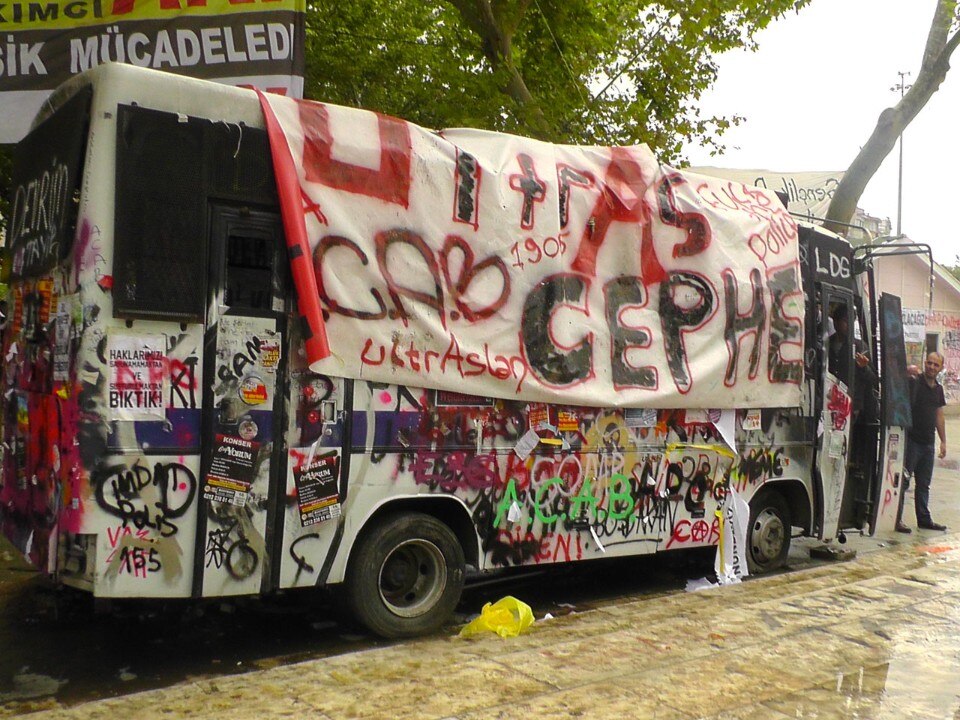 Meanwhile, in Gezi Park, free food, drinks, and other kinds of needs are kick-started by self-initiative. A vegetable and flower garden has been started. A library was set up collectively, with discarded construction materials, allowing anyone to share and donate books. Instead of celebrating, the resistance considers how to transform the occupied space into a creative and sustainable space, in a non-violent manner.
A bus that was first used as a barricade was converted to an info desk, used by a political organisation. Other examples of in situ and instant architecture in Taksim square and Gezi Park include a temporary mosque, a movable food collective composed of basic materials and a tent, and an over expanding open hospital. Simple tape stripes in the floor mark the borders of each section in Gezi Park, defining the function of each space. The delimitations expand or shrink according to peoples' needs, evoking the confines of each dwelling in Lars von Trier's Dogville .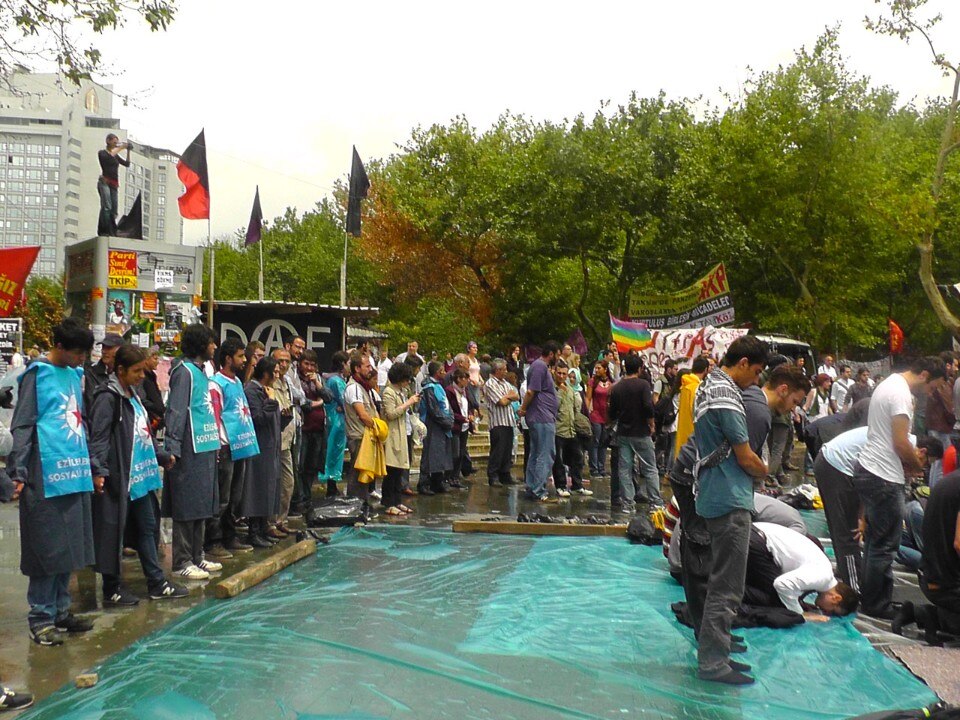 A state-led proposed project, which seeks to transform Taksim Square into a controlled space of high surveillance, forced citizens to reconsider the symbolic political power of this space. The discussion about the demolition of the AKM – which the government proposed in 2007 – still goes on. During the resistance, AKM's facade becomes something else, allowing a transformation of the building, as well as our expectations expand or shrink according to people's actions. The ground was covered and transformed by the citizens, completely altering the representation of the building, as well as our experience of the architectural "form". In that exact moment, the question became: how we can experience an "architectural form" without its representation? When exactly does this form become an immanent experience of itself? Performative architecture can most often be experienced during "state of emergency" conditions, as well as conflict urbanism, instant architecture and radical spatial resistance practices. The moment of "event" – in the context of Alan Badiou's philosophy – takes part in a radical way, where the rupture of the system is realised. Thus this moment is a breaking point for the system, when it doesn't repeat itself but becomes something else, allowing other possibilities.
Relational structures that are completely embedded in the practice of resistance, such as in the case of Istanbul's streets, barricades, and Gezi Park, offer us – we, the subjectivities in that historical moment – a multiple of situations that is the "event" itself. The situational dwelling practices in Gezi Park and Taksim square become an "event architecture" of resistance. Pelin Tan , sociologist and art Historian, Asst.Prof.Dr., Kadir Had Univ. Istanbul

"Architecture for All" ( http://herkesicinmimarlik.org/en ) is currently witnessing and surveying examples of recent resistance architecture. The protests in Istanbul indicate one simple thing for architects and designers: we need new definitions for architecture in situations when the discipline is removed from architects. Each unique structure found in the streets and Gezi Park has its own in-situ design and implementation process. Documentation of these temporary structures is of huge importance for further examination, considering their limited life-cycle.