For his first solo exhibition in Montreal at the Darling Foundry , Toronto-based artist Abbas Akhavan will alter the visitor experience of the foundry's unique architecture with two symbolic sculptural works under the title "Beacon". Both pieces will explore the notion of vulnerability and encourage subtle discovery and as with the artist's previous work, this exhibition explores the nature of loss, alienation and confrontation in relationship to territory and power.

Central to the exhibition is a hot air balloon, toppled to the floor, slowly inflating, filling the room, only to deflate and rise once again. This focal point symbolises the rise and fall of the sun, and is faced by a seemingly abstract stone sculpture. Made of mortar, the large shape resembles the corroded figure of a lion and is based on a sculpture in Hamedan, Iran, known as the "stone lion ". Dated as far back as the Hellenistic Period, the sculpture was one of a pair of lions seated at the gate of the city and acted as a talisman protecting the city from catastrophic storms and ill will.

One of the artist's most ambitious installations to date, this body of work explores the poetic and cyclical nature of transformation, both symbolic and political. Transforming found materials only to return them to ruin forms; Akhavan addresses man's shifting relationships with the inheritance of ambivalence in relation to historical symbols of power and loss.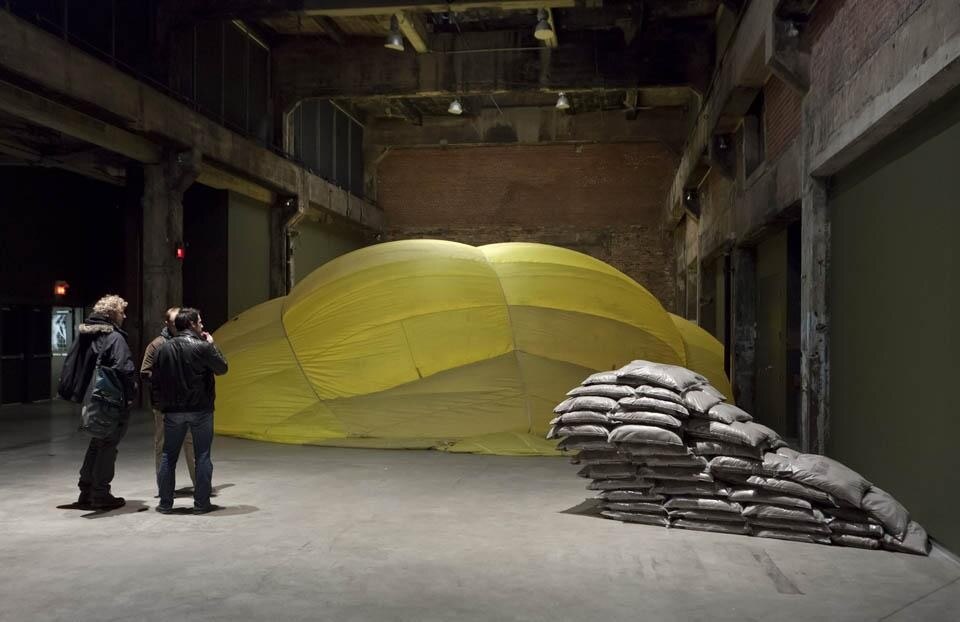 In Akhavan's words, "monuments of the lion as a symbol of power and empire have many cross national associations. This shifting endangered animal becoming sometimes symbolic of longing, hostility, and ruin." Within the gallery, as the balloon rises and falls with each inflation, the lion and sun point to an unknown territory and the unexpected steadiness of change.