Francesco Faccin belongs to a generation of designers with determination and an inexhaustible passion for research who have pitted themselves against a world in continual transformation, one where design is seeking trajectories of meaning and renewed prospects. Thanks to encounters with figures like Enzo Mari and Michele De Lucchi, Faccin came to understand the value of craftsmanship and the importance of materials as central elements in a way of designing that has led him to produce recognisable work.
From the beginning of his career, he has sought to produce objects with a human face, designs where the techniques used are always geared towards a simplicity and functionality capable of giving a sense of density to the work. Faccin's is a creative sensibility that saves objects from the risk of insignificance and purely instrumental use, sparking reflections on our way of life and the deep, but often obscured, relationships between us and the spaces in which we live. We met him to discuss his latest work in more depth.
Marco Petroni: Francesco, could you describe the work you are presenting at Design Week?

Francesco Faccin: I'm working on a project with Francesco Meda for Nilufar. It's a lamp that is particularly innovative because of the technology that we have used – the latest generation of Philips mirror OLEDs, a new category of light source that opens up completely new possibilities for designing and using light. OLEDs are made up of light-emitting diodes and make use of the qualities of "organic" electronics.

They are incredibly long-lasting, very efficient and easily disposed of at the end of their lifespan, in contrast to the low-energy bulbs that we have been obliged to buy for the last decade and are now on the point of being banned. Although lighting is not an area that I have pursued very much in my career, I am enjoying working with OLEDs because they allow you to create a "bare" lamp, that is, where structure, light and electronic components create a single indivisible object. The OLEDs that we have used are 100% mirrored and light up as if by magic, providing illumination like sunlight filtering in through a window. When it's turned off, the lamp works like a mirror, reflecting the room and light from other sources. I have also presented a project with Peter Mabeo, which in some ways reconnects with the work I did in Kenya with objects gathered from the Nairobi slum. We are creating large plant containers using recovered metal sheets from rubbish dumps in Gaborone, Botswana. Lastly, I am presenting two wooden chairs destined for the contract furniture market for Billani, and a large wood and stone table for Busnelli. Both are companies I started working with only recently.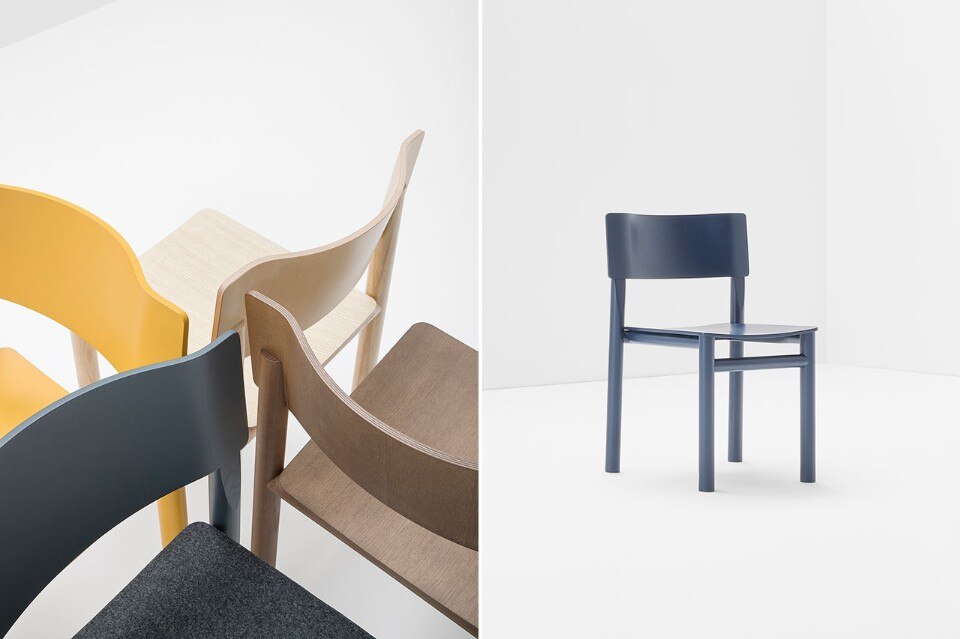 Marco Petroni: These are diverse projects; one pushes towards technology and an aesthetic approach; the others open out towards your usual horizons, and are closer to craftsmanship. What value does technology have in your work and how do you reconcile it with the need you have to "get your hands dirty"?
Francesco Faccin: I like technology that simplifies life and disappears. In the future, OLEDs will make it increasingly possible to do pure light lamps. An OLED lamp uses an almost aerospace language. It recalls a satellite or a series of solar panels. I like this because it is the technology itself that determines the aesthetics of the product – there's no impetus towards decoration. The Mirror lamp is made with laser-cut stainless steel. All the parts, except for the electronic connections, are made by Francesco Meda and me in the studio… Hands are always useful.

Marco Petroni: The words of Remo Bodei come to mind when I think of your work: "Things represent networks of connections with the lives of others, links between human civilisation and the natural world." Do you agree with this point of view and how does it intersect with your design journey?

Francesco Faccin: I am ever more convinced that this vocation is a powerful tool to connect a range of ostensibly disparate disciplines and fields of interest. Designing means investigating and understanding the profound connections between objects, people and the natural world. We are living through a period when it is clear to everyone that we have to resolve various things and rectify mistakes that are generating enormous problems and threatening cataclysmic outcomes. I want to develop projects that engage with these urgent questions, so that we don't end up like the orchestra on the Titanic, playing on while the ship sinks.
This attitude can be applied to any project and on any scale. I am an optimist and have faith in the constant human ability to find solutions to problems; the scientific knowledge we now have allows us to achieve astounding results with very little.
"The designer's first problem is defining his own model of an ideal world and not that of defining an aesthetic," said Enzo Mari. In today's world, as a designer, I want the great questions to become a powerful part of the fields of design and industry: what world do we want to design for?
Designing is an activity balanced between the present and the future. It is a process that creates a connection between an idea and its realisation. The designer collects data, inspirations and experiences. He connects, compares and brings these together, until he finally integrates idea and object, so that through the work he expresses his idea of the ideal society.
Marco Petroni: What are the recurrent ideas lying behind your projects and your work?

Francesco Faccin: Humanity–the natural world, humanity–work, humanity–humanity, humanity–the city… We have officially entered a new geological era: the Anthropocene. It is a powerful, dystopian idea, but at the same time a very fertile one. With our excesses and our aggression, we as humans have triggered a new geological era, imprinting our presence on the stratigraphy of the earth for millennia to come. We must start by imagining what design will be like over the next 100 years. I am interested in any work that lets me see its origins, more than its past, even though I'm not prone to nostalgia and like the modern world I live in. I like very much too the symbolic freight that things have. So, I like to think that each new object is the expression of human stories in concrete form. We can do without other objects, but not other stories.

Marco Petroni: Your work is marked by a close focus on the choice of materials. Do you believe that it is important for the materials and the object's meaning to cohere, or are these two separate things?

Francesco Faccin: In general, I like using natural materials because they seem to me more capable of taking a healthy part in the product lifecycle itself. The last time that I went to Hadrian's Villa at Tivoli, I picked up what I thought was a stone. In fact, it was an inexorably crumbling piece of wall. Oddly enough, this didn't stir up thoughts of decay. Rather, it made me think that the villa is no longer a work of architecture: it has become the landscape. It would be wonderful if, in the future, we are capable of designing objects and architecture that little by little merge once again into the landscape. Having said that, every material – even artificial ones – can be meaningful. It depends how they are used. For example, using a fossil fuel formed 160 million years ago to make disposable plates for a picnic is an idiotic way to use resources.
Marco Petroni: You have your studio in Milan. How do you live in the city and what is your experience of the Design Week?

Francesco Faccin: I love Milan, but I miss goats and chickens. Sooner or later I'll leave the city, but for now the place is more convenient and efficient for working. The city is a human invention to optimise connections, concentrate services and spread ideas: Milan in this sense works well. Design Week is an event I look forward to and I always like meeting people and colleagues – and everybody else.

Marco Petroni: What direction will your work take in the future?

Francesco Faccin: A few months ago, I started working with earth. I have begun a collaboration with a very well-known Italian chef – we are working on the creation of a permanent installation where activities involved in food preparation can be carried out. I decided to use the local earth to make the work and that prompted me to think about the idea of earth. Earth is land, and so it is culture and traditions. It's a raw material used to make objects and buildings. It's a timebank that conserves things and history, and gives them back – slowly. Earth is the starting point, but also the point you inevitably return to. I am also working on these ideas at Bolzano with my students, and will make a cob oven for baking bread at Boisbuchet during next summer's workshop.


3–9 April 2017
Francesco Faccin

Chandelier
Francesco Faccin with Francesco Meda
Nilufar Depot
Plants container for Peter Mabeo
Galleria Rossana Orlandi
Chairs Green and Blue for Billiani
Fiera Rho-Pero, Pad. 5, Stand C06
Table Controvento per Busnelli
Fiera Rho-Pero, Pad. 6, Stand D33-E24